Winter is here and the slopes are buzzing with winter spirit and rosy cheeks. Epic snowstorm or not, a great day in the mountains begins with the right gear. While your snow pants and jacket, gloves and additional equipment are key, knowing how to choose the right goggles can make or break your day.
We can all agree that the mirrored, black tinted lenses may look ultra badass but sadly, they aren't ideal for all weather conditions. When it comes to goggles, it is important to shop for comfort and functionality as opposed to style because being able to see your line while you're dropping in is far more important than "hater-shades".
With an array of goggles to choose from, it can be hard to know which one is right for you. At Altitude Sports, we carry a variety of goggles from top brands including Oakley, Anon, Smith Optics, Spy and more. Each brand has their revolutionizing lens technology although when it comes to lens tint and ideal conditions, the results will always be the same – darker lenses are for brighter conditions whereas lighter lenses are for overcast, dimmer days.
How to Choose the Right Lens Tint
The first step of goggle shopping is selecting a goggle with a lens that is appropriate for the conditions you will be experiencing. While lens tint is important, the VLT percentage is the key. This stands for Visible Light Transfer and measures the amount of light that is let through the lens. Darker lenses will have a lower VLT which is why they are meant for bluebird days. Clear lenses or yellow lenses, on the other hand, have a higher VLT and will let in more light so even on the gloomiest days, you can still spot your line and shred it safely.
If your local hill often has overcast and flat light conditions, you want to opt for a lighter lens with a higher VLT percentage. It's no surprise that conditions change, so having a few backup lenses for those sunny days is ideal. Most goggles will come with a spare lens but for those that don't, spare lenses can be purchased separately.
When it comes to goggle lenses, there are three categories. Each will have a VLT range which signifies the conditions they are best used for.
Bluebird Tints (Sunny Weather) → 6-29% VLT:
Partly Cloudy Tints → 30-54% VLT
Greybird Tints (Snow & Fog) → 55-85% VLT
Each brand will have their own collection of lenses and lens names but as mentioned before, the lighter the lens, the gloomier the conditions and vice versa. If ever you are still unsure of which lens is the right choice for you, most brands like Oakley, Anon and Smith Optics will have a section of their website dedicated to their lenses and lens selection.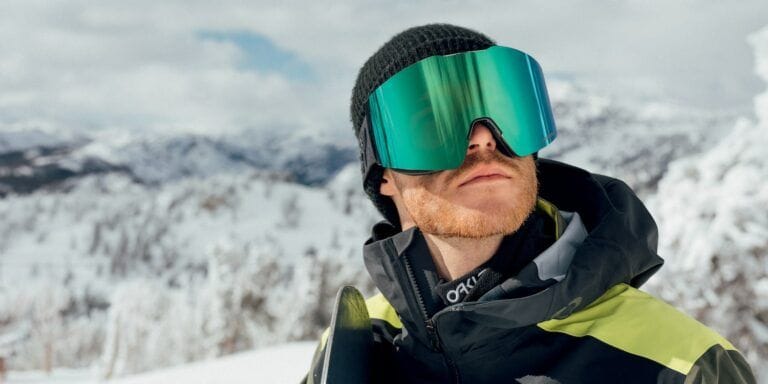 SPHERICAL LENS VS CYLINDRICAL (FLAT) LENS
Once you've selected which lens tint is right for you, you can choose the lens shape. There are two main shapes you'll see which are spherical lenses and cylindrical lenses.
Spherical lenses
Spherical lenses will curve across your eyes and face both vertically and horizontally which maximizes your peripheral vision. This particular lens will also offer a less distorted view and less glare which is why they are often slightly more expensive. If you like a larger goggle lens and want the best vision you can have on the mountain, a spherical lens is perfect for you.
Cylindrical (flat) lenses
Cylindrical (flat) lenses curve horizontally from left to right and are vertically flat which is why they are often times called flat lenses. For those looking for a lower price point or may spend less time on the slopes, a goggle with a cylindrical lens is the right option for you. They get the job done with minor quirks. The flatness of the lens may cause more glare depending on the conditions and they will have a slightly reduced peripheral vision compared to the spherical lenses.
DO YOU NEED INTERCHANGEABLE GOGGLE LENSES?
The answer is no, not necessarily although it certainly does make life easier and if you're on the slopes almost every weekend, it's worth having. Interchangeable lenses are handy for the fact that you can have multiple lenses for different conditions and can simply swap amongst them depending on your needs for that day. This saves you having a collection of goggles taking up space in your gear room and allows you to have one or two favourite frames that you can work with. Most brands will sell their goggles with a spare lens but for those that don't as mentioned earlier, additional lenses can be purchased separately.
Some brands such as Anon have made changing lenses as easy as changing your socks. Anon uses their Magna-Tech® Quick Lens Change Technology which utilizes 18 rare earth magnets allowing you to easily remove your lens without needing to take off your goggles. With a quick snap, the new lens is secured and you're ready to hit the slopes. I know what you're thinking, but there's no need to worry about your lens coming loose during a tomahawk, these magnets work hard and the lens is impressively secured. Interested in testing just how quick the Magna-Tech® Quick Lens Change Technology is? You may want to test out the Anon M3 goggle.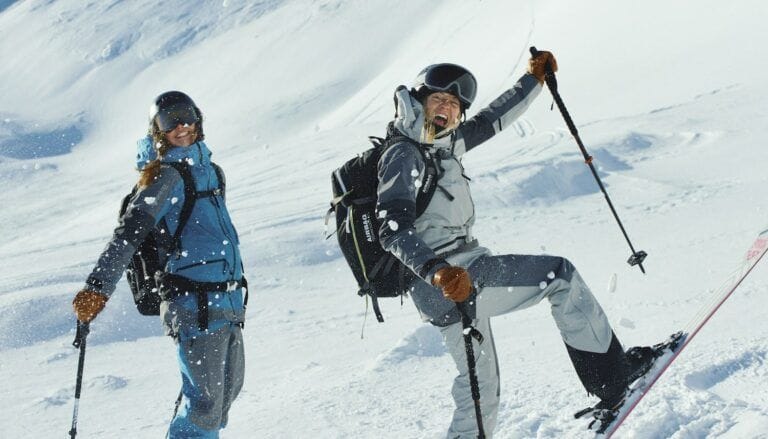 How to choose the right goggle size
XL, no rim, OTG… It's not always easy to know exactly what size you should get. You also have to be careful to choose a pair of goggles that will fit your face shape as well as the helmet you wear.
1. Goggle Sizes
If the frame just reaches the corner of your eyes, it' s too small for your face and will seriously affect your field of vision. There should be about a finger's width between the corner of your eye and the tip of the goggle. That said, you can probably wear more than one type of goggle depending on shape of your face. As a general rule, however, the smaller your helmet, the smaller your frame should be.
2. The Right Fit
Next, you want to make sure the fit is right. Goggles that are too wide will sit lower on your face and may prevent you from being able to breathe properly. You also want to choose a model that won't be too tight. When you try on your goggles, be sure to try them on with the head strap and adjust it so that the goggles rest comfortably on your face.
3. The Foam
Each pair of goggles has a small foam section that adds an extra layer of comfort. The foam should follow the curve of your face perfectly and not be so thick that it fogs up. If you choose to buy a used pair, make sure the foam is still in good shape. Over time, the foam can disintegrate and the goggle's effectiveness will be greatly reduced.
4. Helmet Compatibility
Most companies that make ski goggles also manufacture helmets, which means that it's pretty easy to find models that work well together. You should always try a new set of goggles with your helmet, since some pairs of goggles may have compatibility issues with certain types of helmets. The way you wear your goggles will also affect how well they work with a helmet. If you wear your glasses under your helmet, you need to watch out for pressure points, which can become uncomfortable very quickly.
However, if you wear your goggles over your helmet, you should pick a helmet with a small clip on its back side that will keep your heads strap securely in place. Another thing to consider is the shape of the goggles in relation to the shape of the helmet. You absolutely want to avoid having a gap between the top of the goggle and the bottom of the helmet. Not only will it make you look a little silly, but you're likely to end up with both a very cold face and an awkward tan line on your forehead. Ideally, the helmet should rest slightly above the goggles. If it rests directly on top of them, the helmet may pull them down.
5. Air circulation
We don't need to tell you that good ventilation is a must if you spend all day out on the slopes. All goggles are now equipped with ventilation zones to prevent fogging. When you try on a pair, make sure the helmet doesn't block the ventilation areas – for obvious reasons.
The answer is yes, but only with specific goggles. Not everyone is blessed with 20/20 vision and contacts can be finicky so finding a pair of goggles that you can wear of your glasses is a must for some. Most brands offer a few models that have a large enough frame to accommodate glasses underneath. While shopping, look for goggles with OTG (Over the Glass) in the name or description to ensure what you are looking at will, in fact, be suitable to wear with glasses. If you're worried about fog, it is possible to treat the lenses on your glasses with an anti-fog treatment to help keep them clear while you are wearing your goggles.
Below are three examples of goggles that are suitable to wear over a pair of glasses.
ADDITIONAL GOGGLE TECHNOLOGIES
Sometimes the price tag on a pair of goggles can seem bewildering but when you break down the goggle and all the technology behind it, it becomes more clear. Aside from the variety of goggle tints and the different shapes, there is a lot of technology behind each pair – UV protection, lens technology and anti-fogging coatings only name a few.
1. UV Protection
Almost every pair of goggles on the market today will offer 100% UV protection no matter what the price tag is. The higher the altitude, the higher the intensity of UV rays so choosing the correct lens for the conditions and terrain you are traveling in is crucial for eye health and overall enjoyment.
2. Polarized Lenses VS Mirrored Lenses
Mirrored lenses are treated with a reflective coating which reflects light resulting in less glare and increased visual clarity during sunny and bright conditions. Polarized lenses, on the other hand, are slightly more effective. A polarized lens will cut glare more effectively than a mirrored lens resulting in better contrast and definition and overall better clarity and vision. When given the choice between the two, polarized lenses are the recommended lens for snow sports. By reducing the glare, they are reducing eye fatigue and strain so you can stay on the slopes longer.
3. Double Lenses & Anti-Fog Coatings
Whether we're talking about glasses or goggles, no one likes a fogged up lens, especially on the mountain. Single lenses are simply not designed for life in the mountains but double lenses are. Double lenses are commonly found in new ski and snowboard goggles because of the thermal layer that is created which reduces fog considerably. Add an anti-fog coating and you've got the perfect product. Most goggles nowadays will have an anti-fog coating (hydrophilic chemical treatment) on the inside of the lens but improper goggle care can disrupt this coating. Make sure to always follow the proper goggle care methods and avoid wiping the inside of your lenses.
4. Photochromic Lenses & Prizm® Lenses
As with any piece of sporting equipment, as products evolve so do the technologies and features. Photochromic lenses are becoming increasingly popular and are often found in Smith Optics goggles – ChromaPop lenses. These particular lenses will automatically adjust when exposed to stronger or weaker UV light. Stronger UV like exposure will make the lenses darken while weaker UV light exposure will make the lenses lighten. This lens technology is convenient for changing conditions on the slopes and are often very versatile goggles. The only downside is that the adjustment does not happen instantly and it may take a minute or two for the lens to fully adjust to the changing light. Oakley has also dipped their toes into new lens technologies and their Prizm® lens is showcased in many models in their goggle fleet. Like Photochromic lenses, Prizm® lens technology also adapts to changing light conditions although these lenses will emphasize colours where the eye is the most sensitive to details. This then enhances the performance and safety of the wearer as fine details and obstructions in the terrain become more visible.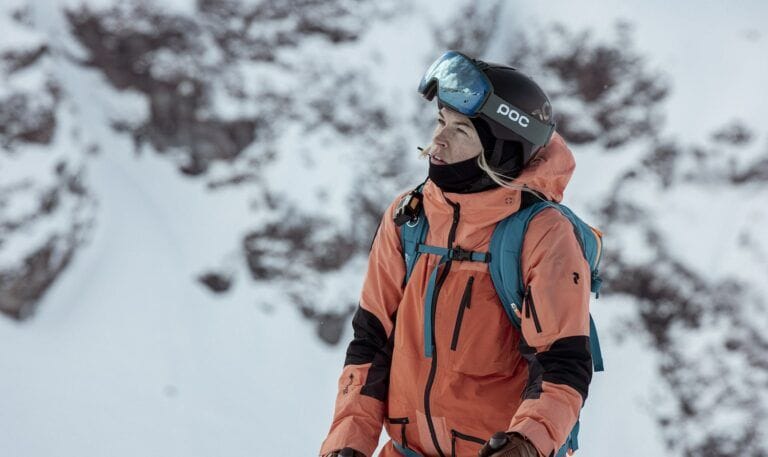 There you have it, all you need to know for how to choose the right goggles to ensure your next day on the slopes is a good one. With more than 200 pairs of goggles from ten different brands, the hardest part will be choosing just one. If you are still unsure which model is best suited for your needs, our customer service agents are more than happy to help you out.
SHARE