It can get cold in the resort. We know that and the brands that specialize in downhill skiing know that too. With so many collections and products designed to keep you warm and protected from the wind on the lift, there's really no reason to spend head to the chalet early.
Winter weather is unpredictable, and that's even truer in the mountains. If the bright sun is warming the air when you make your first runs, that doesn't mean the wind won't pick up when you get back from lunch. So pack an extra pair of gloves and socks, and layer up for all conditions.
Guide to resort skiing clothing
So what's the difference between resort skiing and ski touring clothing? We summarized the essentials you need to know below, but head out here on our in-depth guide on ski touring equipment and clothing for more information.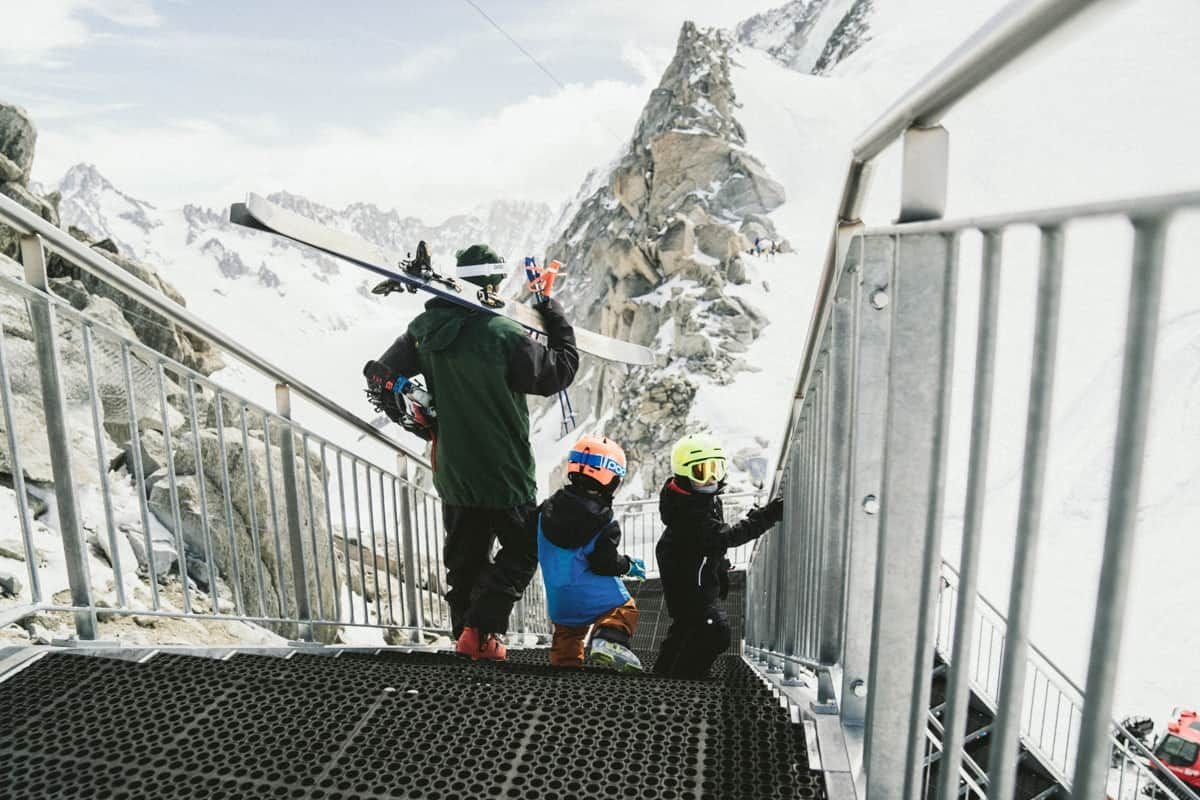 1. Breathe...in your Base Layer!
As the name "base layer" implies, this is your first layer. Worn against the skin, the sweater and tights you choose (preferably in merino) must be snug. As you probably already know, merino wool is a natural material that breathes, wicks moisture and dries quickly. No more need for cotton, which absorbs moisture and keeps you cold.
2. Insulate with the Mid Layer
Let's face it, downhill skiing is not exactly a high-intensity activity… especially when you're waiting on the chairlift. So it's normal to feel cold when your body is resting. To avoid shivering during the ascent, you need a mid layer!
Whether it's made of down or synthetic insulation, a good mid layer should be ultra-light, warm and slightly water resistant. To find that, look for fabrics with a durable water repellent coating (DWR).
Lightweight down coats have become a true winter essential, perfect for cross-country skiing, snowshoeing, and even resort skiing.
3. The Ultimate Protection...of the Outer Layer
The outer layer is the one that protects you from the elements, (whatever they may be). An effective outer layer or "shell" should be waterproof and windproof.
In addition to the jacket, your outer layer also includes pants. Like urban clothing, ski pants and ski bibs come in all cuts and styles to suit all tastes. Snowboarders and freeskiers will prefer a looser style for ease of movement in the park for example. Since the chairlift bench is cold, choosing lightly insulated pants may be a good idea as opposed to a pair of ski pants for the backcountry which should be as light and breathable as possible.
Technical Details to Consider in Ski Jacket
When it comes to the technical features of a jacket, everyone has their preferences. Some people swear by the media pocket for their phone, while others insist on a sleeve pocket for their ski pass.
Pockets are handy, but it's the hood and snow skirt that you should be thinking about. The snow skirt will save you from the cold on particularly windy days. You'll also be glad you chose a jacket with one when you start out in the glades and powder. Without it, expect to get more snow than you'd like in your pants.
As for the hood, choose one that fits over the helmet. A good ski jacket will have drawstrings that are easy to grip with gloves to adjust the hood without freezing your fingers.
A jacket with a storm flap on the center zipper will keep the wind out. High-end, sealed zippers are also good options.
Are you more glove or mittens? Helmet or toque? Balaclava or neck warmer? Apart from a few essentials, accessories are a matter of personal preference. The important thing is that all parts of your body are protected.
For those who are always cold in their extremities, you can now find heated insoles, mittens and socks. Equipped with rechargeable batteries, these accessories are a sure bet for those who often find themselves sitting by the cottage fire place with frozen feet and fingers.
If you haven't gotten your hands on a helmet, what are you waiting for? In addition to protecting your head from impacts and falls, helmets are effective at blocking wind and don't absorb moisture like toques.
When downhill skiing, you don't have the choice to wear goggles. Luckily, the choice is found in the number of models available. Besides considering quality and lens colors, always keep in mind the helmet-goggle combination for optimal comfort. Keep in mind, helmets and goggles of the same brand are often designed to be worn together.
Like with clothing, there are different types of lenses for different snow conditions. Pink, yellow or clear lenses will give you better visibility on snowy days and in the evening, while dark lenses are perfect for the sun.
Resort Skiing VS Ski Touring
Whether you're downhill skiing or ski touring, a merino wool base layer will regulate your body temperature to keep you comfortable during the ascent and the descent.

What should I wear for resort skiing?
This article focuses on the appropriate clothing for resort/downhill skiing. Since downhill skiing doesn't require a lot of energy, the body doesn't warm up as quickly as it would if it were to make a sustained effort, so it's best to wear warm clothing. An insulated jacket and pants will keep you warm while riding the chairlifts.
What should I wear ski touring?
Unlike resort skiing, touring requires choosing clothing that's adapted to a multi-layer system. Choose a mid layer that you can remove and put in your backpack during the ascent, and an outer layer (shell) without insulation. Once you get to the summit, you can insert your mid layer under your shell. In ski touring, the key is to travel light and wear clothing that's easy to remove or put back on as the body warms or cools (during the descent, for example). Since you don't sit in the chairlift at any time, you don't need to have insulated pants. On the contrary, they will be too hot during the ascent and could make you sweat unnecessarily. It's better to have outer layers without insulation and with several vents to stay cool on the way up. 
Nothing beats a good old-fashioned day on the slopes with friends and family. With so many accessories to make even the most timid appreciate winter and skiing, there's no reason not to meet on the slopes this winter!
SHARE