Running during winter can be daunting. Icy paths, cold temperatures, lack of visibility, and a number of other factors can make life difficult. But with the right gear, you can beat the winter blues, so be ready when you hit the trails with this winter running guide.
Finding The Right Footwear
Running gurus won't stop at the sign of snow in the forecast but instead, beef up their running gear so that they can keep racking up their weekly kilometres before and after work. With the proper footwear, you too can be out there with the running gurus all winter long!
Sole of the Shoe
Proper footwear is the key to winter running so make sure your shoes are equipped to tackle icy surfaces. Look for footwear that has lugs on the sole like the Salomon Speedcross or the S/Lab Speed 2 trail running shoes. These lugs provide superior grip on snow-covered surfaces and are ideal for trail running where the terrain is uneven and soft.
| | |
| --- | --- |
| Speedcross 5 GTX | S/Lab Speed 2 |
Waterproofing
When searching for shoes to wear while running in the winter, something that is waterproof or has a waterproof coating is a must. Salomon has the  Supercross trail running shoes which are not only equipped with the rubber lugs for enhanced traction but have a GORE-TEX membrane to ensure the shoes remain waterproof, breathable, and capable of protecting you against rain and snow.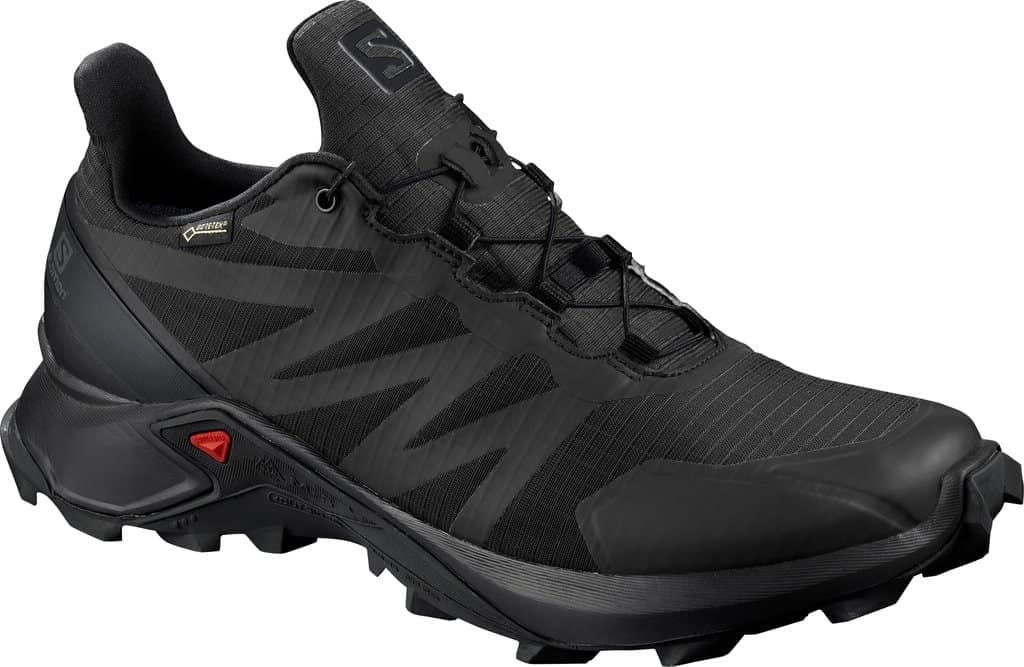 Supercross GTX
*To find the perfect running shoes for you, check out our finding the perfect running shoe guide.
What To Wear
Running is similar to other outdoor activities when it comes to how you dress; steer clear of cotton and choose moisture-wicking fabrics. Effective layering will not only keep you warm in cold weather but will keep your body temperature balanced for the duration of your activity and allow you to stay out in the elements for longer.
Clothing
Winter running is a balancing act. Besides literally trying to balance on icy terrain, you want to stay warm without overheating. That's why layering is essential to staying comfortable when winter running.
Base Layers
A good base layer is all about staying warm and comfortable. Merino wool does an excellent job of regulating body temperature while wicking moisture away from the body and staying breathable.
Smartwool

Merino Sport 150 T-shirt

Smartwool

Merino Sport Fleece Tight
Mid Layers
The Mid Layer will be providing you with warmth. Depending on how cold it is, or how much weight you want to add, there are multiple options. The best option for warmth-to-weight is an insulated mid-layer.
Norrona Faltekind Warm1 Jacket
Shells
A third layer, known as your shell or outer layer,  is worn to protect you from the elements such as rain, sleet or snow. Generally, this layer is a waterproof and breathable shell with not much insulation but works with your layering system to trap body heat and keep your body warm.
Sports Bra
Picking a good, supportive sports bra is a key piece of running gear for any time of year. A sports bra with thicker straps like the Shock Absorber Ultimate Run Bra will feel more comfortable on your shoulders and offer more support if you need it.
Shock Absorber
Ultimate Run Bra
Socks
Unlike hiking shoes, it can be hard to find running shoes that are insulated and can stand up against winter temperatures but with a well-waterproofed pair of shoes, you can wear warmer socks for insulation. Socks made of merino wool will be moisture-wicking, temperature balancing and for the most part, odourless so they are perfect for not only hiking but for winter running as well.
Icebreaker

Run+ Ultra Light Mini

Smartwool

PhD Run Ultra Light Micro Socks

Smartwool

PhD Run Light Elite Crew Socks
Accessories
Keeping your head, face, ears and fingers warm while running can have a large impact on your overall body temperature and comfort. So be prepared. Go outside ready for the winter conditions. Throw on a toque or a headband to protect your ears, slip on some gloves or mitts to keep your fingers warm and keep your neck and face covered with a balaclava or Buff.
Ciele

TRL Beanie

Buff

Lightweight Patterned Merino Wool

Icebreaker

Quantum Gloves
Stay Hydrated
Whether you run with a water bottle or not, being hydrated while running in the winter is as important as it is in the hot, summer months. If you prefer not to carry a water bottle with you while running, there are waist belts, vests and water packs which can be very useful. On your winter runs make sure you use properly insulated hoses for water packs so the water doesn't freeze.
CamelBak

Nano Vest

Osprey

Duro Solo w/ Bottle

Nathan

QuickStart 4L Race Pack
Look After Your Body
Cold weather can leave your muscles feeling tight. Be aware that your muscles need more attention in the winter especially before you head out for activities. Do some stretches when you wake up and throughout the day and this will keep your muscles loose and warm. Create some sort of warm-up routine for yourself before a winter run. Include some stretches, high-knees and jumping jacks. Try to have a cool-down routine, drink some water and take deep breathes to relax your body at the end of an intense run.

What Are You Waiting For?
Fight back against the cheeky snow this winter season and continue your outdoor running routine with ease. Laugh at icy paths and roads as you glide across with secure traction and carry on into the cold temperatures with your impeccable layering system. With the proper gear and precautions, winter running will soon become your favourite activity!
SHARE