The two best things in life are camping and coffee. That's a scientific fact. It's also a fact that you haven't really lived until you've experienced both things at the same time. Of course, not every coffee connoisseur loves the great outdoors, and not every camper covets the black gold. But for the rest of us normal folk, enjoying a wilderness cup of joe borders on a religious experience.
So, to help facilitate your own caffeine satori, we've compiled a list of 2023's best camping coffee makers. Our top pick is the Eureka Camp Café for its compact and clever design, all-around versatility, and exquisite espresso brewing capabilities.
Read on to discover all of our delicious favourites!
Best Coffee Makers for Camping Reviewed
1. BEST OVERALL COFFEE MAKER​
Beautiful, nested, all-you-need, the Eureka Camp Café is an excellent coffee making system for car camping and glamping. The set includes a 2.5L kettle, coffee carafe, pour over filter, scoop, and lid. While the system weighs a whopping 5.5 lbs, it also makes 12 cups of delicious coffee—a worthy trade, indeed.
Both elegant and ingenious, the Camp Café nests inside itself for easy transportation and storage. Thanks to the silicone and anodized aluminium construction, this camping coffee maker is also exceptionally easy to clean. If you prefer the taste of paper filters, the Camp Café is compatible with all standard #4 filters.
And, oh yeah—did we mention that it brews delicious coffee?
Price:
0.00$
Pros
Versatile

Lightweight

Delicious

Affordable
2. Best Runner-Up
If you prefer classic drip coffee over espresso, our runner-up fave is for you. The GSI Outdoors Javagrind Pour Over Java Set is a lightweight, collapsible coffee maker—perfect for on-trail mornings and relaxed campfire pick-me-ups.
The set includes GSI's infamous Java Drip. Thanks to its silicone construction, the Java Drip weighs a mere 13 oz and collapses down to a sleek one inch disk. A reusable nylon filter is included; of course, if you prefer the taste of paper filter drips, any #4's will do. 
Also included is the Java Mill, a 9.1 oz adjustable coffee grinder that lets you set your preferred grind size. Inside, ceramic burrs are lighter than metal and won't affect taste. To keep things tidy, a plastic cup catches the fresh grounds. For optimal storage, the grinder handle is removable. 
The set also comes with a BPA-FREE cover that doubles as a trivet after brewing. Stuff sack included.
Price:
0.00$
3. Best Budget Coffee Maker
For less than $25.00 and weighing under 1 oz, the MSR MugMate Coffee or Tea Filter is the ultimate in budget ultralight coffee makers. 
Keep in mind that the MugMate is not an all-in-one set—it's simply an eco-friendly, reusable, submersible filter. Simply boil water on your camping stove and add some loose leaf tea or coffee grounds. The filter sits comfortably on the mouth of your mug.
Price:
0.00$
Pros
Price

Minimalist

Eco-friendly
4. Best for Solo Hikers
A beautiful and sleek pour-over coffee maker, the GSI Outdoors Coffee Rocket is perfect for solo camping trips. On the surface, the Coffee Rocket appears to be nothing more than an insulated travel mug. But, inside, coffee-making magic is unfolding.
A discreet drip cone and filter screen nests within the mug. The shatter-proof and BPA-free construction seals in heat, while the insulated sleeve keeps burnt hands at bay. Weighing less than 3 oz, the 8 fluid oz mug makes for a sizable single serving. In just a few minutes, you'll have a fresh, steaming cup of coffee anywhere on the trail.
Price:
0.00$
Pros
Nested Design

Seals in heat

Sturdy

Price
5. Best Camp Percolator
From the stove to the fireplace, the GSI Outdoors Glacier Stainless 12 Cup Percolator is a minimalist and sturdy coffee maker.
With a weight of 33 oz, the Stainless Coffee Percolator is not what you'd consider ultralight. But, with a 12 cup serving capacity, it's a great choice for both car camping and glamping. For added convenience, the silicone handle always remains cool to the touch.
Price:
0.00$
Pros
High-quality materials

Elegant design

Ample volume
6. Best for Groups
There's nothing like being able to serve up delicious French press coffee to a group in the woods. The MSR WindBurner Coffee Press Kit 1.8L makes this endeavour both simple and fun. The stainless steel strainer and flexible gasket create a perfect seal. Meanwhile, the press can be quickly disassembled for flat packing.
Of course, this product requires the MSR WindBurner 1.8L System; the Coffee Press is an after-market extension that lets you transform your camp stove into a wilderness coffee making machine.
Price:
0.00$
Pros
Practical

Well-built

Compact
Cons
Must be paired with stove system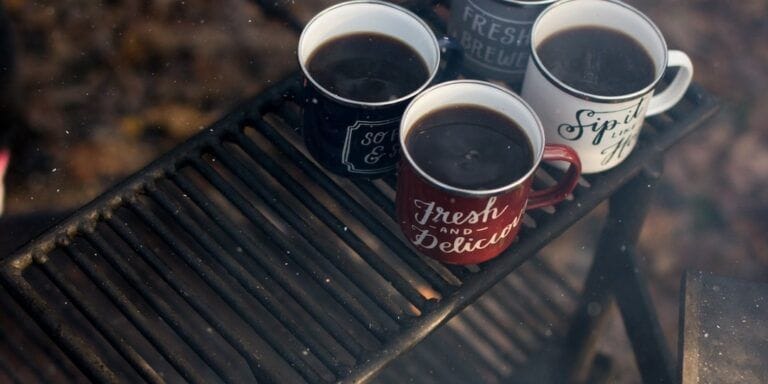 What to Look for in a Camping Coffee Set
1. Types
Take a look at our guide to outdoor coffee making for a complete and detailed list of camping coffee methods and gear.
All-in-one coffee makers are devices (as opposed to kits) that allow you to brew your coffee with a single piece of technology. A perfect example is the Wacaco Minipresso GR.
These coffee making kits use the drip method. It's a simple method that requires a filter drip and some filter paper (or a reusable filter, like the one included in the GSI Outdoors Gourmet PourOver Java Set).
When you think of cowboys by the campfire, a pistol and a percolator should come fast to mind. This is the longest but simplest coffee-making method in the woods. All you need is fire, water, coffee grounds, and a percolator. Highly recommended for nostalgic campers and those who don't give a flint about pack weight. 
For an awesome modern percolator, check out the GSI Outdoors Glacier Stainless 6 Cup Percolator, a smaller version of our favourite camping coffee percolator.
The hallmark of this method is the plunger, which translates surprisingly well to on-trail use. Many brands, including JetBoil have created lightweight, durable plungers that can be quickly disassembled for transport.
2. Weight & Packability
For car campers and glampers, weight and packability don't rank high on your list of concerns. Conversely, long-distance hikers, thru-hikers, and backcountry campers must be careful. While the former category can happily indulge in any brewing technology, we recommend the latter stick with drip and French press kits for ultralight results.
3. Ease of Use
Ease of use encompasses a few essential facets: durability, operation, and cleaning. Simply put, you want something that's sturdy, straightforward, and easy to clean. All our top picks have demonstrated an above-average ease of use rating.
4. Taste!
Though entirely subjective, taste is important! Certain coffee snobs among us will note a big discrepancy on their palate when sampling coffees brewed using different methods. For us less gifted coffee drinkers, however, taste is almost entirely tied to the bean itself.

FAQs for camping coffee makers
Q: What is the best way to make coffee while camping?
A: The best way to make coffee while camping depends on many factors - least important is the actual coffee-making method! 
First, ask yourself whether weight and packability are important when choosing a coffee-making method. Second, consider how much time you can devote to the coffee-making process. Finally, how many people/cups do you want to squeeze out of a single brew? Once you've narrowed down your use-case, you can decide which method is best for you.
Q: How long do you percolate coffee on a camp stove?
A: When it comes to brewing wilderness java, percolating coffee has been the long-standing historical method. With the advent of minimalist machines, however, it's become something of a lost art. This is in part due to its longer brew time and bulkiness when compared to alternatives, like French press and espresso devices.
That said, if you've got time to while away in the woods, percolating your grounds is a simple and reliable technique for creating a perfect cup of joe. In general, you'll want to let it simmer for around 20 minutes. Percolating gives you complete control over the strength of your coffee: The longer you percolate, the stronger your brew. It also sounds lovely as it boils on an open flame!
Q: What to do with coffee grounds when backpacking?
A: Follow the Leave No Trace dictum: Pack it in, pack it out! If it didn't originate in the woods, it shouldn't be left in the woods. Bring a ziplock bag for your used coffee grounds; once you return to civilization, you can either compost the grounds or toss it in the trash.
Choosing the right coffee maker for camping can be a struggle. Between the various technologies, brewing methods, and packing considerations, there's a lot to account for. 
Hopefully we've shed some light on the best way to pick your camping coffee maker! Our top pick is the Eureka Camp Café for its ingenious and compact design, all-around efficiency, and tasty brews.
Next up, pair your perfect coffee maker with the perfect camping stove!
SHARE