It's that time of year where everyone is fed up of clearing the snow from their driveway. Tired of maneuvering through snow and ice to get to work. In other words, it's that time of year when cabin fever sets in and we're all itching to get somewhere tropical, where we can swap the cold for hot sandy beaches, and snow pants for a swimsuit. If you're going to start planning for that resort vacation, you might as well start shopping the essentials, like a versatile, quick-drying swimsuit. Here's a selection of our favourite swimsuits for the 2020 season.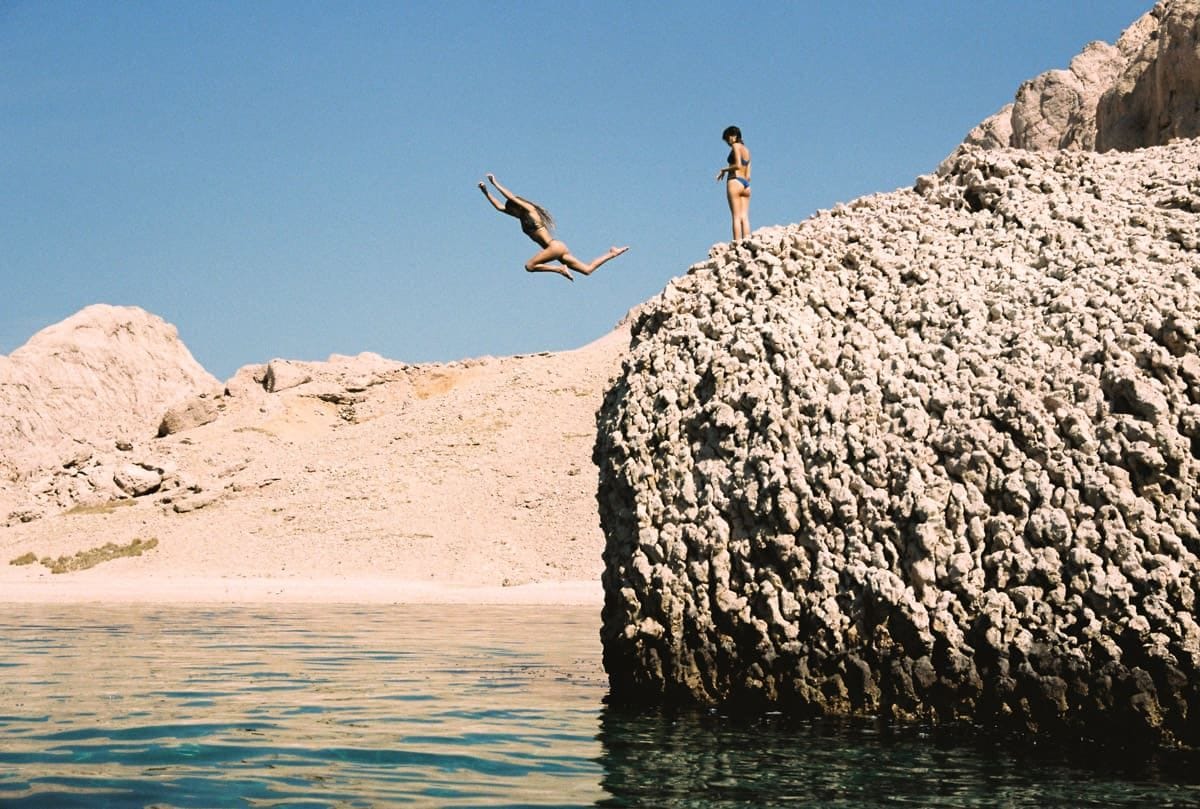 What to Consider When Choosing a Swimsuit?
Style is important, but there are certain factors you need to consider when it comes to choosing the right swimsuit for your vacation. And since swimsuits can be expensive (considering the amount of fabric used), it's best to pick on that does it all. Here are some factors to consider:
Quick-drying fabric
Comfort (fabric that doesn't rub)
Versatility
Quick-Drying Fabrics
For vacations down south you can either choose to bring a suitcase full of bathing suits, or you can opt for a quick-drying one. You want something you can wear throughout the day, from sunrise to sunset. In this case, a swimsuit made from nylon (or micro-nylon) and polyester is your best bet.
Comfort
This applies to both the men's swimsuits and the women's swimsuits. Since swimsuits tend to stick when wet, it makes it very easy for them to rub and irritate the skin. To avoid that you'll want a bathing suit that fits well enough without being too tight.
Versatility
Pick a bathing suit that does it all. A simple bathing suit will limit the number of awkward tan lines—unless you want checkered tan lines on your back. You'll also want to pick a bathing suit that's comfortable for various activities. Lying in the sand and relaxing is one thing, but if you plan on being more active you'll want a little extra coverage. Consider this when you want to go cave diving, exploring Mexican cenotes or simply sitting at the restaurant with your feet in the pool.
Our 10 Best Swimsuits for A Weekend Down South
1. Sofia One Piece Swimsuit by June Swimwear
This one is the peak of elegance. For all those who want to avoid the one-piece, the Sofia swimsuit by June Swimwear will quickly change your mind. Made from a blend of nylon and spandex, it's super comfortable with an original style that will stand out on the beach. And did we mention that it was designed and made in Quebec?
2. Orla Bikini Top by Body Glove
So maybe you prefer the style of the two-piece. Fair enough. In that case, you'll love the Orla Bikini Top by Body Glove. On top of matching with just about any bottom, this hidden underwire top stays in place, so all you have to worry about is enjoying the sun.
3. Wrap One-Piece Swimsuit by Everyday Sunday
Is it a one-piece? A bikini? We're not sure, and that's exactly what makes this swimsuit by Everyday Sunday so unique. If you want to get technical, we'd call this a one-piece, but does it really matter? This versatile swimsuit made from micro-nylon and spandex gives the best of both worlds.
4. Hyperfreak Saltwater 3″ Boardshorts by O'Neill
You might not be a pro, but when it comes to playing volleyball on the beach, you want to be able to throw yourself in the sand without worrying about losing your swimsuit. In that case, try the Hyperfreak Boardshorts by O'Neill. Minimalist with plenty of stretch, these shorts will let you practice your favourite sport on the beach without risk of losing anything thanks to the drawcord closure.
5. Roberta Bikini Top by June Swimwear
At Altitude Sports, we're sold on June Swimwear, and with good reason. The Roberta is one of our favourite bikini tops. Understated and original, this front-tie knot-top is sure to win you and everyone else over.
6. Anini Beach Cheeky Hipster Bikini Bottoms by Rip Curl
Minimum coverage, maximum tanning. Don't forget the sun screen when you throw on the Anini bikini bottoms by Rip Curl . This microfiber bottom features an elegant floral motif, and its cheeky coverage will have heads turning.
7. Bottom Turn Top by Patagonia
This is our favourite top for travelling. This Patagonia swim top is ultra-comfortable and made from Fair Trade certified recycled polyester.  The supportive, covered elastic straps are sure to keep it on comfortably as you explore the coral reef down south.
8. Dazed High Rise Bikini Bottoms by RVCA
We doubt there's a more stylish high waisted bikini bottom than this one. It's hard to find a more comfortable bottom than the Dazed High Rise by RVCA. Made from a combination of polyamide and elastane, it's one of our most versatile bottoms.
9. One-Piece Swimsuit by Everyday Sunday
By now you've probably figured out that we like one-piece swimsuits. That's especially true of this vibrant red one-piece by Everyday Sunday. It has an open back with an underbust elastic for support. We'd like nothing better than to throw it on and lie down on a hot sandy beach.
10. Same Story Swim Cover Up by Billabong
We're not ending with a swimsuit, but with a cover-up that you can throw on top. It's perfect for making your way from your hotel room to the beach, or heading to the bar after a day in the sun. This elegant Swim Cover Up by Billabong is perfect for ending the day in style.

Dreaming of Tropical Vacations
Shopping for a new swimsuit in anticipation of a getaway is the best way to pass the time. While you're at it, complete the look with a pair of sunglasses and a beach towel. If you're bringing along a day pack on your trip, say to Nicaragua, go for a microfiber towel like the Airlite from Sea to Summit. It takes up very little room and dries in an instant. It's a must for adventurers. Bon Voyage!
SHARE