Your friends hit the downhill slopes every weekend, but have you always wanted to try cross-country? You're not alone—cross country skiing is booming in 2022! Cross-country skiing is one of the best ways to keep fit in winter. It's a cardio activity, but it's also quite peaceful (imagine skiing through the woods!) and suitable for the whole family. And with the right cross-country ski clothing, it's easier than you might think.
While it often costs hundreds of dollars to buy new downhill ski equipment, cross-country ski equipment and clothing is much more affordable. However, it's not always easy to know how to dress for cross-country skiing. Forget the big coats and snow trousers. What you need is the multi-layer system.
Cross-country ski apparel guide
In winter, we tend to want to find the warmest possible clothing for our everyday. But cross-country skiing requires a very different dressing technique. It's all about layering two or three layers: a base layer, an outer layer, and, if it's really cold, a mid layer in between. 
The air between the layers traps your body heat. The more layers you wear, the warmer you'll be—it's as simple as that. That's why cross-country ski clothing is often thin and tight-fitting. Plus, it's an endurance sport, so if you feel cold during the first few minutes on the trail, don't worry—you'll soon be warm enough.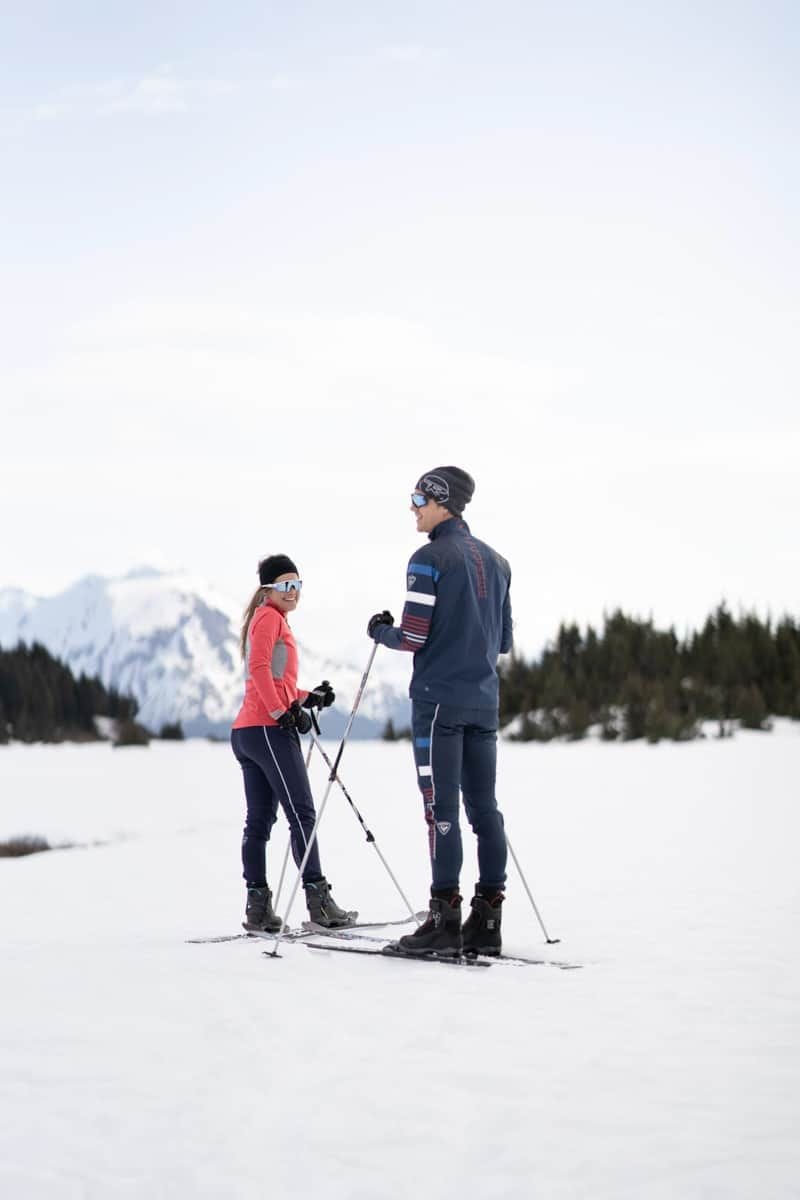 THE FIRST STEP: THE BASE LAYER
The base layer is the one that'll be in direct contact with your skin. It has to be warm, of course, but it's even more important that it wicks away moisture. Best to opt for Merino wool or polyester, such as a base layer from Smartwool, icebreaker or Helly Hansen.
We can't repeat this enough: forget cotton. Cotton is heavy, doesn't dry well and doesn't wick away moisture or perspiration at all. Choose natural Merino!
IN VERY COLD WEATHER: MID LAYERS
It's worth using an intermediate layer on very cold days. Let's say you go skiing when it's -15 degrees Celsius with a bit of a wind blowing—a mid layer is an excellent option. Or if you are more susceptible to the cold, slip one under your coat and over the base layer.
As with the base layer, use a close-fitting garment. You certainly don't want to feel draughts in the middle of January. Also, try to go for a no-hood model to avoid feeling trapped under your coat. But the main quality of a good base layer, in addition to its insulation, is freedom of movement. For cross-country skiing, you can once again opt for something Merino or a fleece. 
Remember that in cross-country skiing, a mid layer is usually not necessary. Unless it's really very cold, a Merino wool base layer and a thin, lined, windproof jacket are going to be enough. 
WIND PROTECTION: THE OUTER LAYERS
This is the top layer, the one that protects from the elements. For a cross-country skiing adventure, it is imperative that this layer be windproof. Ideally, it should also at least offer a degree of water resistance, while still being breathable enough to allow excess body heat to escape. Since it's rather rare to cross-country ski in the rain (sliding conditions quickly become disastrous in rain or freezing rain), the coat does not have to be 100% waterproof. However, it must be able to withstand snow showers.
Once again, this isn't a question of finding the warmest coat possible. In mild weather, you can opt for a coat without any insulation (you'll have the warmth of your base layer to balance it out). The ideal is a small, light, lightly-lined, windproof, soft-shell coat.
Cross-country ski jackets tend to be very similar to winter racing or cycling jackets. 
You don't necessarily lose more heat at the extremities, but this is where the heat loss is felt most quickly. Fingers, cheeks and ears are more sensitive to temperature changes.
For cross-country skiing, choose thin, lined, windproof gloves. If your hands get very cold, go for mittens—just make sure they're thin enough to let you handle your poles properly. By the way, it is normal to feel cold hands for the first few minutes of your ski.
Your extremities have to be protected before you embark on a cross-country skiing session. This is where your headwear, and more specifically a toque, keeps you warm and prevents your body heat from escaping. 
A thin merino or polyester toque will do the trick. Even if you're the type to get cold ears, you'll find that if your toque is too thick, you'll get way too hot way too quickly. 
cross country ski toques
Lightweight
Wicks moisture
Wool blend
Shop
Merino blend
For high-intensity activity
Wicks moisture
Shop
Super lightweight
Close-fitting fleece
Built for skiing 
Shop
Lightweight
Wicks moisture
Wool blend
Shop
Merino blend
For high-intensity activity
Wicks moisture
Shop
Super lightweight
Close-fitting fleece
Built for skiing 
Shop
The good thing about cross-country skiing is that you can get a complete set of equipment for about the same price as a pair of downhill ski boots.
Both intense and relaxing at once, cross-country skiing is an activity that is within everyone's reach. Canada is full of places to practice this sport. And do yourself a favour—don't go cross-country skiing in your biggest Canada Goose coat. This winter, 2021, get your best cross-country ski clothing and gear, get outside and enjoy nature.
SHARE