Since 2008, the Patagonia Down Sweater  has been a brand icon. And not just among climbers and hikers. Commuters, city slickers, urban explorers, fashionistas, and the environmentally conscious have all remained loyal to the legendary garment. 
So what makes it so iconic? Besides its many top-notch features, the Down Sweater marked a drastic change in the lightweight jacket aesthetic, ushering in a new era of functional minimalist design and inspiring other outdoor companies to do the same.
Patagonia Down Sweater Jacket
Brand Name
|
Product Type
The Down Sweater may not the most ultralight down jacket on the market (even within Patagonia's own catalogue), but it is possibly the most versatile, durable, and eco-friendly. Especially at its considerably low price-point.
Price:
0.00$
Things to Consider Before Buying a Light Down Jacket
Unless your closet is already overflowing with lightweight down jackets, this is definitely a must-have piece of gear. Even the minimalist capsule wardrobe needs a lightweight puffy; its versatility makes it functional across a wide range of situations. Not to mention it pairs nicely with almost anything.
So you've decided a lightweight jacket is right for you. Good. Now the question remains: down or synthetic? For the most part, synthetic materials are less expensive. They also retain heat better when wet. That said, down excels when it comes to compressibility and for its unmatched warmth-to-weight ratio. 
Ethically sourced down is much more common today, offering a guilt-free alternative for those who prefer nature's best insulator. The Down Sweater features responsibly sourced, traceable European goose down. This means no force-feeding, no live-plucking, and no killing. Big points for a process that's both humane and sustainable.
On the other hand, for those seeking a more rugged puffy for the trail there are better options. Mountain Hardwear's Ghost Whisperer and the Arc'teryx Cerium LT are both lighter and warmer than the Down Sweater. Of course, these come at substantially higher price-points. And, for general use, you likely won't notice the difference in either warmth or weight.
Why You Should Consider the Patagonia Down Sweater
Despite the hundreds (and possibly thousands) of competitors in the lightweight down jacket market, why does the Down Sweater stand out? Aaron S. sums it up nicely when he writes, "Warm, light, and fits great. Incredibly versatile jacket for around town or outdoor use. Highly recommended!" Below, we review these key features and more to discover what keeps people coming back to the beloved classic.
Warmth
Rated for temperatures between -5°C and 10°C (23F – 50F), the Down Sweater's 800-fill power traceable goose down will keep you warm all through the shoulder-season. When layered, you'll find yourself rocking the Down Sweater in even lower temperatures. 
In reviewing the jacket's insulating ability, Jennifer T. writes,  "I wore this during the fall of Toronto's winter, where it can swing +/- 10 degrees between the AM and PM and this works perfectly well. Keeps you warm when it's cold outside or it'll regulate and not be as warm if it's warm outside. Looks good too."
Weather Resistance
The ripstop polyester shell is treated with a Durable Water Repellent (DWR) coating, making the Down Sweater water-resistant. This doesn't mean it's waterproof, though the Down Sweater performs well in light rains or mists, beading and shedding small amounts of water. In more torrential downpours, you're going to need to layer a hardshell overtop to avoid getting soaked through.
Fit
The fit of the Down Sweater is considered regular. This means that your standard size maps well onto the Patagonia Down Sweater. It is, however, slightly roomier around the hips. There are two reasons for this: first, the drawstring hem allows you to adjust the waist to your own dimensions; second, it allows you to layer more effectively without constricting movement.
Features
Weighing in at 371 grams (13.1 oz), the Down Sweater is a surprisingly lightweight jacket. A full-length zipper allows you to adjust airflow, while the zipper garage reduces chafing. A storm flap behind the zipper protects against drafts. When fully zipped, the high collar defends your neck and chin against biting winds. The inside rear collar features a small tag to hang your jacket on a hook.
Two zippered hand pockets offer ample storage and a refuge for chilly hands. The drawstring hem around the waist gives you the freedom to layer and fine-tune airflow, and features dual adjustment tabs. Elastic cuffs fit snug around your wrist without being too tight.
An inside zippered chest pocket can be used for storing items that should stay warm (like your phone), and doubles as a compression sack for the jacket. When not in use, simply compress the jacket into the pocket and zip it shut. 
Packability
This is a highly packable jacket. You can compress the Patagonia Down Sweater into the inside zip-pocket. When stored like this, you'll notice a small attachment point at one end of the zipper. Using this tab, you can clip the jacket directly to your climbing harness so it's always secure and within reach. Additionally, its compressed size and shape make it an excellent makeshift travel pillow.
Durability
Durability has always been one of Patagonia's selling points. The Down Sweater is no different. The recycled, polyester shell is rip-stop, meaning both the baffles and the lining are abrasion-resistant. While you can indeed expect a long life from the Down Sweater, shiz happens. In case of damage, Patagonia offers a simple way to send it in for repairs or donation. 
To reduce their ecological footprint and promote sustainability, Patagonia has also started the Common Threads initiative, which encourages people to repair old gear, buy used whenever possible, and donate what you no longer wear.
Style
The brains behind the ubiquitous jacket is Patagonia's own Director of Technical Design, Eric Rice. Rice, an industrial designer by trade, has been creating awesome outdoor staples for Patagonia since 1997, including his other masterpiece, the Nano Air (women's; men's). 
The brilliance of the Down Sweater is that it broke the trend of bulky, Michelin Man-style down jackets that hadn't much changed since they first appeared in the 1960s.
Since its first iteration, the time-tested Down Sweater has remained unquestionably fashionable. Even serious hikers who rock a Ghost Whisperer or Cerium LT in the woods opt for their Down Sweater when tramping through the city. It just looks good.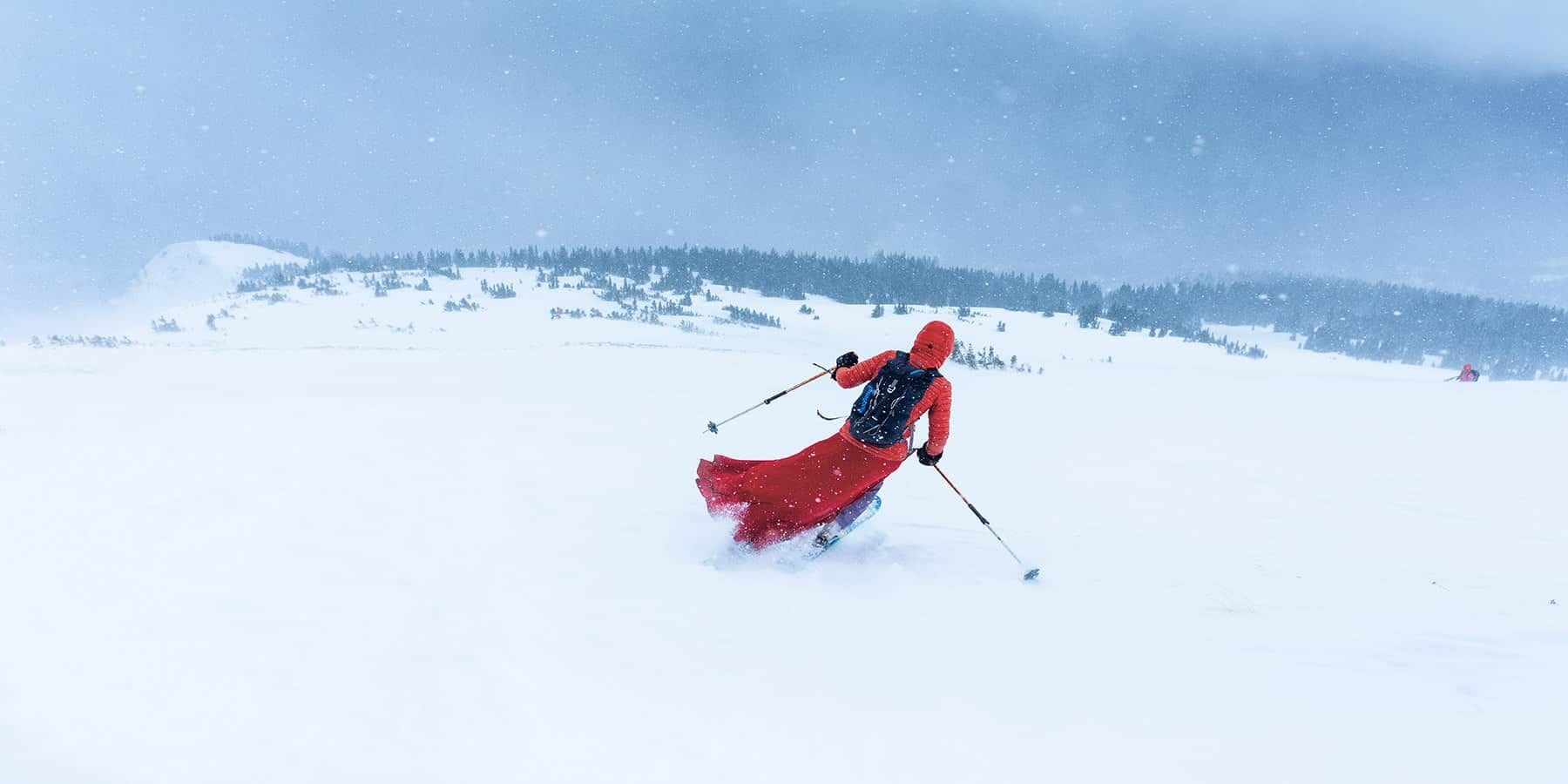 FAQ—Things to Know About the Patagonia Down Sweater
How warm is the Patagonia down sweater?
With 800-fill power down insulation, the Patagonia Down Sweater is an exceptionally toasty jacket. If you're in the northern hemisphere, late autumn to early winter is when you'll get the most wear out of it. 
More specifically, it excels in temperatures between 0°C and 15°C (32F - 60F). This rule of thumb assumes you've simply paired it with a single baselayer. By adding a few extra layers you'll be able to stay warm in even colder conditions.
Is it warmer than the Nano Puff?
In many ways, the Nano Puff (women's; men's) and the Down Sweater are quite similar: both are lightweight puffies designed for shoulder-season use. The most striking difference between these models is their insulation. The Down Sweater uses 800-fill power goose down, while the Nano Puff uses Primaloft, a leading synthetic insulation.
 Though the Nano Puff is an excellent lightweight jacket, it isn't quite as warm as its down-filled sibling. On the other hand, if weight is the most important metric to you, the Nano Puff is just 11.9 oz—roughly 1.2 oz less than the Down Sweater.
Are Patagonia down jackets worth it?
What really stands out about the Down Sweater is that it uses ethically sourced, traceable goose down and still manages to remain below the price-point of other lightweight down jackets. While you could argue whether any down jacket is worth its steep price tag, there's no question that Patagonia's Down Sweater is definitely a bargain.
Final Words on Our Patagonia Down Sweater Review
The Patagonia Down Sweater is the most versatile, durable, and eco-friendly lightweight down jacket on the market. It's beyond reasonably priced and, even though it inspired a generation of functional minimalism, it remains arguably the most stylish entry in its class. That said, it weighs more than some of its competitors, with a slightly lower warmth-to-weight ratio.
If you're looking to cop a jacket that's both lighter and warmer than the Down Sweater (though more expensive and arguably less stylish), be sure to check out the Ghost Whisperer (women's; men's) and the Cerium LT (women's; men's). On the other hand, if you're ready to join the movement, check out the Down Sweater here and find your perfect colour (women's; men's). 
Patagonia Down Sweater Collection
SHARE