From pencils and notebooks to calculators and lunch boxes, equipping your child for back-to-school is a serious undertaking. But arguably the most important piece of gear is the one that's going to carry all the rest: their backpack.
Of course, with so many backpacks on the market, the choice can be overwhelming. Luckily, we've already done the heavy lifting for you. Read on to discover the best backpacks for kids in 2023. Even though your little ones may have mixed feelings about the start of a new semester, a new backpack is sure to make things a bit more exciting!
BEST KIDS' BACKPACKS FOR SCHOOL
FJÄLLRÄVEN RE-KÅNKEN MINI 7L
Looking for a practical and colourful backpack that will suit all your child's back to school needs and beyond? The Re-Kånken Mini from Fjällräven is perfect! This model is a slightly modified version of the classic Kånken, designed to fit your little ones. 
It features adjustable shoulder straps, a foam cushion to reduce back pressure, and two side pockets that can easily hold a water bottle, snack, or toy. Plus, the Re-Kånken is made entirely of polyester from recycled plastic bottles, so it's a great way to equip your child while helping the planet!
Price:
0.00$
Pros
Durable
Recycled materials
Stylish
Cons
Not much internal organisation
HERSCHEL SUPPLY CO. HERITAGE BACKPACK 15L
This kids backpack is for the little ones looking to flaunt their style in the schoolyard. Designed specifically for children aged 7 and up, the youth Heritage Backpack 15L backpack boasts the classic Herschel look.
It features the signature Herschel logo on the front and side mesh pockets, perfect size for a water bottle or snack. It's also got padded shoulder straps for all day comfort. Plus, it boasts an external name label so your kids never have to worry about losing their stuff.
Price:
0.00$
Pros
Padded shoulder straps
External name label
Easy-to-use zippers
OSPREY TEMPEST JR BACKPACK & TALON BACKPACK
If you're looking for a bright-coloured backpack that your child will love, the Osprey Tempest JR Backpack for girls and the Talon Backpack for boys are perfect choices.
Parents can depend on the top-notch quality Osprey is known for, and kids will love the comfortable, ergonomic design and padded straps. This versatile backpack can also be seamlessly converted into a hiking bag, thanks to the hydration-compatible sleeve that fits a 1.5-litre reservoir and the hip belt.
Because this backpack is designed for kids between the ages of 4 and 12, they'll be able to depend on it for many years to come (and save you money along the way!).
Price:
0.00$
Pros
Versatile
Hydration compatible
Hip belt for heavier loads
DEUX PAR DEUX BACKPACK
This one carries all the essentials in the roomy main compartment and has a zippered front pocket to hold pencils, crayons, markers, and more. Made by Quebec-based brand Deux par Deux, their aptly titled Backpack is even big enough for a 15-inch computer with its padded laptop sleeve.
There are two flat side pockets for holding a water bottle and a practical carry handle on top. Parents will also appreciate that it's easy to clean (machine wash cold) and has adjustable shoulder straps for growing kids.
Price:
0.00$
Pros
15" laptop sleeve
Machine washable
Funky designs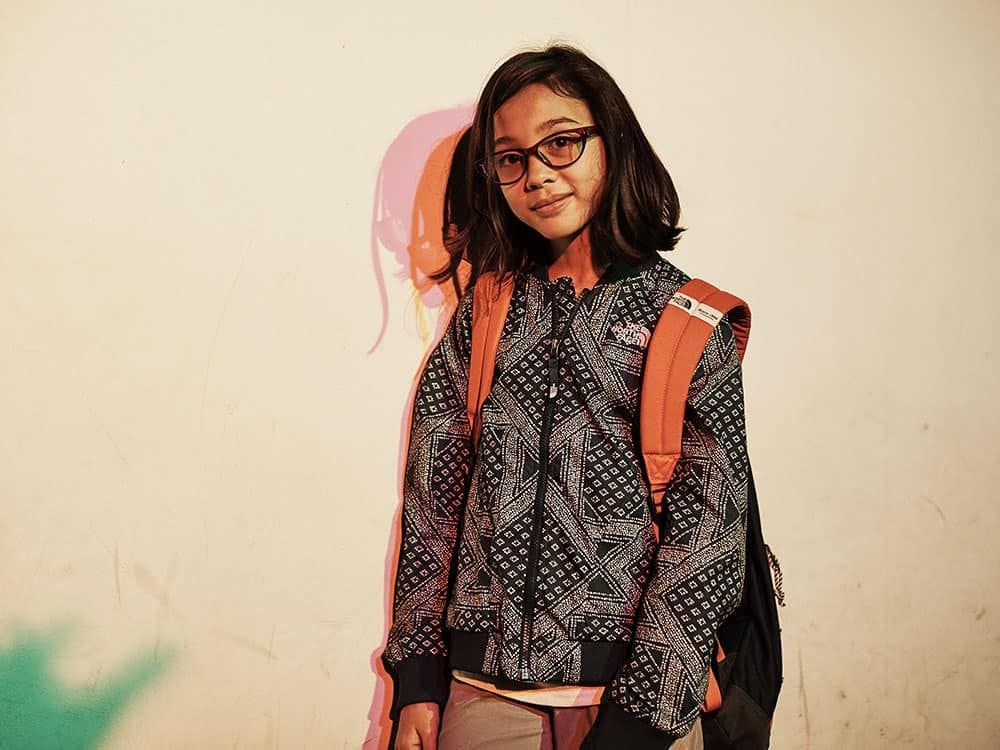 Burton Distortion 18L Backpack - Kids
If you're looking for a bag that's perfect for older kids (7-12 years old) that need a bit more space, look no further than the Burton Distortion 18L Backpack for kids. Made with durable 600-denier polyester, it'll withstand serious wear and tear. 
It also has a big main zippered compartment and a separate bottom compartment that's great for storing wet clothes. Kids will also feel comfortable thanks to the padded shoulder straps and snug sternum strap.
Price:
0.00$
Pros
Bottom pocket
Solid construction
Sternum strap
DEUTER COMPACT 8 BIKE BACKPACK - KIDS
If you're the proud parent of a young mountain biker, the Deuter Compact 8 Bike Backpack is the perfect choice for a biking-back-to-school combo. It features a comfortable and ergonomic back panel, detachable rain cover, secure sternum strap, and hydration compatible internal sleeve. 
From tools and inner tubes to textbooks and stationery, the front pocket boasts many organisational elements to maintain order. Meanwhile, a PFC-free water and dirt repellent finish help keep this backpack clean and dry. Plus, reflective detailing means your kids always stay safe and visible on the road and on the trail.
Price:
0.00$
Pros
Ergonomic back panel
Built-in rain cover
Hydration sleeve
PATAGONIA REFUGITO DAYPACK 18L - KIDS
As far as trail-ready, back-to-school backpacks go, nothing beats the Patagonia Refugito Daypack 18L for kids. It's tastefully designed for the next gen of activists, boasting tech-savvy storage, durable construction, and recycled materials that help the planet.
This backpack is designed to comfortably fit the body shapes and sizes of kids. The outside includes a padded back panel and padded shoulder straps. On the inside, a padded laptop sleeve is perfect for transporting a 15" laptop or a hydration reservoir.
Price:
0.00$
Pros
Recycled materials
Tech-savvy storage
Trail-ready
Cons
Non-traditional top pocket
DAKINE CAMPUS BACKPACK 18L - KIDS
For good vibes only, the Dakine Campus Backpack 18L is a colourful and expressive back-to-school option for both girls and boys. The reduced back panel size and S-curved shoulder straps offer ergonomic comfort, while the padded bottom panel resists abrasions.
What stands out most about the Campus Backpack is the dual front compartments, which include a dedicated cooler pocket for packing lunch and other essentials. Plus, a fleece lined pouch is perfect for storing reading glasses or sunglasses without worrying about scratches.
Price:
0.00$
Pros
S-curved straps
Fleece-lined glasses pocket
Colourful patterns
THE NORTH FACE MINI RECON BACKPACK - YOUTH
The North Face Mini Recon Backpack is as dependable, durable, and rugged as you've come to expect from this stellar brand. The only difference? It's been downsized to fit the adventurers of tomorrow.
Padded shoulder straps and a padded back panel make the Mini Recon exceptionally comfortable. Inside, a spacious internal pocket and divider sleeve are perfect for storing and organising back-to-school essentials. Also features an internal name tag and convenient top carry handle. Ideal for middle schoolers looking for a more toned down and mature aesthetic.
Price:
0.00$
Pros
Rugged
Internal name tag
Mature aesthetic
Cons
Lacks additional internal pockets
DEUTER KIKKI BACKPACK - YOUTH
Saving the best for last, the Deuter Kikki Backpack is nothing if not fun. Cleverly designed, this kids backpack comes in two unique versions: the dustblue rabbit or the redwood tiger. While this pack won't win the approval of your 13 year-old skateboarder, animal-loving kids aged 3 and up are sure to get a kick out of it.
Besides the creative design, we love this pack's statement on sustainability: bluesign approved, it's built with 100% recycled, PFC-free fabrics and manufactured in accordance with strict environmental standards. S-shaped shoulder straps are comfy and boast a soft-edge finish, while reflective loops keep your little ones safe and visible at all times.
Price:
0.00$
Pros
Cleverly designed
bluesign approved
Reflective loops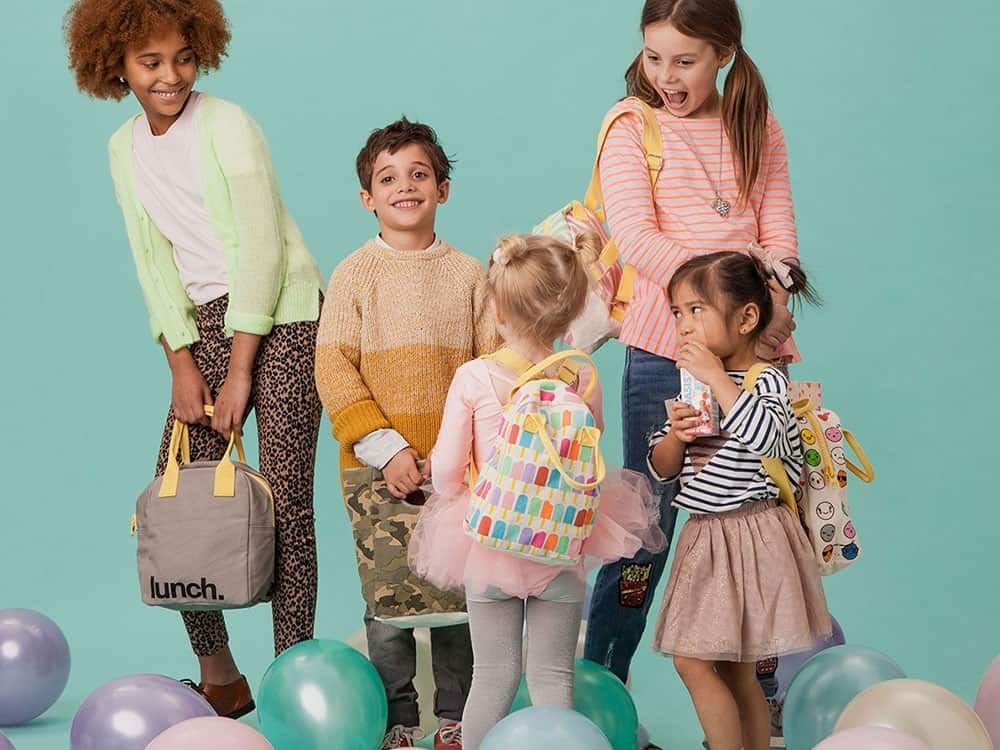 Buying Guide: What to Look for When Shopping for Kids Backpacks
Deciding on which backpack is best for your child is about more than just style and price. Below, we discuss several important criteria when choosing the best backpacks for kids.
Padded shoulder straps
Next to the back panel, the shoulder straps are arguably the most important feature when it comes to comfort—so pay attention! They typically come in one of two shapes: straight or contoured.
Straight straps have no visible curvature. This is often the standard shape on men's, kids, and even unisex backpacks. You'll also notice this on low-volume as well as fashion backpacks.
Contoured straps, on the other hand, curve in subtle S-shape, snaking inwards at the sternum and then out again as they taper towards the ribs. Contoured straps are the preferred choice for women since they more comfortably accommodate breasts.
Versatility
A versatile backpack is one that can be used for more than one purpose. For example, if your kid is a burgeoning mountain biker, the Deuter Compact 8 Bike Backpack will easily serve double-duty between the classroom and the bike path.
Likewise, if you're got a little hiker in your home, the Osprey Tempest JR Backpack for girls and the Talon Backpack for boys are spot-on. Choosing a versatile backpack will not only simplify your child's wardrobe, it'll be less demanding on your bank account!
Roomy main compartment
Despite the fact that many schools are moving to paperless teaching models, there's still plenty of items kids need to carry—from a hefty 15" laptop to a lunch box to all sorts of stationery.
That's why it's better to err on the side of caution and opt for something slightly bigger than you expect to need. 
Additionally, some organisational features are a welcome bonus: places to store pens, snacks, and toys make retrieval easier than ever.
Water bottle pocket
Studies have shown that staying hydrated is essential to effective learning. Water bottle pockets make this a cinch, providing a dedicated space to store bottles that's always easily accessible. 
Durability
Durability is an important consideration when purchasing a kids backpack. Though you might have to fork out a little more up front, the backpack will likely last longer.
Luckily, many backpacks—including the Burton Distortion 18L Backpack—are made of tough, abrasion-resistant materials like 600D polyester. This ensures that the backpack can withstand your child's endless sage of action-packed adventures.
FINAL THOUGHTS ON KIDS' BACKPACKS FOR SCHOOL
There are many excellent and popular kids backpacks on the market. In this article, we've discussed many of them, from The North Face and Patagonia to Deuter and Herschel. But, if you still haven't found the right model, check out our complete collection on Altitude Sports now!
SHARE