As an outdoors person, you already know that a good night's sleep can be the difference between a lovely day on the trail and a wilderness nightmare—and that's the best-case scenario.
In the woods, where circumstances can change very quickly, it's essential to pack the right stuff. A lousy sleeping bag is not only uncomfortable but can allow precious body heat to escape, resulting in hypothermia. 
For its warmth-to-weight ratio, water-resistance, insulation, and compressibility, the Mythic 400 by Rab is our choice for best all-around camping sleeping bag in 2021. Check out our other top picks for backpackers, budgeters, and more.
Best All-Around Camping Sleeping Bag
A top-of-the-line model from a top-of-the-line brand, Rab's Mythic 400 Down is 2021's best all-around sleeping bag. Its warmth-to-weight ratio is unmatched, weighing in at just over 1.45lbs with a temperature rating of  -6°C (20F).
The Mythic is insulated with 900 fill power, RDS-certified European Goose Down, and features a hydrophobic Pertex Quantum 7 outer shell. The baffles prevent the down from migrating and clumping, while the angled footbox shaves off weight. The hood and collar are both adjustable to effectively trap body heat. As a three-season camping sleeping bag, it's designed to keep you comfortable in a wide array of conditions.
Though you can rest assured that you're investing in a top-notch bag, it does come with a steeper price tag. That said, you'll appreciate every ounce of downy goodness while dozing under the starry sky—especially on alpine adventures.
Price:
0.00$
Pros
900 FP RDS-certified down

Breathable

Ultralight

Water-resistant
Best Backpacking Camping Sleeping Bag
If you're traveling abroad or hitting the trail for extended stretches, then Mountain Hardwear's Lamina sleeping bag may be right for you. The model is named after Mountain Hardwear's patented Lamina construction, which increases warmth retention while minimizing cold spots.
With a tailored hood that comfortably blocks drafts and seals in warmth, the Lamina's unique construction maximizes the loft of your insulation by eliminating cold spots and thermally mapping insulation to concentrate warmth where you need it most. And, for the price, the warmth-to-weight ratio is excellent: 4lbs. 2.1oz. for -18°C. 
Price:
0.00$
Pros
Retains heat
Maintains loft
Great for backpackers
Price
Best Double Camping Sleeping Bag
No, you're not seeing double—meet the Exped MegaSleep Duo Sleeping Bag. If you don't think sleeping in a tent with another person is intimate enough, this will certainly hit the spot.
A full-length draft tube along the zipper stops heat loss and enhances warmth, while durable, quick-drying microfibre insulation provides resilient, long-lasting performance.
The MegaSleep Duo is the lightest and most compact two-person sleeping bag in its class. It was designed specifically for use as an overlanding and car-camping bag. However, because it weighs just 4 lbs. and compresses amazingly well, it can also be used for human-powered adventures such as backpacking, kayaking, and canoeing.
The one real drawback of a shared bag is in the event that you get separated from your partner: one of you will be without a sleeping bag. For that reason, the Versa Quilt is best for camping trips and not long hiking trips, where anything can happen.
Price:
0.00$
Pros
Retains heat well

Maintains loft

Extremely light

Great for two
Cons
Not ideal if you get separated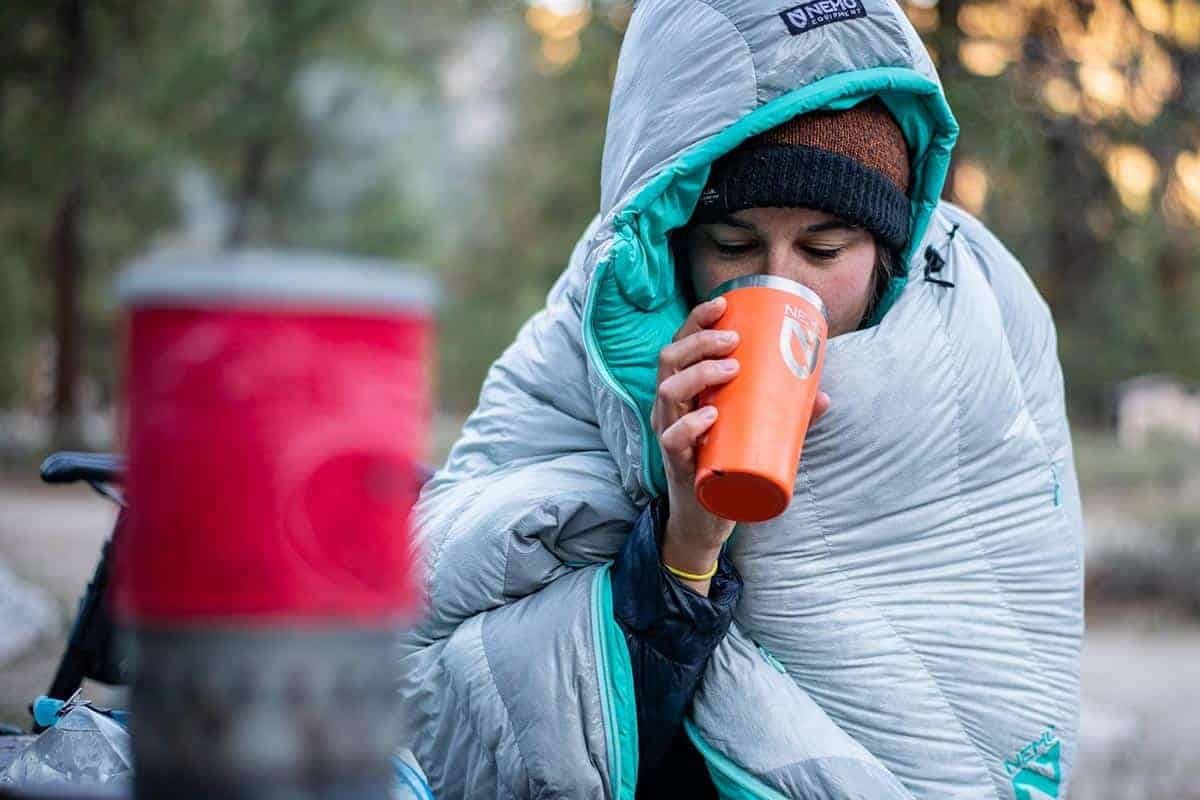 How to choose the best camping sleeping bag
Next to your backpack and your tent, your sleeping bag is your most important piece of gear. Choosing the right one is not only key to your comfort, but key to your survival. Here, we explore the things you need to know when choosing a bag. For a more in-depth discussion, check out our ultimate guide to choosing a sleeping bag.
Type of Camping
The type of camping you'll be doing largely determines the features you'll need. For car campers, backcountry campers, and glampers, comfort trumps all else. For thru-hikers and mountaineers, something durable is essential and preferably also lightweight. For all campers, though, warmth and water-resistance should be considered in the context of your camping environment.
Materials
The external part of a sleeping bag consists of a shell and a lining. Most shells are made from a synthetic, water-repellent fabric, such as nylon, polyester, or taffeta. For durability, make sure the fabric features a ripstop backer. This is a reinforced weave that prevents abrasions and stops tears from spreading.
Breathability is another important factor; not only will your sleeping bad dry more quickly when wet, but your sweat will be wicked during the night. That said, good breathability usually comes at the cost of decreased water-resistance.
The lining is the part of the bag that touches your skin. Common fabrics include nylon, polyester, taffeta, polycotton, and silk. Polycotton is affordable and soft, but heavy and doesn't dry well when wet. Silk is breathable, lightweight, and soft, but tricky to repair. 
Temperature Rating
Temperature rating is a measure of the lowest possible temperature in which the sleeping bag will keep you warm. It's typically given in both Fahrenheit and Celsius.
Insulation
Insulation refers to the type of material used inside the sleeping bag. The two main categories of sleeping bag insulation are synthetic and down. The former is a broad category of manmade fabrics. They're typically less expensive and more water-resistant than down; however, they're often heavier and have a lower warmth-to-weight ratio. 
Down, on the other hand, is a natural insulator made of duck plumage. If you're eco-conscious, be sure the down is ethically sourced or RDS-certified.
Many modern downs are treated with a hydrophobic coating to keep moisture at bay. Down sleeping bags should never be stored in their compression sacks, as they'll lose their loft over time thereby decreasing their R-value. Also, down is definitely the preferred choice in cold or dry climates.
Packability
A sleeping bag that doesn't compress well is going to take up a lot of volume in your pack. Most sleeping bags do come with a compression stuff sack, which allows you to condense it. Alternatively, you can ditch the stuff sack and simply cram it into your backpack. This way, instead of creating dead space by imposing the stuff sack's shape, the sleeping bag will mold to the dimensions of your pack and its contents.
Weight
This isn't so important for car camping or glamping, but if you plan on carrying your sleeping bag into the backcountry, weight matters. Remember, the weight of your sleeping bag on its own is meaningless—what's key is its warmth-to-weight ratio.

FAQs for Camping Sleeping Bags
How much should a sleeping bag cost?
This depends entirely on your needs. Prices can range from fifty bucks to a grand. Budgets aside, the cost of a sleeping bag is less important than its value. Ask yourself which features you need and whether the model you like meets those standards for a reasonable price.
What degree sleeping bag should I get?
Choose something with a lower temperature rating than you think you'll need. It's always better to be too warm than too cold, especially in the woods where nighttime temps can dip significantly and wet clothing can lower core temperature.
Can sleeping bags be washed?
Yes, but washing instructions vary from model to model. Always check the tags. It's usually best to avoid driers; however, sometimes a light tumble dry can be a good way to restore loft. 
Be extra careful when it comes to down sleeping bags. Use a gentle wash cycle and cold water. Front-loaders are best since the agitator of a top-loader can damage your bag. Throw in a few tennis balls to keep the insulation from migrating and clumping. Be sure it's completely dry before storing.
Conclusion
There you have it—the best sleeping bags of 2023. While there isn't one perfect bag for every occasion, you'll want to choose a model that meets most of your personal and environmental needs. For us at Altitude Sports, the Rab Mythic 400 Down Sleeping Bag hits the sweet spot.
If you're new to camping, opt for a budget option to see what you like about it and what you don't. That way, your next bag can be everything you ever dreamed of. Zzzz.
SHARE