Who doesn't want a cabin in the woods? Better yet, who doesn't want a portable cabin in the woods? OK, maybe a tent isn't quite as luxurious as a cabin. Nevertheless, its spartan nature doesn't mean it can't be a safe and comfy place you can call home in the backcountry! Today, we take a look at the top backpacking tents of the year.
We've evaluated tents based on price, weight, packability, functionality, versatility, and durability. For its outstanding performance in all those areas, our top pick for 2021's best backpacking tent goes to the Marmot Tungsten 1 Person Tent. 
Read on to see our other favourites! Or, if you love camping but aren't crazy about hiking, take a look at our Best Camping Tents in 2021, instead.
The Top Backpacking Tents Reviewed
Best Overall Backpacking Tent
Our pick for best all-around backpacking tent this year goes to the Marmot Tungsten 1 Person Tent. This jack-of-all-trades weighs in at a reasonable 3 lbs 12 oz and features excellent weather-resistance. The Zone Pre-Bend Construction frame optimizes internal volume without decreasing packability. This means you'll have plenty of room for your gear without feeling cramped. Best of all, the Tungsten 1 comes with its own footprint included.
So, whether you're doing a weekend in the Adirondacks or solo thru-hiking the Continental Divide Trail, the Marmot Tungsten 1 is a worthy companion. 
Want to upsize? Check out the Marmot Catalyst 2 Person Tent which boasts a similar design.
Price:
0.00$
Pros
Lightweight

Spacious

Versatile

Price
Best Ultralight Backpacking Tent
Unless you're a diehard ultralighter, the MSR Thru-Hiker Mesh House 2 isn't for you. At just 14 oz, however, it's an ultralight hiker's dream. Set-up is fast and easy and requires a set of adjustable trekking poles. The spacious interior is large enough for two, while the breathable micromesh canopy protects against bugs. Also, the durable, Xtreme Shield floor is waterproof. But, if you do get caught in a downpour, the lack of a fly means a bad time. For that, you can always pair it with the Thru-Hiker 70 or 100 Wing.
Price:
0.00$
Pros
Ultralight

Packs small

Spacious interior
Best Backpacking Tent for Couples
For couples seeking a comfy homestead in the backcountry, the Eureka Summer Pass 2 Person Tent fits the bill. A spacious interior and six pockets ensures plenty of storage and living space. 
Double doors make sneaking out for a midnight pee without waking your partner a cinch. Also, the Eco-Duralumin frame is both strong and durable. At 5 lbs, the Summer Pass 2 is on the heavier side. But, for all it has to offer, we don't mind.
Price:
0.00$
Pros
Comfortable

Spacious and cozy

Lots of storage

Double doors
Best Backpacking Tent for Globe-Trotting
If you're planning a trip across the world and don't want to blow all your funds on accommodation, then The North Face Eco Trail 2P Tent is right up your alley. The no-nonsense design makes for quick and intuitive set-up, while the increased height allows for uncramped and comfortable living.
The floor, canopy, and fly are all constructed with a durable 75D polyester and treated with a DWR finish. At 6 lbs 4 oz, it is on the heavy side. Of note, the materials are 100% recycled, so the Eco Trail is an eco-conscious and sustainable choice. 
Price:
0.00$
Pros
Intuitive design

Increased height

Comfortable

Eco-conscious
Best Backpacking Tent for Thru-Hiking
If you want a tent that'll bear witness to the three legs of your Triple Crown, then the MSR Hubba NX Tent is an excellent option. At just 2 lbs, this highly packable tent won't grow heavy on your back. In bad weather, MSR's Xtreme Shield System will keep you dry; this includes their long-lasting waterproof coating and precision-stitched seams. What's more, the premium Easton Syclone Poles are lightweight and stand up to powerful winds.
For a one-person tent, the interior is spacious and offers ample height. At the end of the day, this is an outstandingly durable tent that can take as much of a beating as your thru-hiking physique.
Price:
0.00$
Pros
Lightweight

Compact

Very durable

Stands up to bad weather
Best Tent for Winter Backpacking
What happens when you combine Mountain Hardwear's lightweight backpacking tents with their four-season expedition tents? You get the Trango 2. What we love about the Trango 2 is that it isn't as heavy and cumbersome as a standard expedition tent, but offers more durability and storm-protection than a normal backpacking tent. 
Tried and tested, Mountain Hardware has spent 20 years perfecting this tent for your winter adventuring. The Trango 2 is fully snow and watertight and features many ventilation points to optimize airflow on warm nights. Weight is 8 lbs, which is lightweight for winter but on the heavier side for summer.
The Trango 2 is standard issue for those who aren't afraid of cold weather. It's perfect for wintry weekend hiking in the woods or a late-fall climbing trip.
Price:
0.00$
Pros
Robust storm-protection

Versatile

Waterproof & ventilated

Spacious
Other Favorite
The Mountainsmith Morrison 2 Evo Tent is the sequel to the award-winning Morrison 2. This upgraded darling sees an increase in internal volume, headspace, and height. It's a reasonably priced option and comes with its own footprint included. It didn't make our list because of its weight (a whopping 5 lbs 9 oz), but it remains a comfortable, durable, and versatile choice.
Price:
0.00$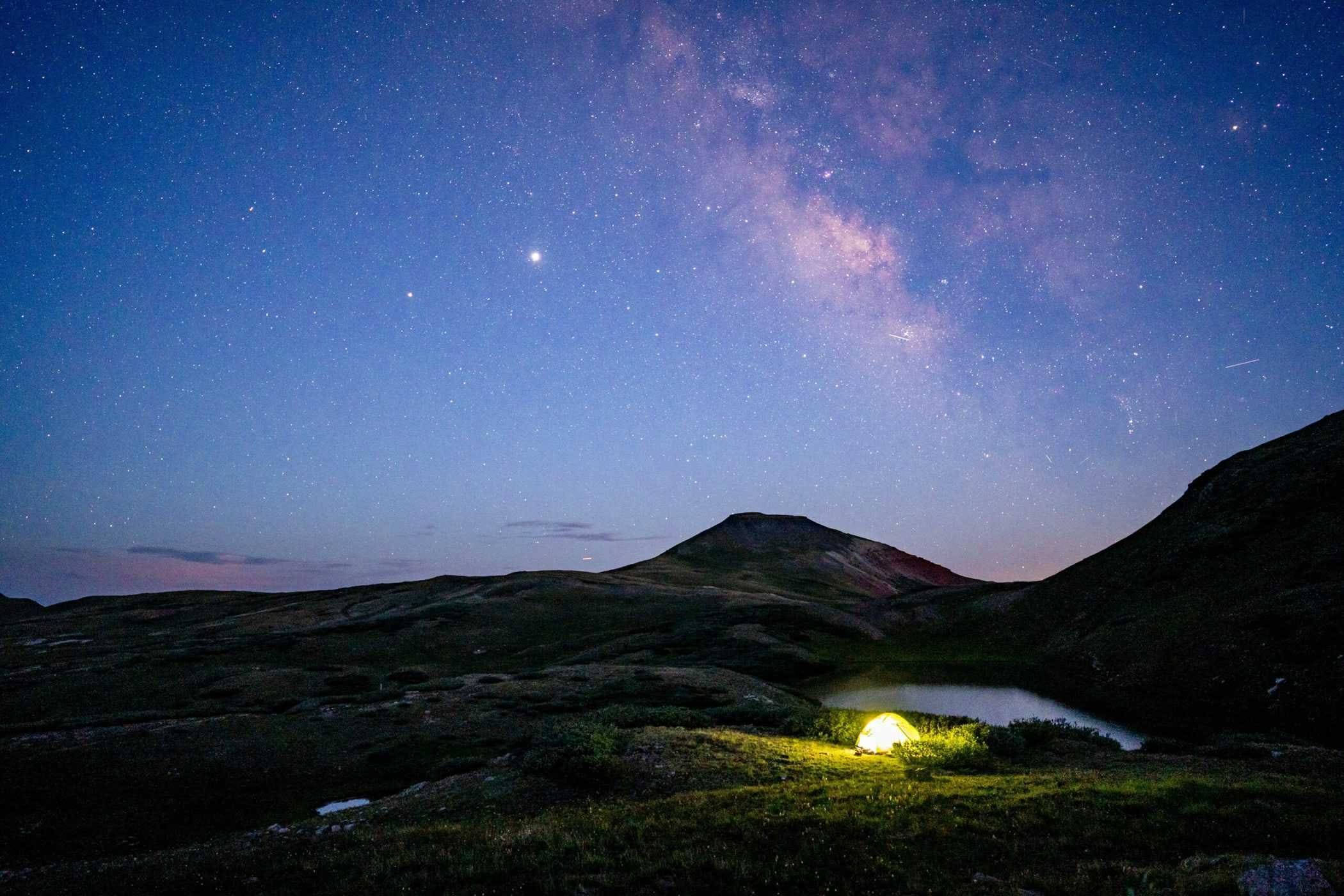 What to look for when buying a backpacking tent
Size
Typically, backpacking tents have a capacity of one to two people. This is indicated by 1P or 2P, respectively. If you're tall, make sure to check the dimensional specs, like width, height (for head room), and length.
Seasonality
Three-season tents are most common, as much of the backpacking we do happens in peak season (spring to autumn). A three-season tent also tends to be lighter and less expensive when compared to a four-season or expedition tent.
You'll occasionally also see one-season and two-season tents. These are pretty much identical and make excellent summer shelters, as they're both breathable and lightweight. That said, their use case is hopelessly restricted to fine weather.
A four-season tent (such as the Mountain Hardwear Trango 2) is a good option if you find yourself doing both three-season and winter backpacking and prefer to have just one tent for all your needs.
Lastly, there's the robust five-season tent, more commonly known as the expedition tent. This is a very durable, weather-resistant, teched-out tent. It's made for alpinism, pure and simple, whether that be in Nepal's Annapurna or Alaska's Denali. They're heavy, expensive, and virtually indestructible.
For context, all but one of the tents we reviewed are considered three-season (can you guess which one?).
Weight
Most backpacking tents will weigh in the range of one pound and five pounds. While it doesn't seem like much, it certainly feels like a lot after several dozen miles. When it comes to hiking, if you can live with a few less frills then a lightweight tent is the way to go. If, on the other hand, you have difficulty sleeping without certain comforts, then carrying a couple extra pounds is well worth a good night's sleep.
Features
When it comes to tents, there aren't many features that you necessarily need. However, standard features like internal storage pockets, a bathtub floor, and dynamic ventilation make a good tent even better. 
If you're sharing a tent, a large vestibule is essential for keeping your gear dry without cramping up your living quarters. Another thing to consider is the number of doors.
FAQs for backpacking tents
How heavy should a tent be for backpacking?
First, establish what you want out of your tent. Is it just a humble shelter to catch some z's? Or do you want a little more comfort? Is it for a thru-hike or just a weekend trip? Once you've answered these questions, you can better decide how heavy that tent should be. In general, one pound is on the extremely light side, while five pounds and over is on the heavy spectrum.
What's the difference between a camping tent and a backpacking tent?
Simply put, camping is about staying put while backpacking is about moving around. Hence, camping tents tend to have a few more frills at the expense of weight. Conversely, backpacking tents are more minimalist and lightweight, which usually comes at the cost of certain comforts.
How much should I spend on a tent?
As we've seen in the product guide above, tents can range dramatically in price. Similar to the question about weight, it depends on what you're going to use it for. For instance, with a smaller budget, you can get yourself a high-quality summer tent. But, if you need something that'll keep you safe and comfortable in winter weather, it won't cut it. Now we're looking at the Trango 2, which is more than threefold in price.
Do I need to use a footprint with my tent?
Not always. It largely depends on the terrain and the local climate. Nevertheless, using a footprint is highly suggested. At the very least, it'll keep the floor of your tent from incurring damage over time and provide an extra layer against wet ground.
Conclusion
This wraps up 2021's best backpacking tents. Our top-pick for best overall goes to the Marmot Tungsten 1 Person Tent for its balance of durability, comfort, versatility, weight, and price.  
Next, find the perfect sleeping bag and sleeping pad to complete your wilderness trinity!
SHARE