Whether you're climbing at the gym, on the crag, or on the high mountain, having the best climbing backpack can make a world of difference. Climbing gear should be lightweight, made from breathable materials to wick away sweat so you're more comfortable, and have a practical design. 
Since all the major outdoor brands have backpacks in the climbing space, it's easy to find the right gear that suits your budget. We've rounded up the best climbing backpacks of 2022 to make it easy to find the right pack, no matter which type of climber you are. For more information, see our buying tips below the best picks.
Top 5 Backpacks for Climbing
Best Overall: Patagonia Ascensionist 35
When you're climbing in the high mountains, you want a backpack like the Patagonia Ascensionist 35 that fits a ton of gear but still climbs well. The pack easily holds supplies for a day of climbing and a full rack, and the hook closure works brilliantly for securing a rope. 
The padded straps add comfort, but the narrow frame means you can still carry it up the wall. The relatively thin 420-denier ripstop nylon exterior is durable yet lightweight, making it perfect for alpine pursuits or a day at the crag.
Price:
0.00$
Pros
Spacious

Padded straps

Durable
Cons
Not as burly as other packs
Best for Cragging: Black Diamond Crag 40
If you're like most climbers, you probably spend more time cragging with family and friends than hauling through the mountains. While any pack can suffice at the crag, the Black Diamond Crag 40 will make your life easier. 
It has a top-loading design and a zipper that opens at the side and bottom, an internal organizer pocket, and is made from heavy-duty 1260-denier nylon. It's one of the most rugged bags on the market for carrying a heavy load, and the waist straps help distribute the weight.
Price:
0.00$
Pros
Super durable

Comfortable

Top-loading
Best for Ultralight Pursuits: Arc'teryx Alpha FL
The ultralight Arc'teryx Alpha FL is any alpinist's dream. It's minimalist and practical with a lidless, top-loading design, rugged exterior, and medium holding capacity. The waterproof, abrasion-resistant 400-denier ripstop nylon fabric holds up to the elements as well. 
Plus, packing your climbing gear is easy with the bungee attachments, lash points, and top strap, which can secure anything from crampons to a sleeping bag. Other new features in the updated pack include an additional internal pocket, improved shoulder straps, and a larger front pocket.
Price:
0.00$
Pros
Ultralight

Streamlined

Weather-resistant
Best for Winter and Alpine Expeditions: Mountain Hardwear Alpine Light 35
For a versatile pack that you can take on adventures through ice and snow, the Mountain Hardwear Alpine Light 35 is a must-have bag. The aluminum frame has foam padding for added comfort when hiking but is removable for your ascent. The 200-denier nylon exterior is abrasion-resistant but lightweight. 
Additionally, the multiple lash points, ice axe cradles, reinforced loops, and external webbing compression make carrying all your winter climbing gear easy. The best part about this pack is you can strip it down or bulk it up to suit your next adventure.
Price:
0.00$
Pros
Winter-ready

Versatile

Lightweight
Most Durable: Osprey Mutant 52
The alpine-specific Osprey Mutant 52 is a highly versatile bag that accommodates heavy loads with ease. It combines world-class comfort with many technical features and a customizable design. Compared to other packs, it distributes weight well with the framesheet, hip belt with gear loops, and comfortable shoulder straps. 
There are also alpine-specific features like ice tool attachments, removable straps and suspension features, ski-carry loops, and thick zipper pulls. It's versatile and durable enough to use year-round.
Price:
0.00$
Pros
Super versatile

Customizable build

Many features
Cons
Hip belt isn't detachable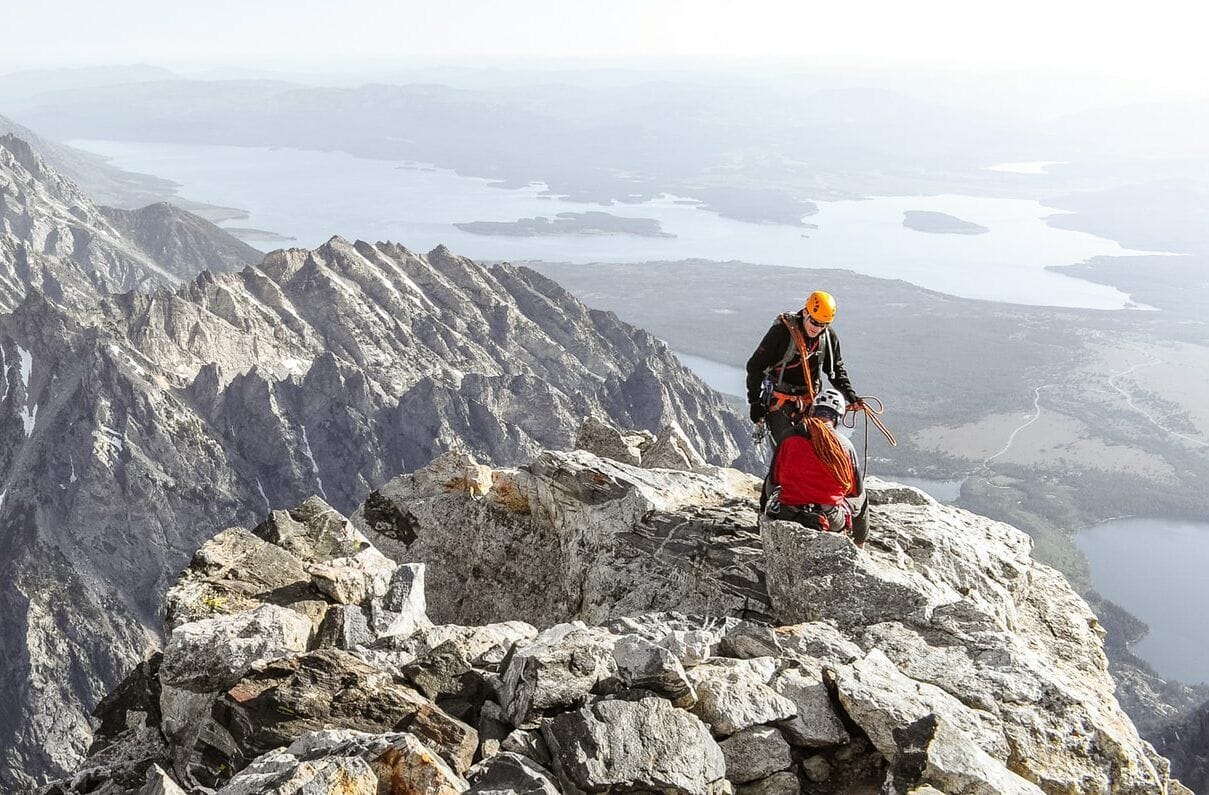 Buying Guide: How to Choose Your Climbing Backpack
Whether you're going for a quick day trip to your local rock wall or executing a technical climb up the granite rocks of El Capitan in Yosemite, the right climbing backpack can make or break your experience. To save you time, we've broken down the most important features to consider. 
Crag Pack vs Alpine Pack
Cragging generally means walking between five and twenty minutes to a climbing spot where you'll spend the whole day. Having a backpack that helps you stay organized with all your gear and supplies can make the day go smoother. Crag packs are designed to be comfortable, durable, and provide easy access to your equipment. 
Alpine packs are more focused on weight-saving features and versatility. These bags will typically have a streamlined design so you can use them for hiking and climbing, with the ability to remove compression straps, suspension systems, and hip belts. Many also come with accessory straps so you can secure gear like crampons or ice axes. 
Capacity
The holding capacity of your climbing backpack depends on where you're going and what you intend to carry. Crag packs range from 40 to 50 litres, while alpine packs range from 30 litres for a day trip to 60 litres for a week-long mission. 
Before buying a pack, think about the gear you'll be putting inside — a half-empty pack will result in wasted material, and a too-small bag won't carry all your supplies. A good rule of thumb is to give yourself extra room with a crag pack, but go with a smaller alpine pack since you can attach gear on the outside. 
Weather-resistance
Since climbing is an activity that usually happens in fair weather, most packs don't need to be highly weather-resistant or waterproof. However, people who spend a lot of time climbing in the mountains might feel better with a bag with more weather resistance, such as the Arc'teryx Alpha FL.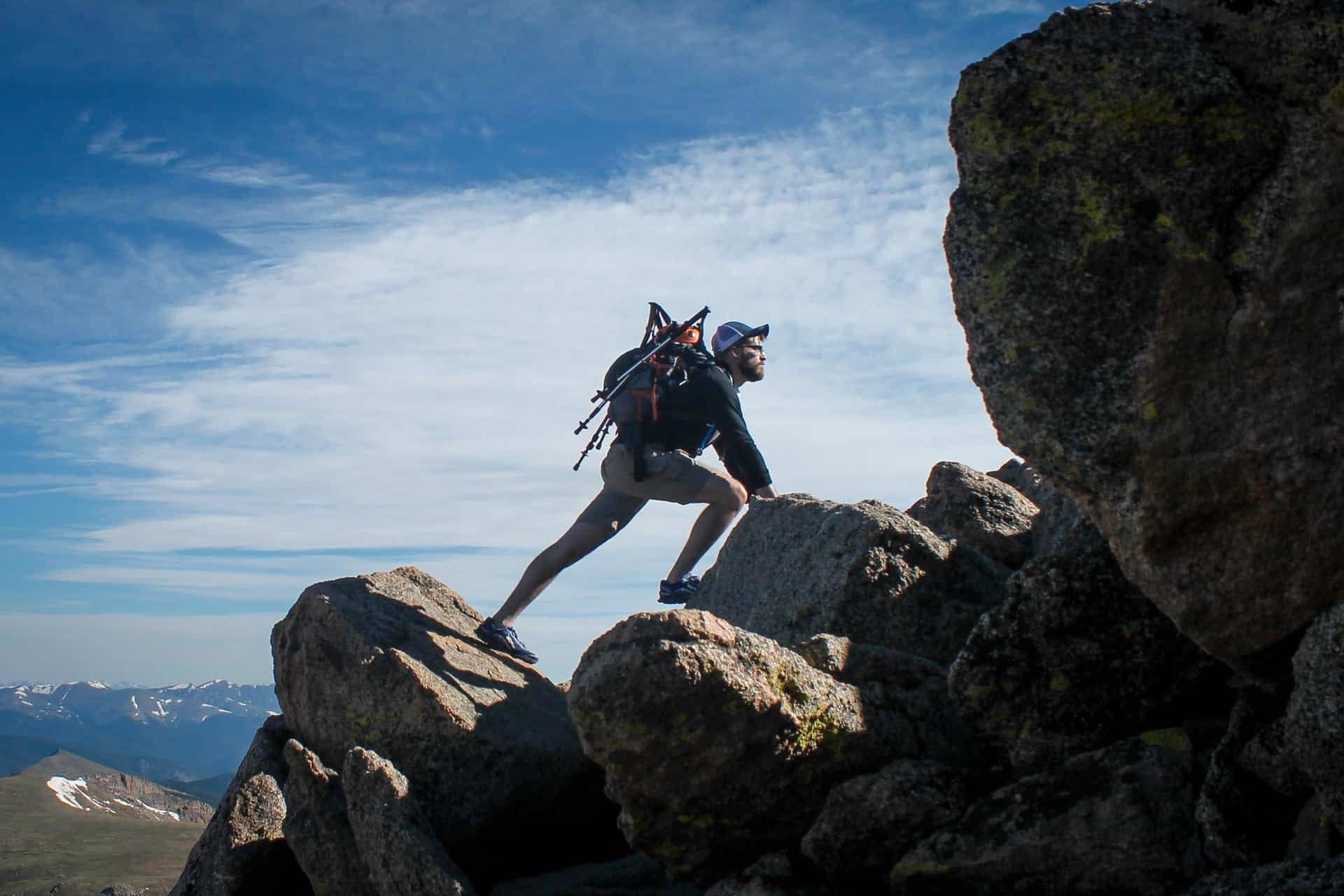 Comfort
While comfort requirements are different for crag and alpine packs, you generally want most of the weight to be on the hips rather than the shoulders. Look for crag packs with padded shoulder straps and hip belts that help distribute the weight evenly. 
Alpine backpacks usually forgo added padding on the shoulders, hip belt, and back panel for a lighter pack. Some alpine packs, such as the Arc'teryx Alpha FL, are more minimalist than others, like the Osprey Mutant 52, which still has some padding.
Durability
When your pack is dragged across rocks and dropped on uneven surfaces, durability matters a ton. The materials of any pack will help you figure out if it fits your needs. For example, the thin nylon exterior Mountain Hardwear Alpine Light 35 is ideal for ultralight alpine climbing, while the burly 1260-denier nylon of the Black Diamond Crag 40 adds weight but makes it more rugged. 
Pockets and Easy Access
As with added durability, more pockets can add weight. While having a bag with better internal organization for a day spent at the crag may make sense, alpine climbers would likely sacrifice all those pockets to shed a few ounces. The bag's design, such as top-loading packs, duffel-style, or U-shaped bags, will come down to your personal preference. 
FINAL ADVICE 
Purchasing a pack that helps you stay organised and feel comfortable is essential for any day of climbing. We've picked the best climbing backpacks based on their durability, capacity, comfort, and weather resistance. The bags on this list are perfect for a range of activities, from a carefree day at the gym, to a few fun hours at the crag, to an intense week-long mountaineering trip.
SHARE