Finding the best climbing pants can be a tough feat. Climbing puts a lot of strain on clothing, especially when you leave the rock gym and go out into nature. Real rock requires pants to be breathable, mobile, versatile, and durable. As rock climbing has become more popular, it's become a clothing category of its own. 
Choosing the right pair of climbing pants for women comes down to where you'll be wearing them, your personal preference for it, and what your other needs are. We've narrowed down the best six climbing pants on the market in different categories such as climbing leggings, climbing jeans, and more. Below, you'll find our full reviews and buying guide to help you find the best climbing pants.
Best Climbing Pants Reviewed
Best Overall
The best pant for all types of climbing is probably the Notion from Black Diamond. Made of organic stretch cotton, they're gym friendly, but ready to go climbing outside. Its many pockets are very practical and the fit is always perfect thanks to its elastic waist. Its loose fit is ideal.
Price:
0.00$
Pros
Super light

Technical

Good for all kinds of climbing
Cons
Lacking some advanced features
Best Budget
The durable, weather-resistant material on the Outdoor Research Ferrosi Pants was made for the outdoors. The fabric is water- and wind-resistant, breathable, quick-drying, and mirrors your movements. These pants are also resistant to rock abrasion, so they'll hold up through more challenging climbs. The best part is that even with all these amazing features, they're still very affordable climbing pants for women.
Price:
0.00$
Pros
All-day comfort

Highly rated

Weather-resistant

UPF 50+
Best for Comfort
If comfort is your priority, the Patagonia Chambeau Rock Pants are right up your alley. The light synthetic material is super stretchy and has a DWR (Durable Water Repellent) finish for water resistance. There's also an elastic waistband, making them feel more like stay-at-home joggers than technical climbing trousers.
Price:
0.00$
Pros
High-stretch fabric

Elastic waistband

Maximum comfort
Best Versatile Climbing pant
Got a busy day ahead of you and don't have time to change before bouldering? That's no longer a problem with the Dynama/2 pant from Mountain Hardwear. These climbing pants are super stylish and made from a generous stretch fabric. Despite the everyday style, you can wear them around town or to the gym, knowing they're really designed for climbing.
Price:
0.00$
Pros
Chic
Versatile style
Generous stretch
Durable
Best Climbing legging
If you prefer to climb in leggings, the Kalpana Hike from Sherpa Adventure Gear will be your new favorite climbing pant. Its lightweight four-way stretch fabric is extremely comfortable, plus it's super abrasion resistant. We're also fans of the two accessible thigh pockets, the wide, discreet waistband with a small pocket for your keys, and the sporty fit.
Price:
0.00$
Pros
Abrasion resistant

Versatile

Stretchy

Durable 
Cons
Could be more compressive
Best Technical Climbing Pants
If you're regularly tackling challenging terrain, the Mammut Nordwand Light Hardshell Pants are a must for your gear kit. The hard shell consists of a 3-layer material that's abrasion-resistant, breathable, and lightweight. There are full-length zippers so you can take them off without removing your shoes, which is great for emergencies or quick transitions.
Price:
0.00$
Pros
Super lightweight

Weather-resistant

Extra durable
What to Look for in Climbing Pants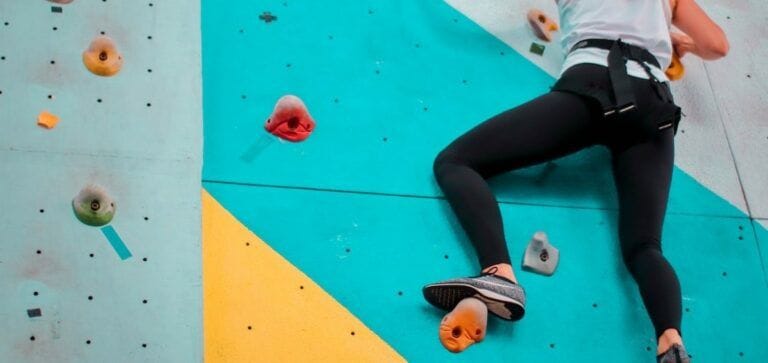 1. Material
When you're shopping for the best climbing pants, the material should be the first thing you look at. 
They should be resistant to tears from rocks, since you'll likely be taking them outdoors. The fabric should also be breathable since rock climbing involves heavy physical exertion at times, and you don't want to get overheated. Finally, you want something lightweight and stretchy so that your movement isn't restricted. 
2. Pockets
Rock climbing isn't a sport that requires carrying a lot of heavy gear, but you'll still want pockets to make your life easier. Climbing pants for women should have enough pockets for extra chalk, a chalk brush, and any other essentials. These pockets should ideally have a zipper and be deep enough to fit your items. Pockets should also be strategically placed so that they're accessible with a harness on.
3. Articulated knees
When you're rock climbing or bouldering, you want maximum mobility for the best results. Articulated knees are great for freedom of movement since they don't restrict your climbing at all. 
4. Gusseted crotch
A gusseted crotch is another feature that allows for better freedom of movement. There's also less risk of tearing your pants since the crotch is reinforced with fabric. 
5. Cuff system
It's very common to see a cuff system on the best climbing pants for women. The cuff system makes it easier to see your shoes and ensures a better fit for shorter climbers. 
6. Belt loops or integrated tightening feature
You should generally stay away from belts on rock climbing pants since they could hurt under your harness. Instead, you should look for pants with an elastic waist or velcros to make sure the pants fit you perfectly. 
7. Harness-Compatible Waist
You'll definitely want your climbing pants to be harness-compatible for better comfort. It'll also help you adjust the whole climbing system better to your height. 
8. Chalk bag loop 
Though it may be hard to find pants with an actual loop for a chalk bag, any belt loop will work great. You can attach a carabiner to the external pant loop, then attach your chalk bag for easy access.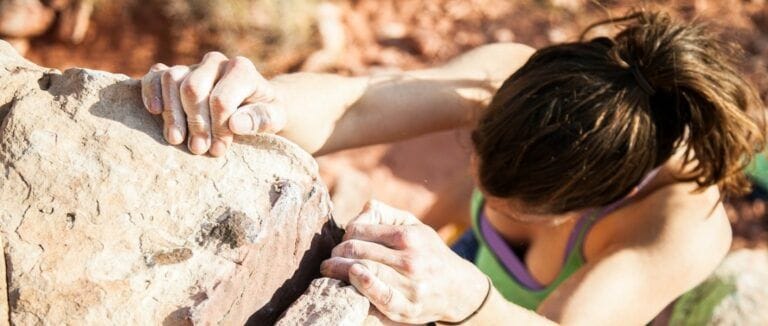 FAQ
Q: How tight should climbing pants be?
A: There's no precise answer since climbing pants can be as tight or loose as you prefer. They could either be leggings or ultra baggy pants—both will work fine during technical climbs.
Q: Is it okay to rock climb in jeans?
A: If the jeans are super stretchy and you're in a dry environment, it should be okay. But it's still not really recommended given the lack of breathability and moisture management in jeans.
Q: Are climbing pants good for hiking?
A: Yes! Both hiking pants and climbing pants need to be stretchy, comfortable, and weather-resistant, so you can use climbing pants for hiking.
Q: Why do rock climbers wear pants?
A: Pants help avoid scratches while you're climbing on difficult terrain and sharp rocks. They can keep you more comfortable and provide extra safety.
Q: Can you wear shorts for climbing?
A: With shorts, you risk hurting and scratching your knees and legs a lot, but a lot of boulderers climb in shorts. Sport climbers wear shorts less, especially in super hot weather.
Though finding the best climbing pants for women might take some work, it'll be worth it in the end. Remember to look out for key features like weather- and abrasion-resistant material, stretch, and integrated tightening features like drawcords. If you're feeling overwhelmed with all the options out there, you can't go wrong with the Black Diamond Notion Pant. They're super light and technical and ideal for all types of climbing. 
SHARE