Quite different from traditional sport shoes, climbing shoes are designed to ensure a good grip on interior and exterior walls, support the foot, and offer a sharp responsiveness for better grip. But how do you choose the right ones? We review the best climbing shoes, and include a complete buying guide to help you choose the shoes that will bring you closer to being a pro climber.
New to climbing? See our indoor climbing guide for beginners.
Best Climbing Shoes for Beginners
The Black Diamond Momentum is an entry-level liner that offers excellent performance. It features a microfibre lining that prevents premature stretching of the liner to extend its life. The rubber gum provides good grip on moderate difficulty routes and strategic flexibility. This Velcro closure is perfect for climbers who want to remove and put it on quickly, but it also comes in a lace-up model that provides a more precise fit.
Price:
0.00$
Precise, versatile and comfortable, Scarpa's Vapor V liner offers the right combination of durability and sensitivity. It has a moderate arch suitable for both intermediate and advanced climbers. It's made with a breathable microsuede upper and a stiff-yet-flexible rubber outsole.
Price:
0.00$
The lightweight yet durable construction reduces fatigue, enabling climbers to ascend with ease for extended periods. With Kubo climbing shoes, you'll experience minimized discomfort thanks to their ergonomic design and breathable materials, keeping your feet cool and dry throughout your journey.
Price:
0.00$
The Tarantulace Climbing Shoe by La Sportiva is an excellent choice for beginners because it provides a comfortable fit with adjustable laces and a balance between comfort and performance. It's versatile for different climbing styles and terrains, and its durable construction ensures it lasts through learning.
Price:
0.00$
Best options for more advanced climbers
Specifically designed for indoor climbing and performance-oriented climbers, Scarpa's Instinct VS shoe offers unparalleled responsiveness. The rubber sole and aggressive arch of this shoe releases maximum force and provides precise sensitivity on all types of holds.
Price:
0.00$
Geared towards experienced climbers, the Theory by La Sportiva offers a significant advantage. Its precise downturned shape, coupled with Vibram XS Grip2 rubber sole, provides exceptional sensitivity on small holds, making it a solid choice for challenging routes. The P3® technology ensures the shoe maintains its shape over time, allowing for consistent performance. Designed with a straightforward approach, the Theory empowers skilled climbers with reliable control and accuracy.
Price:
0.00$
The Solution Comp from La Sportiva excels in navigating tough bouldering problems and overhangs. The shoe's sensitive and aggressive design, combined with Vibram XS Grip2 rubber, guarantees reliable traction on minute holds. The unique Lock Harness System® and P3® technology contribute to a secure and flexible fit, while the reduced weight promotes agility during dynamic climbing maneuvers. The Solution Comp stands ready for challenging routes, supporting climbers in pushing their boundaries.
Price:
0.00$
The Drago by Scarpa stands as an optimal choice for experienced climbers seeking to conquer demanding ascents. Employing Scarpa's SRT randing system, the shoe prioritizes sensitivity, allowing climbers to discern the rock's texture accurately. The floating closure system ensures a personalized fit minus discomfort, supporting endurance during long climbs. With its pronounced downturned shape and Vibram XS Grip2 sole, the Drago offers remarkable grip on delicate holds. It's a reliable companion for accomplished climbers aiming to master intricate routes and bouldering scenarios.
Price:
0.00$
Buying Guide: How to choose your climbing shoes
Types of shoes
Before diving into the different types of shoes, it' s critical to determine what type of climber you are and what type of climbing you do most of the time. If you're just starting out, there's no need to buy a high-end shoe. Even if they are incredibly well-designed, the shoes must fit your climbing profile or you won't get the best experience, wasting your hard-earned money in the process.
Your climbing style can be defined by a number of criteria that will help guide your choice of shoe: Do you boulder or route climb? Indoor or outdoor? Are you a versatile climber? In this case, certain shoes will be better adapted to several types of walls.
Shape and profile
When we talk about the shape and profile, or 'aggressiveness' of the shoe, we are referring to the arch. This is the most noticeable difference between shoes offered on the market. The more aggressive the shoe, the more pronounced the camber. If the liner is neutral, the camber will be almost zero, and the arch of the sole will be almost flat. 
Neutral
The rubber of the shoe is a piece that follows the entire sole. A neutral liner performs better on a less aggressive wall, such as a route, where it provides better support for the foot at shallower angles, and where it is important to put weight on your feet.
In general, route climbers will choose a neutral shoe with a flat, rigid sole. It is recommended that beginner climbers choose a neutral-profile shoe because of the support it provides to the feet. This will allow your muscles to get used to the effort and gradually adapt.
Moderate
Moderately arched shoes have a more curved profile along the arch of the foot. You will recognize them by their asymmetrical shape. This type of shoe offers more precision in the toes and provides more strength in the forefoot. This allows you to better hold on to small holds. 
This type of shoe is particularly effective on steep walls or on very technical walls. They are also generally stiffer than neutral shoes. Particularly popular with sport climbers, moderate camber shoes are a good choice for versatile climbing.
Agressive
For dynamic climbing, such as bouldering, we prefer a good arch with a softer, more flexible sole. Here, we are referring to shoes with a very pronounced camber, known as aggressive. Aggressive shoes increase grip on steeply angled walls because they are able to work more efficiently on your feet. 
They are generally reserved for experienced climbers as they provide an advantage on sloping walls. This type of shoe is the least versatile of all, but the most performance-oriented.
Stiffness
The rule of thumb when it comes to the stiffness of a climbing boot is that the softer the rubber, the more grip the boot will have on the surface, but the less support it will give your foot. Conversely, the thicker the rubber (i.e., the stiffer it is), the less grip it will have on the surface, but the more support it will provide to your foot. 
With this in mind, it is fairly easy to determine which stiffness is best for your needs. A soft sole is best suited for larger grips and surfaces that require a good amount of friction to adhere. A stiff sole is best suited for small grips. Also keep in mind that a soft shoe offers less support to the feet, so the feel may be less comfortable on the wall if you are a first-timer. Experienced climbers will find better performance with a hard shoe.
Closure: Laces or Velcro?
The lace-up models offer a precise fit that will appeal to climbers who like to tackle long routes, while the Velcro strap shoes will come in handy for quick on-and-off when you're bouldering.
Material
Climbing shoes can be made of leather or synthetic materials. Regardless of the model you choose, your shoe will eventually stretch and mold to your foot. Leather shoes tend to expand the most over time, so be careful to choose the right size when purchasing; otherwise, they will become too big and won't offer the same precision by the end of their lifecycle. Leather is also known to be more breathable and absorb less odour than synthetic materials. The rubber sole is made of a variety of rubbers.
Fit
There is no magic formula to finding the right shoe. Each brand has its own mold. Thus, the width, shape, heel depth and forepart differ from one shoe model to another. Trying on several shoes increases your chances of finding the one you feel most comfortable in.
Beginner climbers are often most at ease in 'comfortable', neutral-profile shoes. Advanced climbers, on the other hand, look for a tighter, stiffer shoe, often with a moderate to high camber. With this type of shoe, it is not uncommon to have to remove them during the session to allow your feet to relax.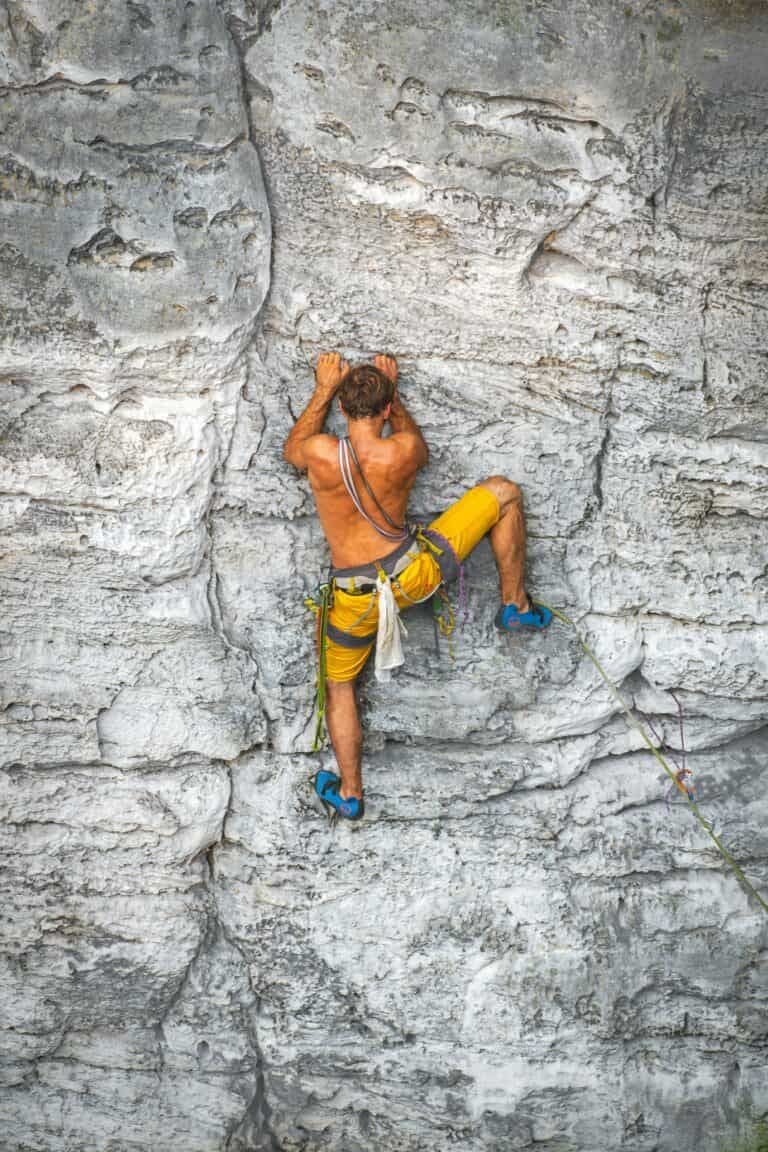 Frequently Asked Questions
Can you climb in regular shoes?
It is not recommended to wear conventional sport shoes for climbing. Whether you are climbing indoors or outdoors, the rubber on the bottom of the shoe is what will give you a firm grip on the wall. The rubber of a normal athletic shoe will be slippery and far less durable than the rubber of a climbing shoe. You'll only end up damaging your footwear. Also, the very precise shape and fit of climbing shoes are designed to allow climbers to feel the holds of the wall under their feet, which is not the case with ordinary shoes.
Are climbing shoes meant to hurt?
It' s true that climbing shoes are not known for their comfort, but they shouldn't hurt either. You want shoes that hug your foot firmly without being painful. However, it is normal to want to take them off when you are not climbing - while belaying a partner, for example. The more you wear your shoes, the more they will soften to your feet and become more comfortable. Don't throw in the towel just yet !
Are you supposed to wear socks with climbing shoes?
Usually, you don't wear socks in your climbing shoes. The precision fit of climbing shoes is designed to give you a close feeling of your foot on the wall, as if you were not wearing shoes at all. Wearing socks only adds a barrier to the main purpose of your shoes. It is therefore recommended that you choose a shoe size that corresponds to the size of your feet without socks. However, if you rent shoes in the gym, you may be asked to keep your socks on for hygiene reasons.
How snug should climbing shoes be?
Shoes should fit your foot very snugly. At first they will feel uncomfortable, but that's perfectly normal. Beginners often make the mistake of choosing shoes that are too big, which results in reduced feeling of contact in the toes and heel.  Your toes should be slightly flexed and your feet should not be able to move in the shoe while you climb.
Conclusion
Buying climbing shoes is a complex process with so many features to consider…especially when you are a beginner! With so many models available on the market and ever more innovative technologies from manufacturers, choosing the right shoe for your needs is not always easy. At Altitude Sports, we have a large inventory of climbing shoes and equipment to get you started. With our expert advice and so many models to choose from, you're sure to find the right shoe for you. Happy climbing!
SHARE