Picking the best cycling sunglasses isn't about choosing the most expensive ones—it's about choosing the ones that meet your needs. Going for a short ride? Training for a cycling race or triathlon? Going camping or on holidays and planning to take your bike? 
There are various factors to consider when buying the best cycling sunglasses. That's why we've reviewed six of the best cycling glasses based on the most important categories, including the best overall ones, beginner sunglasses, the best budget shades, low light ones, and the best lightweight sunnies.
Best Cycling Sunglasses Reviewed
Best Overall
Brand Name
|
Product Type
Have you found it hard to find the perfect pair of cycling shades? Look no further than the Smith Optics Attack MTB Sunglasses. As one of the best cycling glasses on the market, the Attack MTB resists fog, abrasions, and bright sunlight. What's more, these cycling glasses feature Smith's MAG patented interchangeable lens system, allowing you to quickly swap out your bright-light lenses for your low-light ones.
The lenses are designed with ChromaPop technology, which helps with colour perception and contrast. But what really makes these glasses so special are the many adjustment options; they come with two-position adjustable nose pads to fit you perfectly Plus, they're super lightweight and durable.
Price:
0.00$
Best Budget Option
Garneau sunglasses are developed to perform in style, and the Lazer Shield Sunglasses are no exception. Featuring a stiff frame made from Grilamid TR-90 nylon, these cycling glasses are known for their exceptional durability.
What's more, the Lazer Shield Sunglasses are equipped with ballistic lenses tested and certified by the U.S. military. In terms of fit, they boast adjustable polymer nose pads. Meanwhile, vents on the stems and lenses help with fogging.
Thanks to the solid yet lightweight construction, you get the biggest bang for your buck with the Lazer Shield Sunglasses—especially during hot-weather rides.
Price:
0.00$
Pros
Worn by professional cyclists

Weathering stability

Great for mountain biking

Price is ideal for beginners

Positive customer reviews
Most Stylish Pair
Though not designed as cycling glasses, the Julbo Explorer 2.0 Spectron 4 Sunglasses are still an exceptional—and exceptionally stylish—choice for bikers.
These high-alpine mountaineering sunglasses shine bright across many categories, from their panoramic lenses to their 360 degree adjustable temples.
Simply put, the Explorer 2.0 Spectron 4 is built for rugged environments and extreme conditions. Whether you're cycling in the blistering heat, through a sudden downpour, or during the colder months, these classic sunglasses have literally got you covered. Plus, they're timelessly fashionable.
Price:
0.00$
Pros
Stylish

Rugged

Anti-reflection

Panoramic vision
Cons
Intended for high-mountain sports
Best Lightweight
The Sutro Lite Sunglasses - Prizm Sapphire Iridium Lens by Oakley are designed to mitigate harsh light and boost contrast, making your viewing environment more vivid and colourful without straining your eyes. The semi-rimless frame helps with ventilation and provides a better area of vision. 
The O Matter frame is tough and durable and will keep up with your fast-paced urban life. Unobtainium technology is used for temple tips and nose pads, meaning this pair of cycling sunglasses will keep the frame in place without slipping.
Price:
0.00$
Pros
Prizm lens technology

Great for urban cyclists

Tough and durable frame

Unobtainium technology, prevents slipping

Super lightweight
Best for Low light
Are your current sunglasses way too dark when cycling in low light? We have found the perfect sunglasses for low light - Julbo's Aerolite Performance Sunglasses.
The Aerolite's photochromic lenses make them the glasses of choice in low light conditions. The NTS (non temperature sensitive) technology optimises the photochromic lens in both hot and cold weather, so they can be used for both cycling and skiing, and even just for kicking around town.
With adjustable nose pads, Air Link Temple technology, a lightweight elastomeric cushioning insert, and hair-resistant Grip Tech material, the Aerolite Performance will give you a comfortable, secure fit. Plus, the well-ventilated construction prevents fogging.
Price:
0.00$
Pros
Stays firmly in place

Full venting

Photochromic sun protection

Lightweight

XYZ Optics technology
Best for Smaller Faces
Although the Smith Optics Attack MTB Sunglasses won our pick for best overall sunglasses, they're very big for small faces. For those who are the proud owners of a small face, it's hard to find sunglasses that fit just right. Oakley's Radar EV Path features a revolutionary design with a bigger lens that widens the superior visual field.
Radar's key feature is the O Matter frame, which is 25% lighter yet two times stronger than comparable models. The material is more heat and cold-resistant, making the frame hard to break. 
The strong grip is perfect for a small face. This prevents the sunglasses from sliding down your face. Unlike traditional lenses, the shape of the lens doesn't touch the cheeks.
Radar's advantage is the Prizm feature that adjusts vision for different environments. The Unobtainium pads and tips increase in grip with wetness, so you'll be fine when it rains or when you sweat
Price:
0.00$
Pros
Lenses are spotless, excellent vision

High Definition Optics

Frame designed to keep you cool

Interchangeable lenses

O Matter frame is light and strong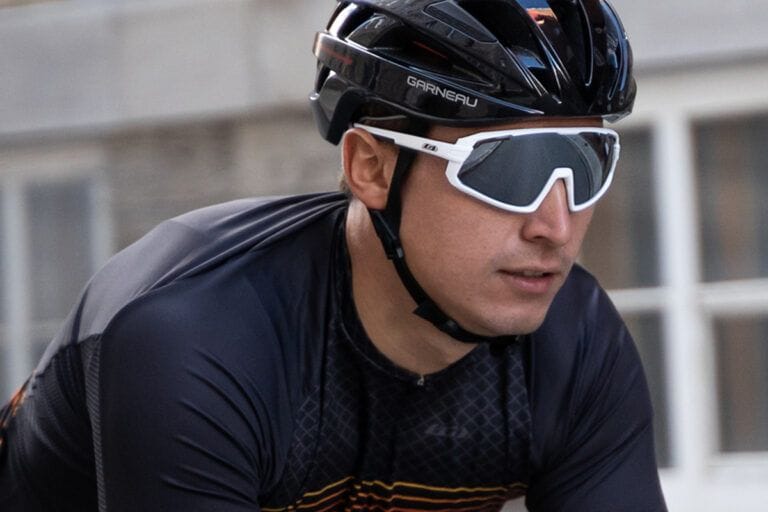 BUYING GUIDE: WHAT TO LOOK FOR WHEN BUYING CYCLING SUNGLASSES
First, you need to identify the type of cycling you'll be doing. It can be track, BMX, mountain biking or road cycling. Once determined, you can then boil it down to the size of the sunglasses, helmet compatibility, and the lens type.
Size
It's best to look for sunglasses in a range of different sizes to discover what fits your face shape best. 
Oakley's Radar EV Path Sunglasses feature a strong grip, perfect for a small face. For especially small heads or for children, the Radar EV Path also comes in a youth model.
There's only one size (OS) for the Smith Optics Attack MTB Sunglasses and these cycling sunglasses tend to be on the larger size. Additionally, the Garneau Lazer Shield shades and Oakley Sutro Lite Sunglasses are also strictly available in OS.
For those with a larger head, opt for cycling sunglasses that offer a size large, or whose standard OS model is somewhat larger than the competition's, such as the POC Aim Sunglasses.
Helmet Compatibility
Helmet compatibility is often a personal choice, usually based on the size of your head. Often, the helmet pushes the sunglasses too far down the nose. Therefore, when trying on new helmets, take your sunglasses with you. Fun fact, the Garneau Lazer Shield sunglasses are compatible with the P-09 helmet.
Lenses
Lens quality is one of the most important features of cycling sunglasses. The advantages of polarised cycling sunglasses are that they avoid flashes of light and blinding reflections. They also relieve eye fatigue and are good for seeing natural colours. But some cycling purists believe polarised lenses should only be purchased if you have problems with glare and excessive light.
Cyclists are exposed to a lot of sunlight and light reflected from a different range of surfaces, so it's best to use a darker lens. Also, if you're most likely to cycle during summer, pick a dark lens for its luminosity.
If you'll be cycling in winter most of the time or overcast days, go for a yellow or clear lens, ideal in low light conditions.
FAQ
Do I need to think about impact resistance sunglasses?
The very best cycling sunglasses have thicker lenses (~2mm). They offer better impact resistance than regular plastic lenses, meaning that despite the elevated price tag they'll last you a lot longer in the field.
What is the benefit of wrap-around sunglasses?
Simply put, cycling sunglasses that wrap around your face cover a greater surface area. This prevents sunlight from seeping through, as well as wind and debris from entering your eyes.
There you have it – the best cycling sunglasses of 2023. Focus on choosing a pair of sunglasses that meets your budget, size, lens, technology, and your preferred cycling style.
For us at Altitude Sports, our top pick goes to the Smith Optics Attack MTB Sunglasses. They performed exceptionally well in every category that we tested. Now it's time for you to order your next pair of cycling shades.
See you on the bike trails!
SHARE