Besides your skis or snowboard, a helmet is the most important piece of gear. A head-injury sustained while speeding down a mountainside can result in a life-changing (or even life-ending) injury. That said, much of the risk can be mitigated by choosing the right helmet. Every year, helmet technologies improve, maximizing durability, ventilation, and protection, while minimizing weight. Plus, many of today's styles, finishes, and colors elevate the helmet to the status of fashion accessory. 
Though it goes without saying, all outdoor adventures involve some degree of risk. But don't take unnecessary ones—because you never know what's lurking beneath the fresh powder. As a rule of thumb, the lifespan of any helmet is roughly five years. That's why we've made it easy for you to discover this year's best helmets for skiing and snowboarding. We also included a buying guide with our top tips on what to look for when buying a ski helmet.
The Top Ski & Snowboard Helmets Reviewed
1. Best Overall Ski Helmet
Our favourite ski and snowboarding helmet in 2022 is the Smith Optics Vantage Mips Helmet. This helmet scores major points for maximizing comfort, airflow, and protection—without sacrificing style.
Their proprietary AirEvac2 technology allows for seamless goggle integration, while the Aerocore construction features Koroyd. The internal XT2 lining is anti-bacterial and the 21 vents with low-profile dual regulator are perfect for climate control.
Price:
0.00$
Pros
Breathable

Durable 

Fit

Design
2. Best Budget Ski Helmet
Probably the best value you'll find on the market. Scott's Track helmet features 360 PureSound technology, which provides excellent protection to the head and around the ears, while allowing you to hear what's going on around you. Unisex, comfortable and with a brand new goggle attachment, this is without a doubt our best ski helmet on a budget.
Price:
0.00$
Pros
Price

Value

Durability

SoundPure technology

Lightweight
Cons
Doesn't stand out from the competition
3. Best Backcountry Ski Helmet
Are you planning on leaving the well-groomed trails of the resort for the uncharted territory of the backcountry? Make sure you have a helmet that's up to the task. POC's Obex Pure is the perfect choice for such an adventure. 
The Obex Pure helmet is compatible with the POC AID communication system (sold separately), which gives you access to support in case of an accident or emergency on the trail. RECCO reflectors are placed on the outside of the helmet to help rescuers find you in case of an avalanche or incident. Finally, the helmet is fully compatible with all POC ski goggles, and EPS technology greatly improves comfort and durability.
Price:
0.00$
Pros
Safety features

Durability

Comfort

Price
Cons
Overkill for resort slopes
4. Best Ski Helmet for Kids
POC is known for their extraordinary race helmets. Now, with their POCito Skull Helmet for kids, they've integrated that same great technology, while improving impact absorption at lower speeds. Reflective stickers ensure optimum visibility on the slopes.
Kids will love the sleek design that comes in an array of cool, fluorescent colours. As an added precaution, the goggle clips features a 'My Info' card where parents can include their contact information. Includes a reflective vest and LED lamp.
Price:
0.00$
Pros
Designed for kids

Extremely safe

Durable

High visibility

Cool colours
5. Best Ski Helmet for Ventilation
For warmer days or for anyone who gets hot easily, a ski helmet with good airflow is a must. The Oakley MOD3 MIPS helmet is our top choice for intense adventures, where good ventilation is required. The MOD3 has a fully-adjustable venting system, a removable visor and an anti-odour, anti-bacterial X-Static ear liner.
This helmet's clean aesthetic is suitable for everyone, especially the hot-blooded!
Price:
0.00$
Pros
Ventilation

Removable visor

Odour/bacteria-resistant

Style
6. Best All-in-One Ski Helmet
Atomic's Savor GT Visor Stereo helmet is our pick for the best all-in-one ski helmet for 2022. It features the brand's latest proprietary Tri-Brid technology, that protects against oblique and vertical impacts to the head. Featuring a photochromic visor, this helmet has a Live Fit and 360 adjustment system for added comfort. 
Price:
0.00$
Pros
Versatile

Visor Included

Audio Compatible

Comfortable

Well-ventilated
7. Other Favourites
Sweet Protection's Switcher helmet comes in a variety of colours and is the brand's lightest and most versatile helmet. Featuring Impact Shields technology that protects against impact, it's also compatible with audio systems. 
Price:
0.00$
With its amazing features and great price, you can't go wrong with the Wavecel helmet from Anon. Offering optimal comfort with its Boa Fit 360 system, it's provide more than enough protection with its WaveCel EPS protection system. Equipped with twelve ventilation openings, it prevents your head from overheating.
Price:
0.00$
Sleek, affordable and perfect for resort skiing, Atomic's Revent+ helmet is a great choice for skiers who don't want to pay for all the additional features. Here, we focus on what's necessary: safety.
Price:
0.00$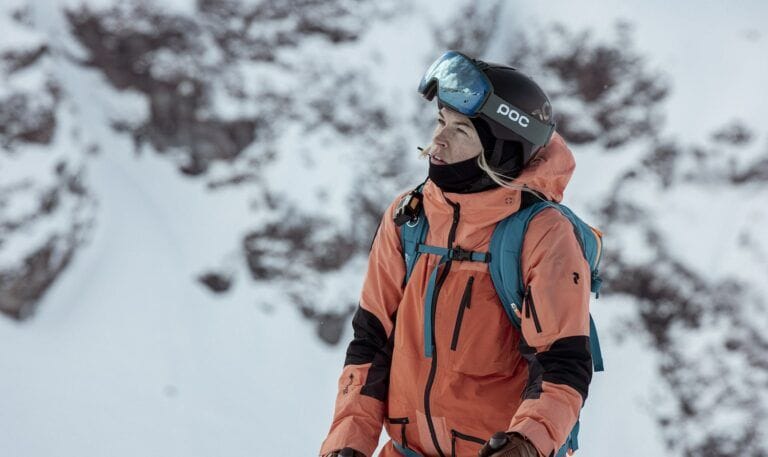 What to look for when buying a ski or snowboarding helmet
When choosing the best snowboarding or skiing helmet, keep the following features in mind.
1. Types
There are two broad categories of helmets. One type is an in-mold helmet, while the other is an injection-mold helmet. In-molds typically weigh less and are less bulky; that's because the shell and liner are molded in a single process. Injection-molds are heavier, bulkier, but offer more robust protection. This is achieved by molding the liner to a separate shell before combining it with the exterior shell.
2. Safety Technology
Helmet safety depends largely on two components: the shell, which is simply the rigid outer layer, and the inner liner, which is constructed using a type of foam. The shell protects your head against hard/sharp objects, while also distributing the force of an impact over a broader surface area. The inner liner is responsible for cushioning the blow through absorption. 
If a helmet sustains a serious blow, consider destroying it and replacing it with a new one. Never ever purchase a used helmet.
3. Ventilation
Ventilation has come a long way since removable plugs. Today, most helmets offer adjustable vents to control airflow. When researching a particular helmet, take note of how many vents are included and the convenience of its mechanism.
4. Liners and Warmth
For added warmth, many helmets include a head liner, in addition to ear pads. The best liners and pads are made from odour- and bacteria-resistant fabric, like merino wool. Merino is also good at wicking sweat while maintaining warmth. Opt for removable liners and pads when possible, as this'll allow you to stay cooler on warmer days.
5. Goggle Compatibility 
Helmets are almost always goggle-compatible. Different brands use different mechanisms to attach goggles, and some are easier than others. Do your homework to find what works for you. Note that some models include anti-fog technologies to keep visibility at its sharpest.
A cost-effective way to buy a helmet and goggles in one fell swoop. The Savor Visor Stereo helmet by Atomic is a good example.
6. Fit and Sizing 
A good helmet is snug but not too snug. Shake your head up-and-down then left-and-right to see if there's any rock. If tightening the strap doesn't solve this, size down. The helmet should ideally sit right up against your goggles.
7. Features 
This means integrated speakers in your helmet. Connect to your device to listen to music or to a two-way radio to keep communication open.
With the advent of portable, high-resolution cameras, many helmets have begun to incorporate a dedicated mount to keep your camera securely attached.
FAQs for ski/snowboarding helmets
Q: How tight should a ski helmet be?
A: Not too loose, but not too tight. Put a little less vaguely, your helmet shouldn't have any shake. On the other hand, it shouldn't be so snug as to become headache-inducing.
Q: How to measure your head for a ski helmet?
A: Grab a soft measuring tape and wrap it around the circumference of your head, roughly an inch above your eyebrows. Take the measurement in centimeters (cm), as it's the most common metric among brands. Now, simply compare it to the sizing guide of a particular helmet.
Q: Are helmets mandatory for skiing?
A: Unless otherwise indicated by a particular resort, the answer is yes for kids and no for adults. But here's the caveat: The Canadian Ski Council highly encourages riders of all levels and ages to use a helmet. They believe that helmet use should be a personal choice, but that the choice is, well, rather obvious.
We hope you're as amped up about helmets as we are. Yes, safety talk can be a downer, but when your helmet looks this good, it's hard to stay sour. TL;DR: Smith Optics Vantage Mips Helmet is our pick for best ski helmet in 2022. 
Next, check out what to wear skiing and snowboarding!
SHARE