Stepping out of Ho Chi Minh airport is a shock of heat compared to autumn in Montreal. It wasn't my first time in Asia, and the feeling of jet lag combined with a sticky hug of equatorial humidity brought back immediate memories.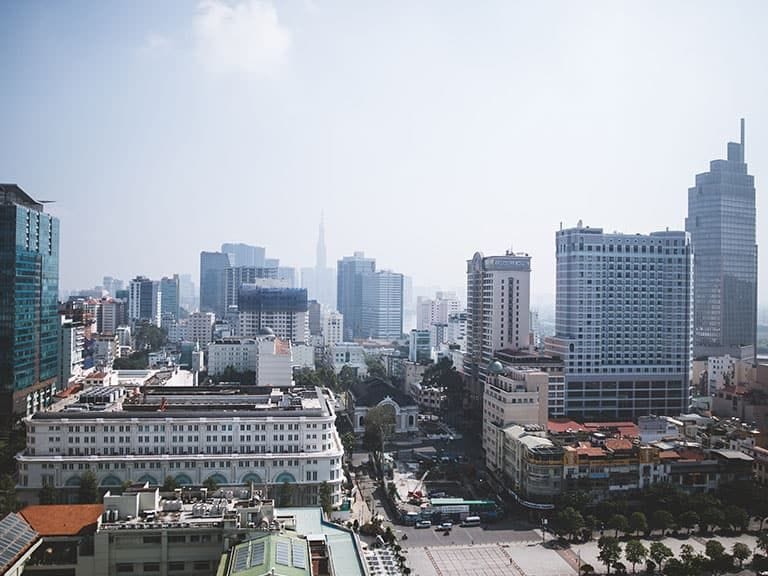 We were greeted warmly by the North American Osprey team who had arrived the day before, linking email personas with friendly faces. For the next few days, we'd put their bags and backpacks to the test in Vietnam and Thailand while checking out Osprey's facilities.
Sweating, I put my 46-litre Porter Pack into the hotel shuttle, placed my Daylite pack on my lap, and we plunged into the bustling traffic.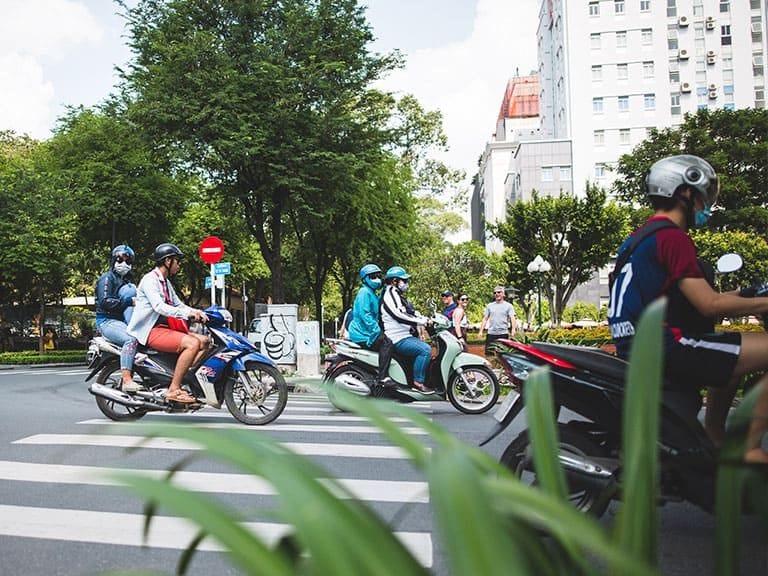 Ho Chi Minh is a long way from Canada. Driving in Vietnam looks like utter chaos, but we soon realized that what seems unorganized is actually systematic.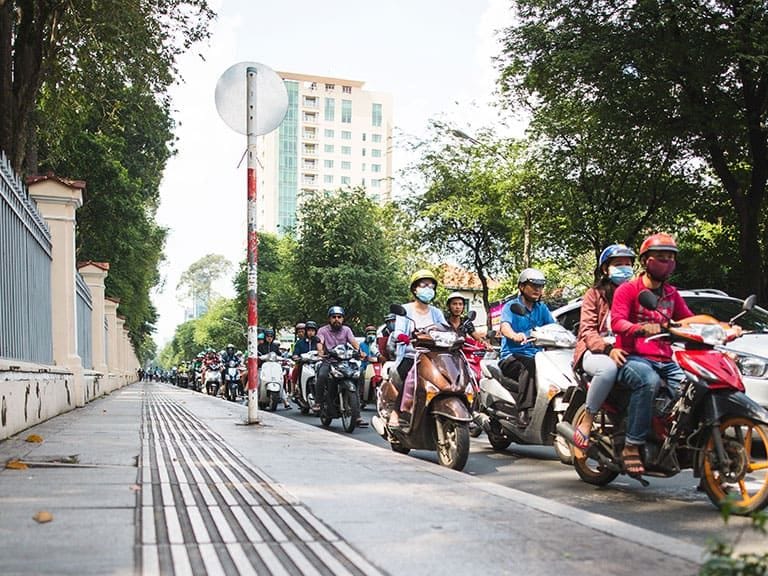 Flutes of fruit juice and cooling AC welcomed us at our hotel. I dropped my bags in my room and headed for the hotel bar to meet the group. Laughter and cold cocktails brought on the night until the heat and travel hit me. The hotel bar closed and we called it a night.  
***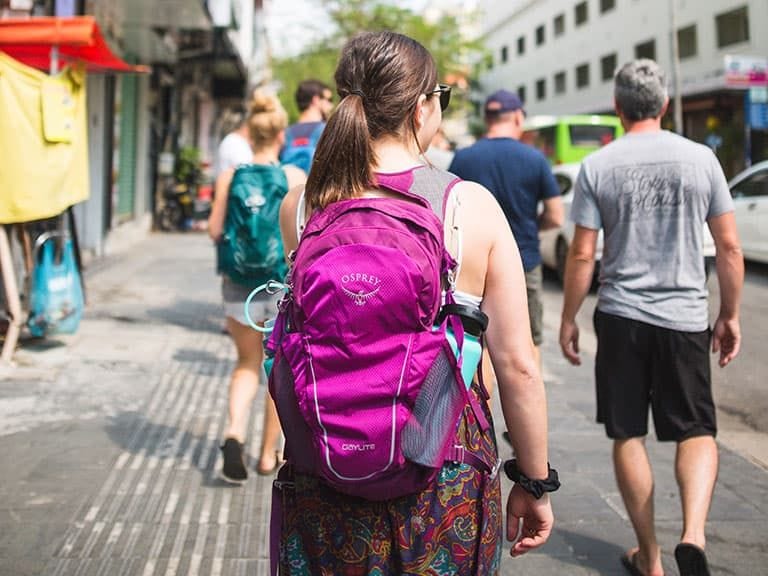 Humidity laced the morning air as we set out to explore the city, a walk around Ho Chi Minh City and a visit to the War Remnants Museum.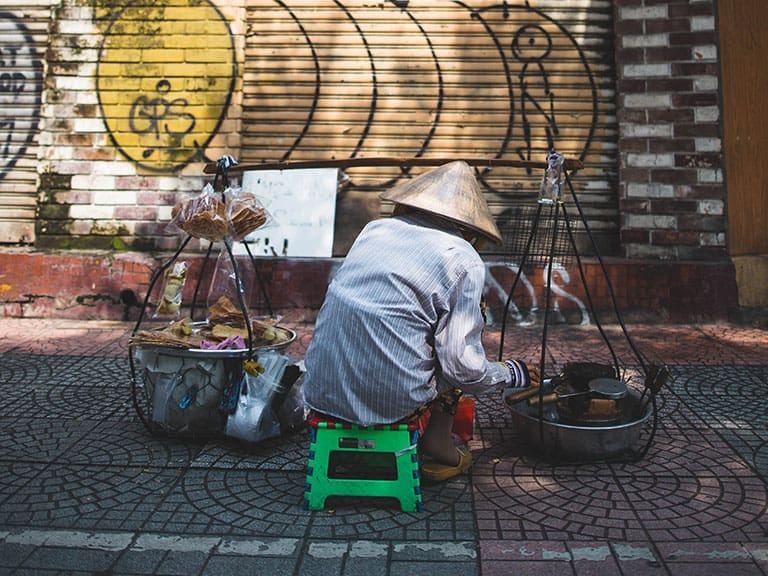 Scooters whizzed past and honking horns were constant. The sidewalks were filled with tourists, locals, bicycles, and street vendors peddling everything you could imagine. Lush colours and vibrant scents were everywhere. Formerly called Saigon, the city is a clash of colonial buildings, modern skyscrapers, and the infrastructure of a booming metropolis.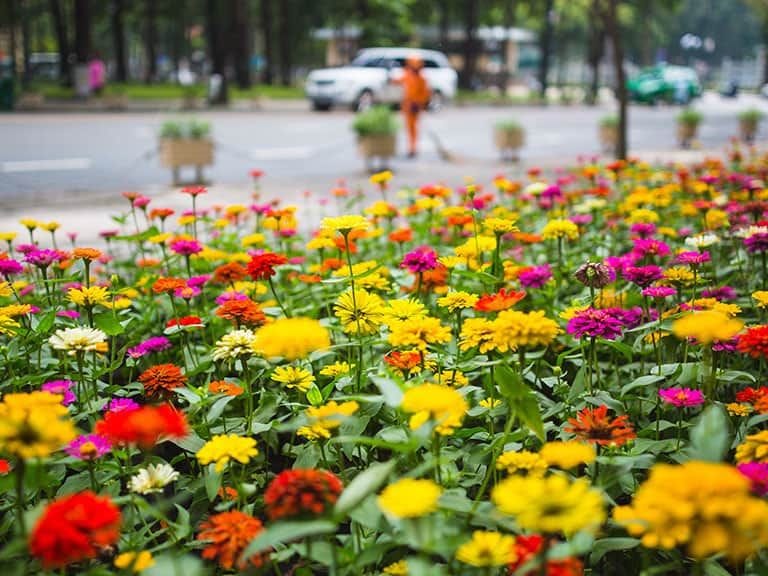 We entered a beautifully pruned park of flower beds, wide paths, and huge dipterocarp trees. I grabbed my canteen from my Daylite pack to refresh myself.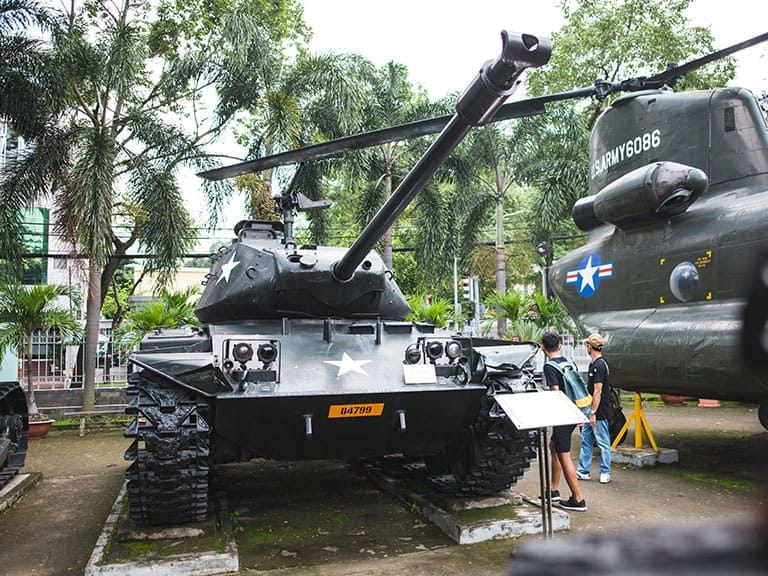 The War Remnants Museum was a grim reminder about the horrors of war. An absolute must-visit that makes you appreciate the country even more.
In this city, food is king. We lunched at Propaganda beneath a dazzling mural. My wild pepper-green mango salad with BBQ chicken was amazing. Our afternoon finished with an Aperol spritz on a sunny rooftop patio.
***
Osprey is in Vietnam because founder and design engineer Mike Pfotenhauer wanted to be where the world's leading backpack production was happening.
In 2003, Pfotenhauer transplanted his family to Vietnam two years after moving Osprey's production line there. Today, the Ho Chi Minh design and production team oversees backpacks made in five local factories.
View this post on Instagram
Our office tour began with a sneak peek at the brand's upcoming collections and their Concept-to-Commercialization process.
Our guide told us Osprey's Vietnam headquarters is so efficient, they can turn product briefs into prototypes in a day, eliminating the need to ship samples between Asia and North America. When prototypes are complete, the office sends detailed instructions to nearby factories, overseeing each production phase.
We headed to the kitchen where on-site cooks fried up beef and chicken for the staff.
After lunch, we joined General Manager Michael Henderson in the design room, where we were shown the first steps of how 2D ideas become 3D products. This involved seeing a design brief morph into a life-sized cardboard bag. The pieces of the pattern are constructed into the exact silhouette of a pack, allowing designers to make subtle changes before creating an exact prototype.   
A sewing competition topped off our visit. My childhood of sewing Barbie clothes hadn't prepared me to stitch an Osprey Daylite pack. This is highly-skilled work.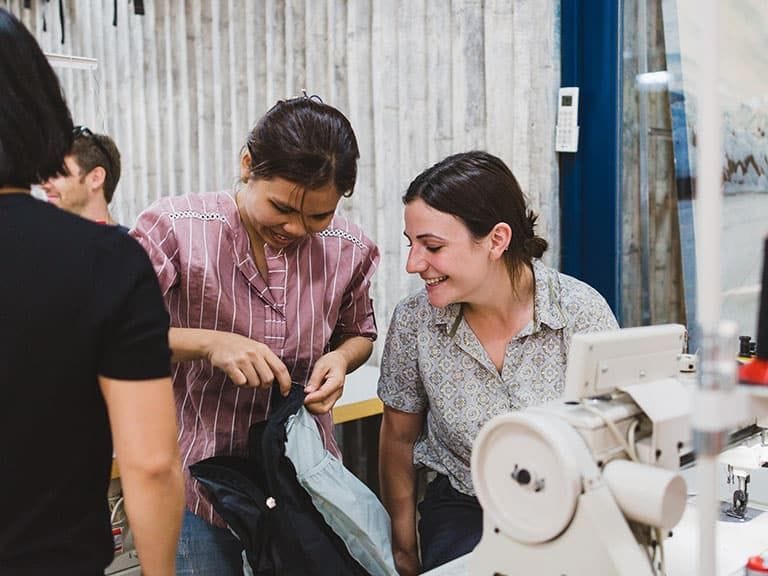 After the competition, it was time for a Vespa tour of the city.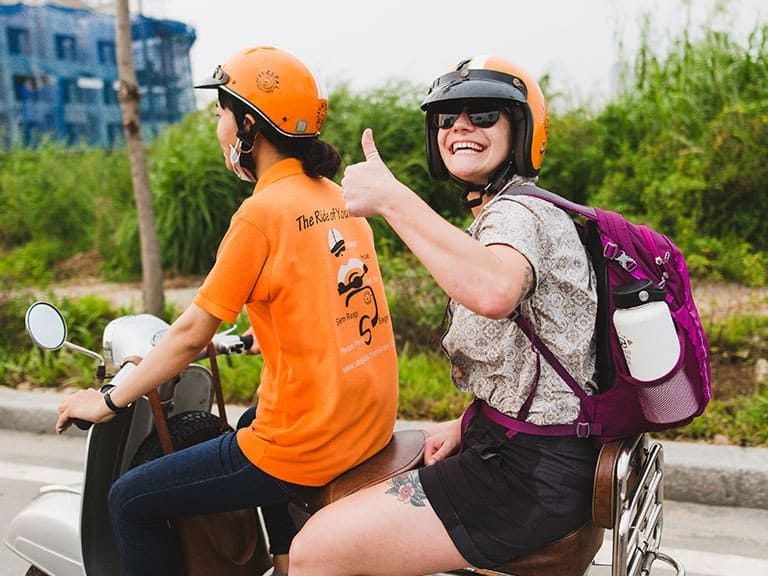 ***
Osprey's offices are located alongside the Saigon River. Due to the new moon, tides were high, causing water to partially flood the streets.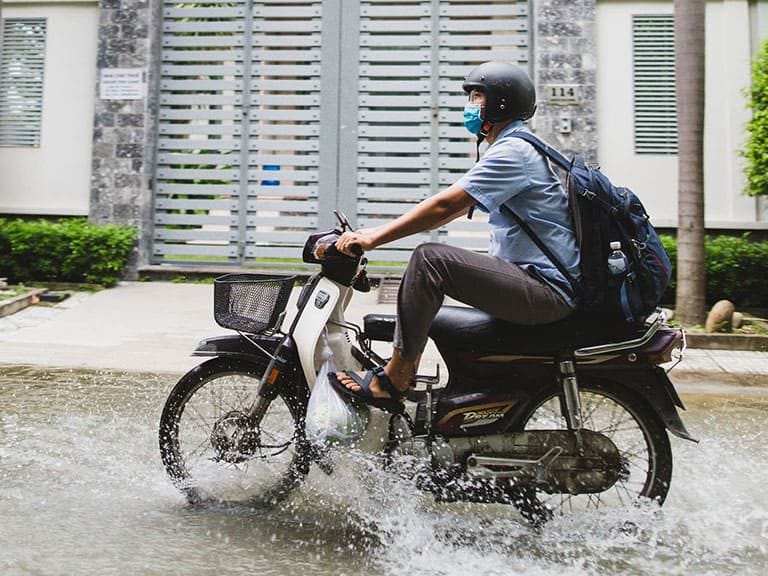 We picked our way through the water to our orange-clad Vespa guides. My driver Dong flashed me a smile. We hit the streets behind whole families piled onto single scooters, slowly making our way behind cars spreading water in their wakes.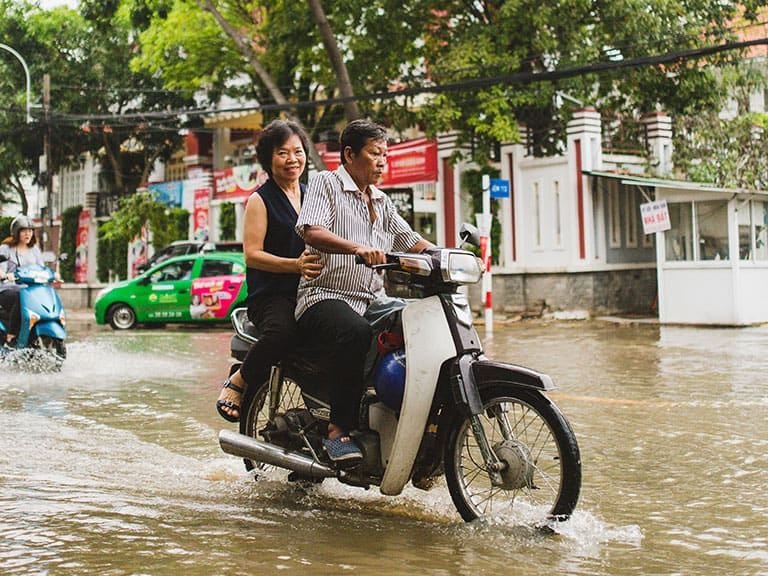 Dong had a serious need for speed and ripped to the front of the pack. My palms sweat and knuckles ached. I swung my Daylite in front of me and held tight as we zigzagged through traffic.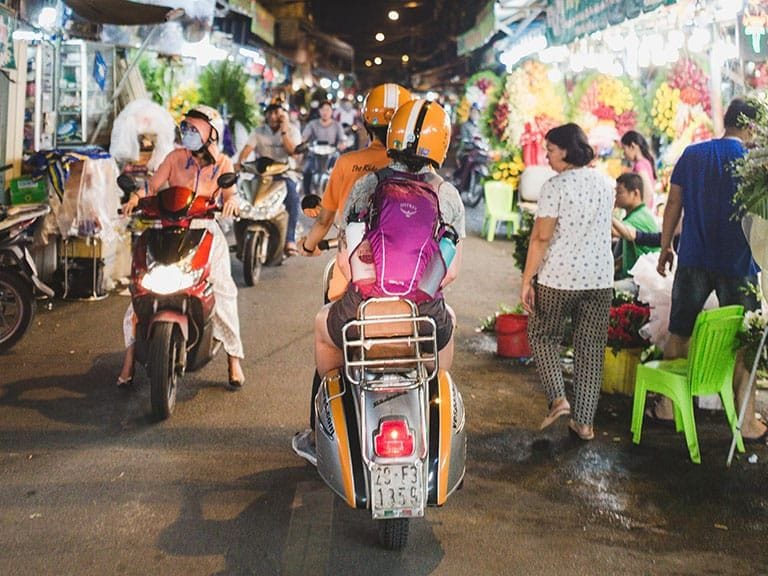 We headed to a viewpoint on the river to snap some skyscraper selfies. The tour included an outdoor flower market, people dodging, animals, vendor carts, and the intersection where monk Thích Quảng Đức immolated himself in protest of Buddhist persecution by the South Vietnamese government. Another powerful reminder of Vietnam's past.
***
The following day began at the Sambu factory, one of the largest and most storied in Ho Chi Minh. Of its 2,200 employees, 80% of them focus on Osprey, producing 2,000 bags per day. It also has a golf driving range in the parking lot for the employees.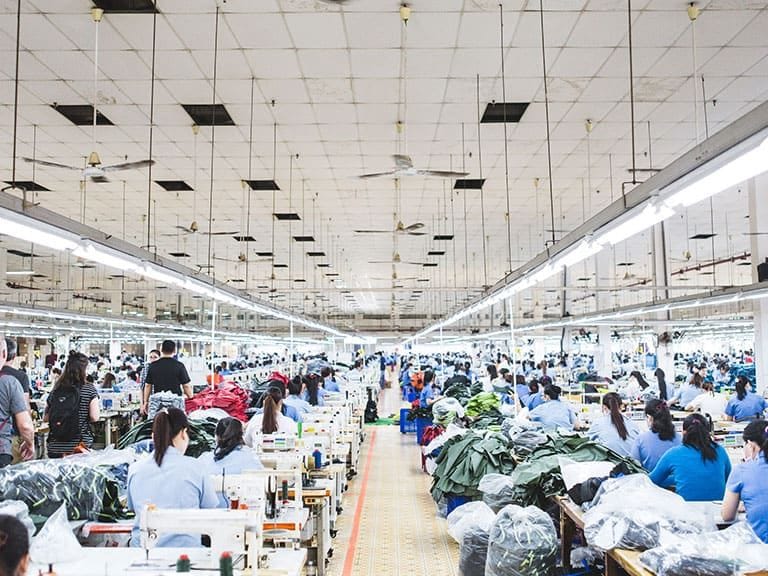 After learning about the design-to-prototype process, seeing patterns come to life in the factory was mindblowing. Each individual piece is treated separately. If it's a Poco bag, that means 350 different pieces.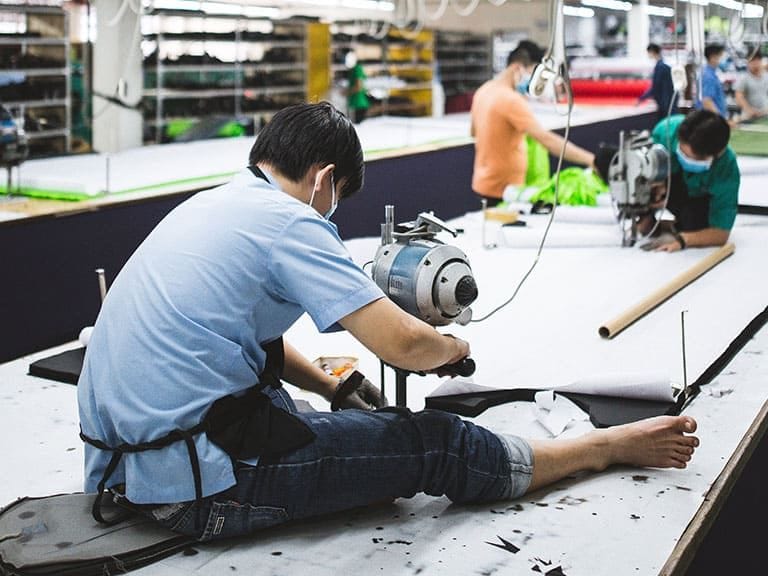 Product pattern designs are sent to the factory where pieces are printed with a laser printer and prepped for cutting. More detailed pieces are cut by hand while larger pieces are cut with a press, which I tested. Every detail was meticulously crafted to ensure the best possible relationship between the wearer and the pack.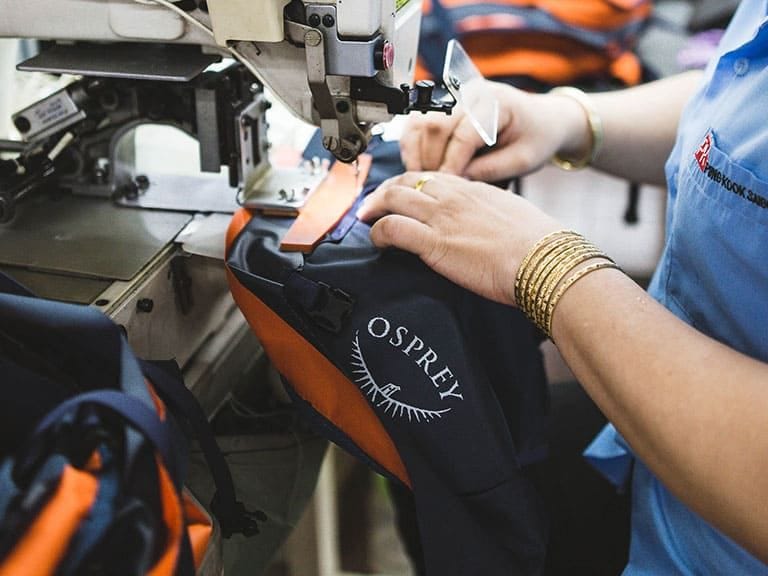 To say the factories were impressive would be an understatement. Not only technologically, but Osprey extends the culture at the main office to their factories.
***
We flew to Phuket, Thailand and readied for a day of hiking. Organizing my Porter bag was simple thanks to Osprey's packing cubes.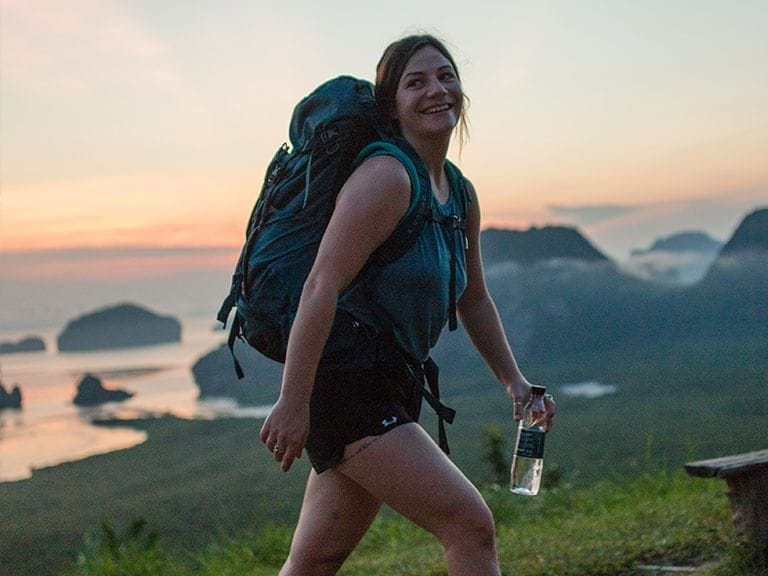 The air was warm and sticky at dawn as we climbed a clay road to reach the famed Samed Nangshe viewpoint. Light seeped through wispy clouds as hues of pink and yellow danced along the glistening bay. Fishermen headed out to work, their boats rippling across pastel-coloured water.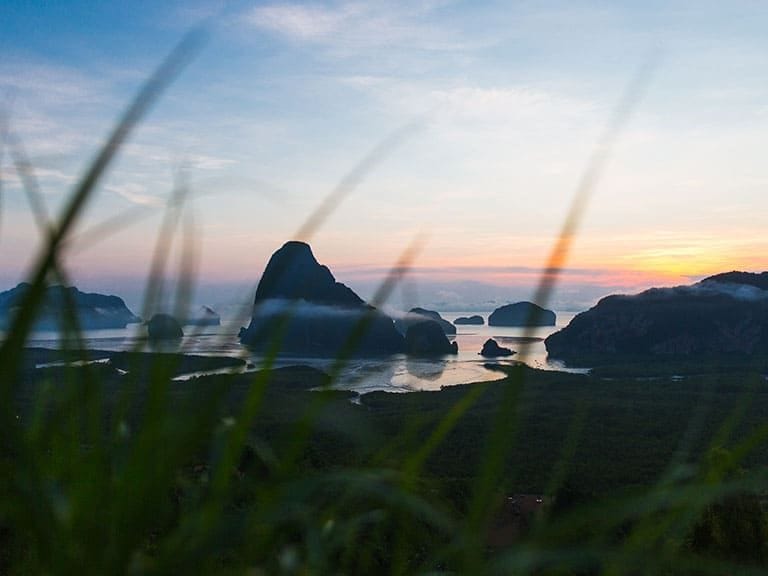 Our day was spent discovering Phangnga bay by boat. We sea-canoed hidden lagoons at Koh Hong, explored the crowd-less beaches of Koh Tapu (aka James Bond Island), and navigated mangroves protecting a hidden 5,000-year-old shell cemetery. Near the shell cemetery, an ancient treasure map was painted on the wall in clay and animal blood. Sadly, none of us left yielding the lost bounty.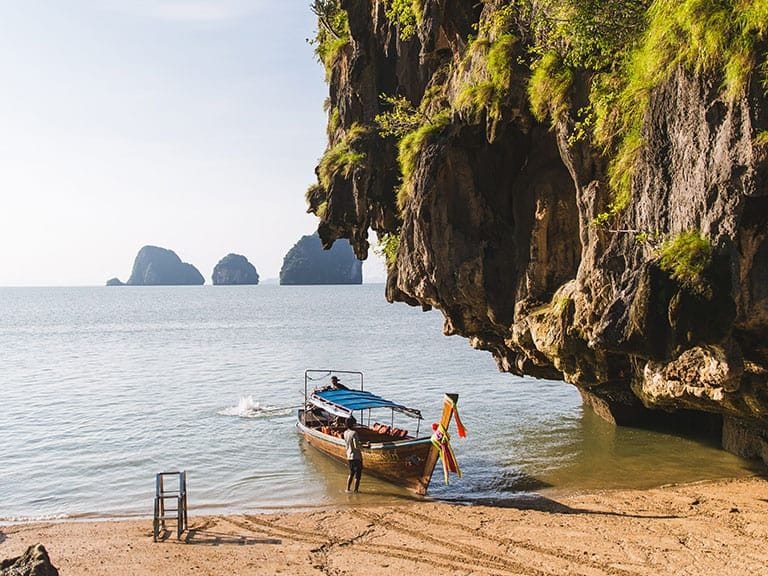 ***
Our boat departed from Chalong Bay the next morning and headed to a horizon of green islands protruding from turquoise waters. Stop one was Phi Phi Leh where Leonardo Dicaprio's 'The Beach' was filmed. From there, on to Pileh Lagoon to snorkel.
View this post on Instagram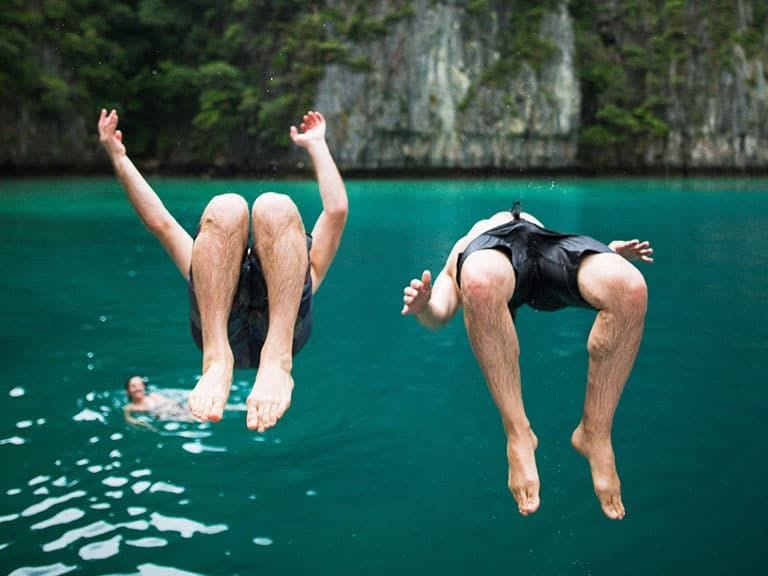 We dove in, scanning for life below us. Floating, I closed my eyes wishing to freeze the moment.
View this post on Instagram
After lunch, I picked out a sarong to use as a towel from a souvenir stall, which came in handy later at Bamboo Beach. The afternoon sun was hot and the ultra-fine sand felt heavenly beneath my toes. After a quick swim, I pulled my sunscreen from my Daylite and sat back to relax on my sarong.
Our journey back to shore was a race against encroaching clouds engulfing the horizon. Lightning bolts illuminated the distant sky and thunder cracked. Growing waves put our captain's driving skills to the test.
Rain struck as we reached the pier, where we bundled into our hotel shuttle for a final night in Thailand. We celebrated in style with laughter and toasts at a local Thai restaurant, cherishing the friendships we'd formed.
***
Everything Osprey does is geared toward quality that lasts a lifetime – from their factories to offices to prototypes. They strive to treat people right – whether it's clients, employees or dealers. The commitment to their products was repeatedly on display throughout my trip.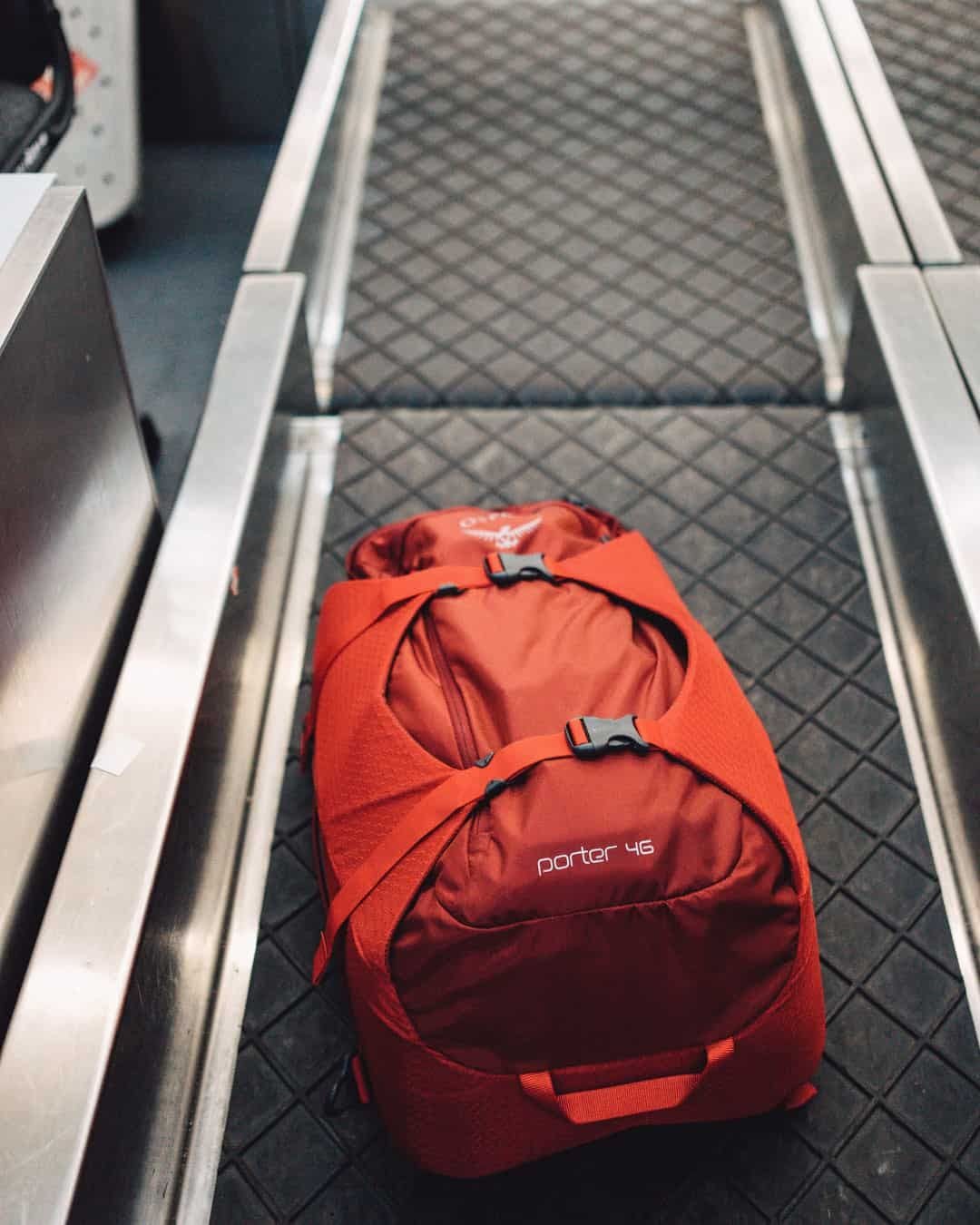 I didn't have to think about my bag or backpack, yet I had them with me the entire time. I could focus on what was in front of my eyes. And that's how travelling should be.
SHARE