Today, we're excited to review the HOKA Clifton 9 Running Shoes. This is a multi-purpose pair of running shoes that's perfect for running outdoors or on the treadmill. From participating in short 10km fun runs to half and full marathons, HOKA Clifton 9 shoes will be your new best friend.
The variety of colours and the flashy style of the shoes will show your enemies that they can't keep up with your Hollywood lifestyle. Cheapskates who buy HOKA Clifton 9 knock-offs at your local market will soon realize they're running with concrete soles. But when you buy the real deal, you'll soon be running personal bests.
HOKA Clifton 9 Running Shoes
The Clifton 9 is crafted with a super-light midsole with energetic EVA foams. Just like the Fast and Furious movie franchise, the latest Clifton 9 continues to get better and better with an updated upper made from engineered mesh. The shoe "fits like a glove," according to happy Clifton 9 owner Marius B.   
What are the updates from the Clifton 8?
The Hoka Clifton 9 is an updated version of the Clifton 8 with several improvements. The upper features a more breathable mesh material and a new gusseted tongue for a more secure fit. The midsole has been updated to a new EVA foam, which provides a softer and more cushioned ride. The outsole has also been redesigned with a new rubber material for better durability and traction. These upgrades provide a more cushioned, breathable, and durable running experience.
Price:
0.00$
Brand Name
|
Product Type
Why You Should Consider HOKA Clifton 9 Running Shoes

Cushioned

The cushioning in the HOKA Clifton 9s is probably the biggest advantage. The high level of cushioning means that after a long run, you'll still have energy left in your legs. If you're training for a half or full marathon, it's a match made in heaven. The ortholite insole adds an extra spongy layer of step-in comfort and extra cushioning.
Happy Clifton 9 owner Jean-Christophe D. said, "I am really satisfied with these shoes. The cushioning is amazing. After my jogging, I have much less pain in my legs. Incredible cushioning than other shoes I wear (e.g., Saucony Endorphin Speed ​​2, On Cloud Stratus), which cause excessive heat to my feet."
According to HOKA, the Clifton 9 features a symmetrical bed of cushion without additional prescriptive technologies.

Breathable

The Clifton 9s have more engineered mesh venting in the upper on each side of the foot, and is open in the forefoot. This makes it more breathable. It's also made from 100% vegan materials…maybe this helps your feet from feeling like a sauna.
Comfortable

What we love about the HOKA Clifton 9s is that they're so comfortable: so much so that we prefer to leave the shoes on when inside. There's a very comfortable upper that doesn't feel too over-padded. The extra padding in the tongue provides more comfort around the lacing area, but on the downside, it adds more weight.
Stable

The Clifton 9 sole is softer and provides the runner with a smooth and stable ride. With the new flex grooves and additional rubber underneath the platform, HOKA 9s have more durability and stability, which provides more kilometres for your training.
According to Sportitude Running, "the reason the flex grooves in the Clifton 9s have been strategically positioned in that diagonal, 45-degree angle from the lateral to the medial side, is to provide more stability and aid in more propulsion through that forefoot."
Durability
For durability, the HOKA Clifton 9s provide an extended crash pad at the heel and increased rubber coverage. There are ventilation areas on top of the toe box and midfoot for increased airflow. According to iRun reviewer, "The mesh is just the right thickness to be durable without being too thick."
Style

HOKA Clifton 9 shoes are the equivalent of getting a new haircut. Friends, family, colleagues and even strangers are likely to comment on your new pair of running shoes. You'll feel so on top of the world with this boost of confidence that you're likely to run personal bests. 
Social Proof
It's clear through the many reviews below that customers are very satisfied with the new HOKA Clifton 9 running shoes.
Jason W. said, "This is my third generation of the Hoka Clifton running shoe. I also have a pair of the Clifton Lifestyle model for everyday walking. I have really enjoyed the Clifton for running. It has great cushioning if you are looking for a maximalist running shoe. The upper in this iteration seems a bit more structured than the last generation."
Martina B. said, "I work as a medical-surgical and labour and delivery nurse and am currently 6 months pregnant. These shoes are exactly what I needed to ease the daily foot/knee/hip/back pain that I've been having."
Zhili X. said, "These are my first pair of Hokas. They are surprisingly light and plushy yet very supportive."
Amanda W. said, "I love Hoka Cliftons. The 9s are a great update. Doesn't require any break in."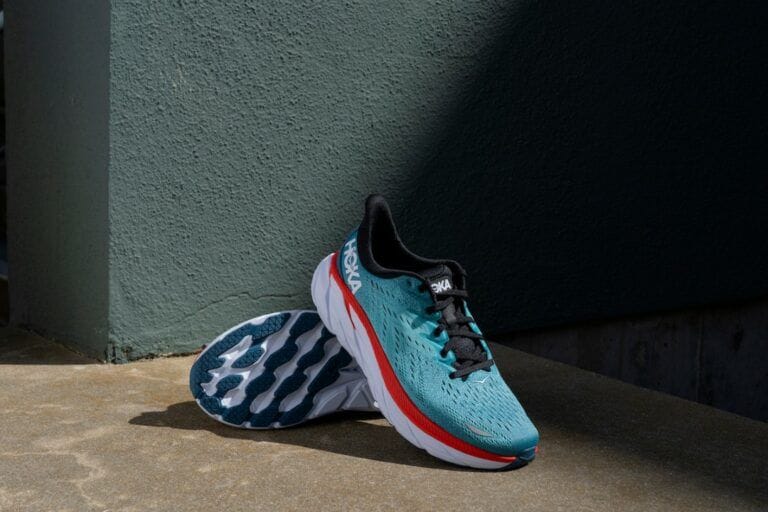 FAQ

Are HOKA Clifton 9 high-performance running shoes?
If you're training for a short or long race, HOKA takes your times and placings to another level. According to Doctors of Running, "heel landings and forefoot transitions are very smooth given the soft midsole, and there's a healthy amount of toe spring and heel bevel. The cushioning is great throughout and I have been able to run upwards of 18 miles with absolutely no problems in them."  
Are the HOKA Clifton 9s made for trail running?

The HOKA Clifton 9 running shoes are designed for everyday training, so yes, you can do trail running with them. HOKA was founded in 2009 by French trail runners Nicolas Mermoud and Jean-Luc Diard. The pair developed their shoes with a unique HOKA recipe: more cushioning, light materials and a wide rocker midsole that creates a smoother ride. Although HOKA Clifton 9 shoes aren't marketed to trail runners – they're also targeted to mid-week and weekend running warriors.
Is there a wide-foot version of the standard HOKA Clifton 9 running shoes?
Yes there's a wide version for men and for women of the standard HOKA Clifton 9 shoes, and 11 sizes to choose from. This is great for people who struggle with regular shoe widths.
Conclusion
There you have it, the HOKA Clifton 9 running shoes handed to you on a silver platter. There are eight sizes to choose from in the men's shoes and 10 sizes to choose from in the women's shoes.
DISCOVER HOKA CLIFTON 9 MODELS
SHARE