During the fleeting summer months, any excuse is a good excuse to get out on the water. But before rushing out the door, you need to prepare. Whether it's an afternoon of flat water paddling or a guided expedition down turbulent rapids, there's a handful of SUP essentials you should never leave home without.
In this article, we offer up a concise and comprehensive paddleboarding checklist for experts and beginners alike. Having the right gear for your adventure is the best way to make sure it's always safe, comfortable, and maximally fun.
Must-Haves for Paddleboarding
To kick off this checklist, let's run through the most critical items you need to actually get on the water. Not every item is essential all the time. If you're doing traditional paddleboarding, you can skip the paddle. If you're engaging in some relaxing SUP yoga, you can skip the fin. Nevertheless, each of these items will eventually come in handy.
Paddleboard
Hands-down the most important item on our list is, well, the paddleboard itself. Your choice of paddleboard depends on a variety of factors like destination, activity, and personal preference. Whenever possible, choose the right board for the situation. This reduces risk and optimises fun.
Paddle
For stand-up paddlers, you simply can't leave home without your paddle. Instead of drifting passively along the water, a paddle lets you get from point A to point B as fast or slow as you like. Of course, traditional paddleboarders can accomplish this without a dedicated paddle: a set of arms is all you need from a prone position. 
SUP Leash
A SUP leash is a great way to ensure the safety of both you and your board. If you take a spill, the board itself acts as a flotation device you can grab on to. And if you're separated, you can be sure that your board never drifts too far away.
SUP Board Fin
Fins come in many shapes, sizes, and configurations. Most of them are removable, especially if you're using a hard board. This gives you the freedom to choose the right fin(s) for your adventure.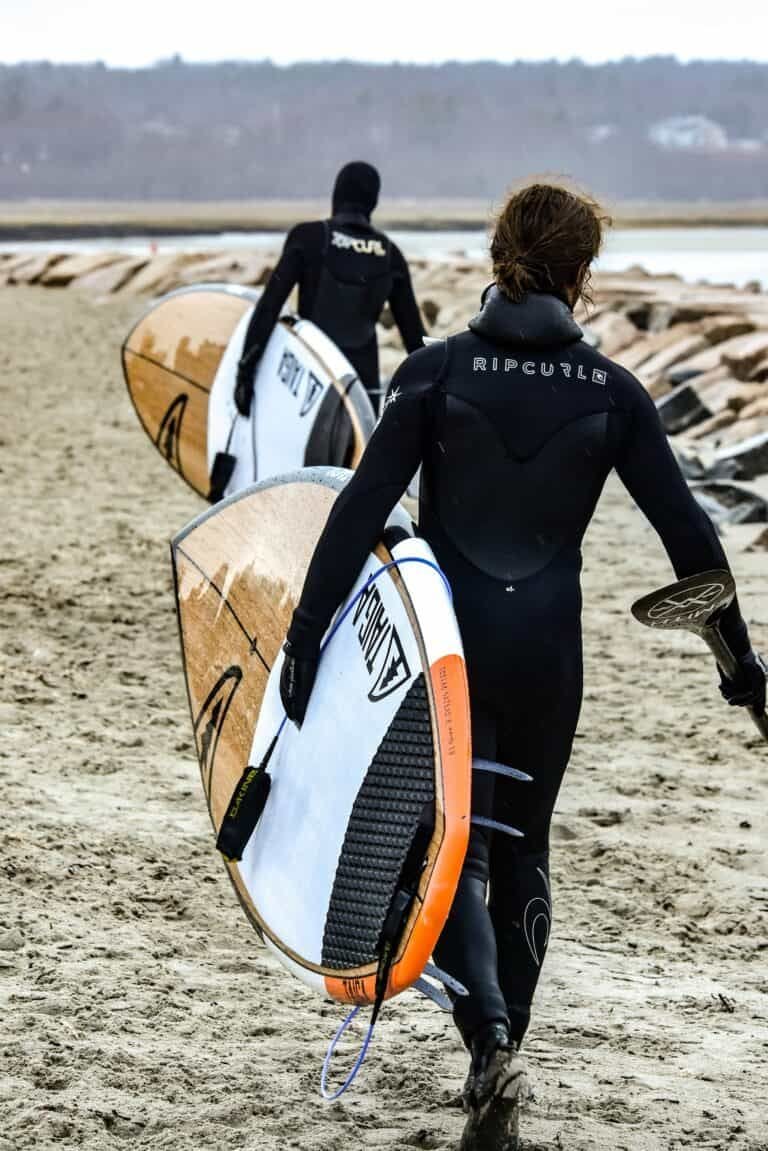 Swimwear
While most paddleboarding can be done in just your swimsuit (or even your birthday suit), there are certainly times when you'll want to layer up. Whether it's to prevent injury, improve comfort, or maintain body temperature, it's wise to keep some extra attire around.
Swimsuit
All you need to get out on the water on a beautiful summer day is a pair of swim trunks or a bikini. Pair it with a t-shirt for added sun protection and you're good to go.
Rash guard
A rash guard is a stretchy, abrasion-resistant, and quick-drying top. It's constructed with blended synthetic materials like poly-elastane. On super sunny days, rash guards prevent sunburn thanks to their UV-blocking properties. Meanwhile, moisture-wicking capabilities help regulate your core temperature.
Drysuit or Wetsuit
When the water temperature dips, you'll be glad to have a drysuit or wetsuit handy. Wetsuits are good in cold temps, while drysuits are a must for extreme cold temps.
Water Shoes
Water shoes are one of the best ways to keep your feet comfortable and protected. They're made of lightweight, fast-drying material and provide traction and support across a variety of SUP activities. 
Shop Wetsuits and Rash guards
Safety
Even with your essentials and swimwear covered, you're still not quite ready to hit the open water. The following key safety items will help make your paddle boarding adventure safer and more comfortable.
Personal Flotation Device (PFD)
A PFD, commonly known as a life jacket, is a safety must. And I know what you're thinking, but I swear – not all of them are lame! Today, you can find many models boasting streamlined fits and funky designs.
Safety Whistle
A safety whistle lets you signal for help or indicate your location. Many PFDs come equipped with a whistle; however, you can buy a new one for just a few bucks and attach it to your PFD with some paracord or a lanyard. It's also worth familiarising yourself with some standard whistle distress calls.
Sunglasses
As much for fashion as for function, sunglasses are an essential piece of kit. It's extra important since the sun's UV rays are stronger when reflected on water. Not only can this damage your skin, but it can adversely affect your eyes, even on cloudy days.
Bug Repellent
You won't often need bug spray when you're out on the water, but it'll be a lifesaver when you do. For really buggy months or regions, DEET is a powerful (though fairly toxic) option. For milder conditions, you can opt for a natural, non-toxic scent.

Sunscreen
There are two main types of sunscreen: chemical and physical. If you have sensitive skin – which, let's face it, we all do – a physical cream is less of an irritant. Also, make sure to choose the right Sun Protection Factor (SPF) for your skin type.
Sun Hat
Even with sunscreen and sunglasses checked off the list, it doesn't hurt to throw a sun hat into the mix. A sun hat adds extra protection to your exposed cranium, reducing your risk of heat stroke and sprucing up your outfit in a single stroke.
Shop Personal Flotation Devices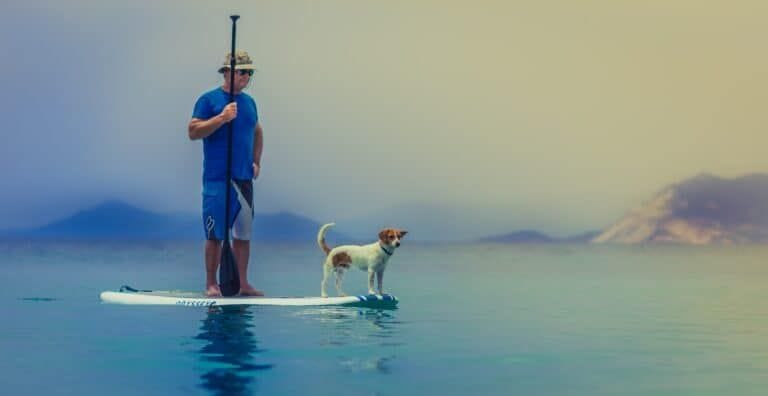 Other Essentials
From staying hydrated to making memories, here are five other essentials you'll want to keep close at hand.
Water Bottle
Even when completely surrounded by water, it's easy to forget to stay hydrated. If you're just hitting the water for a quick paddle or some SUP yoga, you may not need to bring a bottle with you. For longer expeditions, however, always keep a bottle at hand, tucked conveniently into your SUP straps.
Dry Bag
You've got all your essentials ready to go, but you still need somewhere to put them. That's where a dry bag comes in. Dry bags are waterproof rolltop bags that reliably keep your gear, well, dry. Clip it directly to your SUP for easy access. Best of all, they float!
Action Camera
An action camera like a GoPro is an awesome way to keep high-definition records of your SUP adventures. Whichever brand you choose, just make sure it's fully waterproof and submersible.
Headphones
Nothing sets the vibe better than some lo-fi beats on the open water. And waterproof headphones make that possible. Pro Tip: To avoid getting yourself tangled in some dangling wire, opt for a wireless or true wireless pair of headphones.
Snacks
Fuel your activities with the right calories. Pre-packaged protein bars are a nutritionally high-density snack, while fruit makes an excellent pick-me-up. Remember to choose snacks that will maintain your electrolyte and blood sugar balance.
Conclusion
Paddleboarding is a fun, affordable, and easy-to-learn water sport. From yoga at dawn to whitewater expeditions, you'll always find some new way to enjoy your time on the water – you just need the right gear for the job!
This checklist serves as a guide to SUP enthusiasts of all ages and skill levels. If you found this article helpful, be sure to print it to keep with your gear and use it as a reference before heading out. So…what are you waiting for? Time to hit the open water!
Start Paddling
Discover our collection of paddleboards and immerse yourself in this hot new sport
SHARE