In both the fashion and adventure worlds, The North Face is a veritable icon. With a history spanning some 55 years, the brand has become an international phenomenon. Their apparel is as popular in the boardrooms of Silicon Valley as on remote Himalayan summits. Today, we're going to see how this veteran company stacks up against one of its most respected contemporaries, the forward-thinking Arc'teryx.
A Brief History
The North Face was founded by husband-and-wife duo Douglas and Susie Tompkins in 1964. It began as a mail-order service for climbing equipment and camping gear. In 1966, thanks to their modest success, they opened their first store in San Francisco.
Two years later, the company was sold to Kenneth "Hap" Klopp. Meanwhile, the Tompkins went on to become pioneers in deep ecology, environmental activism, and philanthropy—another fascinating story altogether. 
With Klopp now at the helm, The North Face accelerated its rise through a mix of technological innovation and savvy entrepreneurship. The pivotal moment came early on when the brand launched its first product line. As a testament to their ingenuity, they integrated U.S. military fabrics used during the Vietnam war into their apparel, refining it to be lighter and more comfortable.
In 1971, the iconic logo was created by David Alcorn and remains unchanged to this day. Three concentric, slightly elongated half-circles depict the famous granite structure in Yosemite National Park known as Half-Dome. The vantage point faces west, with the left-side of the logo representing the sheer North-facing cliff—in other words, the north face of the dome.
Four years later, in 1975, The North Face introduced their revolutionary geodesic tent. The geometry is based on the work of engineer, architect, and futurist Buckminster Fuller. Today, The North Face is on their fourth iteration of the tent: the Geodome 4. It is still considered a marvel in expedition camping thanks to its lightweight strength and aerodynamic properties.
In the 1990's, The North Face broke into the mainstream, becoming a streetwear staple akin to Nike or Adidas. Since then, their trajectory into the cultural zeitgeist has only intensified. In 2001, the company was acquired by the VF Corporation. Headquartered in Denver, Colorado, VF also owns the likes of JanSport, Eastpak, and Timberland.
Fast-forward to today and stars like Drake, the Weeknd, A$AP Rocky, and even Kendall Jenner can all be spotted rocking the iconic half-dome. But, despite its fashion appeal, The North Face has stayed true to its roots. They continue to push the limits of innovation while sponsoring elite athletes, including legendary free soloist Alex Honnold.
Social Responsibility & Sustainability
The North Face is committed to protecting the places they love to explore. Let's check out a few of their environmental and social initiatives.
Though the Clothes the Loop program has been paused due to COVID-19, it's a cool way to encourage recycling and reuse. The gist of it is this: You can drop off your old clothes and footwear at certain flagship stores—even if the items aren't North Face products. 
In exchange, you'll receive a $10 store credit on your next purchase of $100 or more. Your donated items will be assessed across 400 categories and then broken down for reuse in the form of toys or clothes, insulation or carpets.
Limited Lifetime Warranty
The North Face offers a limited lifetime warranty on most of their products. The exceptions are footwear and items belonging to the The North Face Renewed series. 
This warranty guarantees free repairs or replacement in the event of a manufacturing defect over the course of a product's natural lifetime (not your own lifetime, unfortunately).
Environmental Collaboration
By working alongside their suppliers, retailers, and sister companies, The North Face strives to help everyone reduce their carbon footprint.
By 2025, The North Face aims to use 100% responsibly sourced fabrics in their apparel. For footwear and equipment, this timeline is extended to 2030. "Responsibly sourced" means that the fabrics used are either recycled or regenerative over a lifetime.
Flagship Product: Denali 2 Jacket
Brand Name
|
Product Type
The Denali 2 Jacket is designed to keep you warm and shed light precipitation—not just in shoulder season weather, but even on mild winter days. This is thanks to the water-repellent, DWR finish on both the fleece and nylon portions of the jacket. On especially cold days, the Denali 2 Jacket can be attached to compatible The North Face shells using the snap-in integration system.
The Denali 2 Jacket is also surprisingly rugged. You'll find abrasion-resistant patches along the chest, shoulders, and elbows, preventing wear-and-tear in these high-friction areas.
Price:
0.00$
True to their values, the latest model boasts an eco-friendly construction that includes 100% recycled polyester and nylon. The relaxed fit is comfortable, unrestrictive, and gives you ample layering room underneath. It retails for $229.99 and weighs about 17 oz (480g). Other key features include:
Pit zips for quick ventilation

2 hand-warmer pockets; 1 horizontal chest pocket; 1 vertical chest pocket

A Dual-drawstring adjustable waist 

Elastic cuffs

Available in both hooded and non-hooded versions
A Brief History
Arc'teryx wasn't always Arc'teryx. In fact, when Dave Lane founded the company in 1989, he christened it Rock Solid—ostensibly a reference to their rock climbing market niche. This name had the doubled-edged quality of being easy to remember and completely forgettable. It wasn't until two years later, in 1991, that they rebranded to the strange and esoteric-sounding Arc'teryx.
Why would anyone be audacious enough to choose such a complicated name? The reason is compelling. Co-founder Jeremy Guard wanted something that made them unique among the competition. Not only that, it had to reflect the company's three-fold vision: Innovation, Evolution, and Market Disruption. In perfect symbolic fashion, they came upon the Archaeopteryx—the oldest known bird fossil. For simplicity, the name was contracted to Arc'teryx.
In 1996, Arc'teryx partnered with GORE TEX and began making some of the most technical and waterproof gear on the market. This allowed the company to expand their reach beyond the limited scope of the climbing community. Their reputation steadily grew and, over the course of the last thirty years, Arc'teryx has continued to be an industry leader in sleek design and cutting-edge performance tech.
Though originating in Vancouver, British Columbia, Arc'teryx is no longer a Canadian brand. In 2001, the Adidas-owned Salomon Group purchased Arc'teryx. In 2005, Amer Sports, a Finnish sporting goods brand, purchased the Solomon Group. Then, in 2019, Amer Sports was incorporated into Anta Sports, the Chinese multinational sports equipment conglomerate.
Social Responsibility & Sustainability
From the beginning, both environmental sustainability and social responsibility have been top priorities for Arc'teryx. Let's look at a few of these initiatives. You can check out their sustainability page to learn more.
As a bluesign approved brand, Arc'teryx is committed to minimizing environmental impact while improving the working conditions in factories.
Arc'teryx products are traceable, meaning you always know exactly where a garment was made. For the most part, these factories are located overseas in countries like Myanmar, Vietnam, Bangladesh, and China. The Alpha SV is the only product that continues to be made at the ARC'One facility in B.C.
Arc'teryx conducts frequent third-party inspections across all of their factories. If their rigorous standards are not met, Arc'teryx reserves the right to take their business elsewhere. 
The Arc'teryx value system is reflected in their adherence to ESG policies. ESG stands for Environment, Social, and Governance, comprising the trifecta of corporate responsibility. Companies with ESG values are committed to improving employee well-being, reducing environmental impact, and maintaining a strict code of business ethics.
Flagship Product: Atom LT Hoody
Brand Name
|
Product Type
Designed to be versatile in both alpine and office settings, the Atom LT Hoody is exactly what you'd expect from Arc'teryx. The trim fit construction minimizes bulk, giving the jacket a sleek appearance when worn as an outer. This also makes it a great midlayer beneath a thicker shell.
The Atom LT is made with a wool-like synthetic called Stretch Fleece, Dope Permeair and is insulated with packable Coreloft Compact synthetic insulation. It's soft, warm, breathable, and rugged. A full-length front zip gives you control over your core temperature, while the gusseted underarms increase mobility. 
Price:
0.00$
The Atom LT Hoody retails for $319.99. Other notable features include:
Adjustable hood drawcord with single pull adjuster
Insulated helmet compatible StormHood with structured mini hood brim
Custom TPU zipper pulls
Improved stretch-knit cuffs with better durability, layering and removal
Drop back laminated adjustable hem
Internal chest pocket with zip
Comparing The North Face and Arc'teryx
With some background on both The North Face and Arc'teryx, let's now compare the Denali 2 Jacket and Atom LT Hoody across seven key metrics:
1. Weight
The Denali 2 Jacket weighs 16 oz, making it roughly three ounces lighter than the Atom LT Hoody.
2. Durability
Though the Atom LT Hoody features a durable face fabric, the Denali 2 Jacket adds an extra layer of reinforcement to high-abrasion areas.
3. Performance
Both the Denali 2 and Atom LT Hoody are excellent midlayers and shoulder season outers. The Denali 2 Jacket also has a DWR finish which provides it with some added water-resistance.
4. Price
The Denali 2 Jacket retails for $239.99, while the Atom LT Hoody retails at $319.99. 
5. Style
Both fleeces are stylish in their own way. The Denali 2 is more playful and colourful, while the Atom LT Hoody is trim and understated.
6. Fit
The Denali 2 Jacket is classified as 'relaxed fit', meaning it's roomy though not form-fitting. The Atom LT, on the other hand, is designed to fit trim in typical Arc'teryx fashion.
7. Corporate Responsibility
The North Face and Arc'teryx are each working to reduce their carbon footprint, implement recycling and reuse programs, and improve working conditions throughout their overseas factories. Each brand has also set sustainability goals for the next 5-10 years.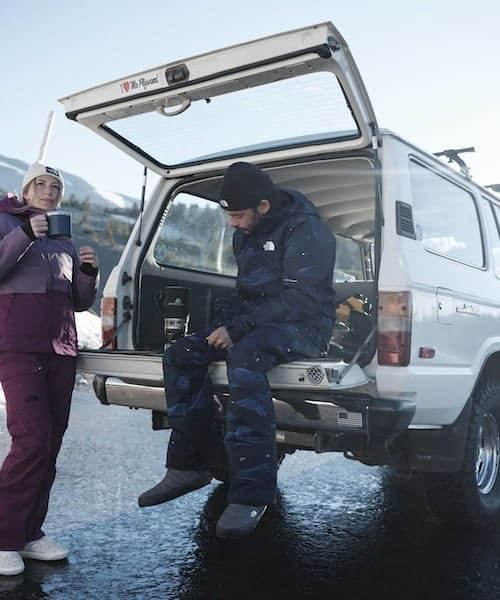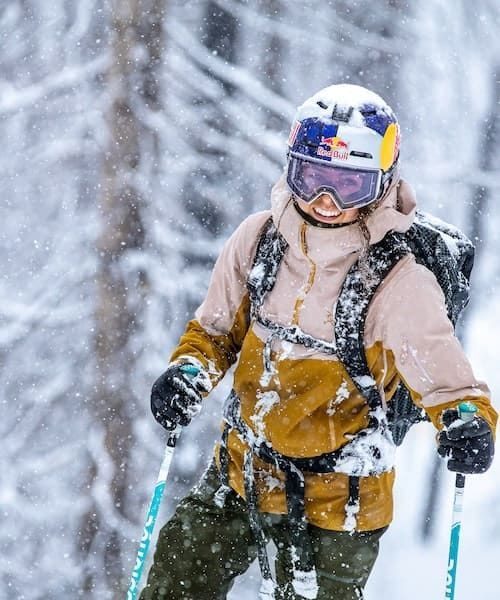 If you're looking for a versatile fleece, you can't go wrong with either the Denali 2 Jacket or the Atom LT Hoody. Both offer a level of comfort and style that's suitable for summer night campfires, December snowshoeing, or client meetings on Zoom. 
Next up, check out how the Arc'teryx Atom LT stands up against The North Face Ventrix in our head-to-head comparison guide.
SHARE