You know what they say: when it rains, it pours. It's true in love and it's even truer on the trail. A good rain jacket is not only essential for keeping you comfortable and dry, but is the best defense against hypothermia. In this article, we provide the low-down on 2022's best rain shells based on their level of weather-resistance, packability, breathability, and price.
For its outstanding success in all these categories, the Torrentshell 3 Layer Jacket from Patagonia is our pick for best rain jacket. Besides its lightweight and stylish design, waterproof face fabric, and breathability, the Torrentshel shines for its versatility from light drizzles to torrential downpours, from commuting to backcountry hiking.
Best Runner-Up Rain Jacket
In second-place, we have The North Face Antora jacket. This is the perfect rain jacket to keep in your bag, as it's packable and lightweight. The relaxed fit allows for layering so you can pair it with a midlayer shell to stay warm and dry without restricting mobility. A stormflap over the front zipper adds extra protection while biking or running.
Similar to the Rush, the Antora offers significant bang for your buck; however, the lower price point translates to a reduction in functionality. That's not a bad thing: the Antora makes an excellent urban companion, especially for those on a budget. The other advantage is its unbelievably lightweight, coming in a few ounces lighter than the Rush.
Price:
0.00$
Pros
Packable

Ultralight

Waterproof

Breathable

Price
Best Budget Rain Jacket
Though slated as the best budget option, Columbia's Watertight and Acadia jackets are much more than just an affordable coat. This is a lightweight, breathable, packable rain shell that holds up in wet and windy conditions. It features a sleek design and comes in a tasteful array of muted colours. 
The Acadia face fabric is a recycled and durable, 100% Nylon 2L Full Dull plain weave. It features zippered hand pockets, an adjustable hood, hem, and cuffs to fine-tune your heat retention. It's an excellent choice for those seeking a well-designed shell that won't break the bank.
Price:
0.00$
Pros
Price

Breathable

Lightweight

Packable

Good details
Cons
Not ideal for backcountry use
Best Urban Rain Jacket
Form meets function with the stylish Unisex Jacket from Rains. The jacket is built entirely from the brand's signature blend of polyurethane and polyester, while the seams are ultrasonically welded. Snap closures are a nice touch, and the adjustable hood with cap function combines well with the ventilation under the storm shield. 
The verdict? Comfortable, durable, water-repellent, and stylish. The Jacket by Rains is a hard shell that doubles as a wardrobe staple for the fashion-conscious on a melancholy day.
Price:
0.00$
Pros
Stylish

Classically dapper

Comfortable

Durable

Weather-Resistant
Cons
Not ideal for outdoor activities
Best Lightweight Rain Jacket
Unsurprisingly, Marmot makes an appearance on our list of 2022's best rain jackets.
Price:
0.00$
Pros
Heavy-duty storm protection

Waterproof

Breathable

Stylish

Flexible material

Knee-length
Best Packable Rain Jacket
The minimalist Downpour Plus 2.0 (male version) and Meridian (female version) are both attractive and functional. The understated design makes it easy to pack away into its own pocket. Compact and lightweight, this breathable rain shell fits snugly into tight corners of your bag, making it a convenient carry-anywhere piece.
The Downpour is made with Pertex Shield 2.5L with Dry Touch, which offers 2.5 layers of waterproof and breathable construction, treated with a DWR finish. It features a peaked and adjustable hood with roll-down closure, as well as adjustable waist and cuffs. The Downpour/Meridian series is for those who value essentialist vibes, whether in the city or on the trail. 
Price:
0.00$
Pros
Very packable

Lightweight

Breathable

Waterproof

Minimalist design

Price
Cons
Front zipper can snag on storm flap
Best Rain Jacket for Hiking
Unsurprisingly, Marmot makes an appearance on our list of 2022's best rain jackets. This time for its PreCip Eco Jacket, a breathable, packable shell perfect for hiking. This is a jacket that emphasizes cross-functional versatility with special attention to weather-resistant materials, while the NanoPro Eco recycled nylon ripstop ensures a waterproof and ecologically-sound garment for treks or commutes that demand durable protection.
Price:
0.00$
Pros
Comfortable

Lightweight

Breathable

Waterproof

Flexible
Best Running Rain Jacket
British brand Rab has built a reputation as a leader in outdoor sporting gear. In Europe, they remain at the very top of the industry. The Borealis Jacket rain shell carries on the tradition of manufacturing high-quality goods. 
A good running shell needs to be breathable, thin, and weather-resistant. To accomplish this, Rab designed the Borealis series with a lightweight Matrix single weave construction made with 2-way stretch and DWR. The under-helmet hood and Slim Fit shape mean the fit is snug, with little room for layering. 
Price:
0.00$
Pros
Lightweight

Flexible

Breathable

Waterproof

Durable
The Best Alternatives to the Arc'teryx Zeta SL
The Zeta SL jacket is out-of-stock, or the price point is hitching you? Discover a few great similar alternatives from other brands.
How to find the best rain jacket
Outdoor enthusiast or not, when it starts to rain, you want to stay dry. With the number of technical terms used to describe clothing, it can be overwhelming to find exactly what you're looking for. Here's a quick guide on how to find the best rain jacket for your needs.
Materials and Technical Terms
Water-resistant fabrics are coated with a durable water repellent finish that can stand up to light rain for short periods. Materials like nylon and polyester that have been sprayed with a water-resistant treatment aren't 100% waterproof and will eventually soak through under heavy rain.
Waterproof means no water is able to penetrate. Waterproof fabrics can withstand constant, heavy precipitation while keeping the insides completely dry. Some of the more common waterproof membranes used on products include GORE-TEX, FUTURELIGHT, eVent, Hyvent and DryQ. Different brands use different technologies .
Waterproof or water-resistant, Durable Water Repellent (DWR) finishes are generally applied as a spray to all rainwear products. They are used to coat the outside fabric, and instead of permeating, the water drops bead and roll off the garment.
Activities and Layers
The first thing to consider when looking for a rain jacket is how you plan on using it. The best rain jacket for you won't necessarily be the one you spend the most money on. It's a question of needs. Are you looking for a standard rain jacket, or are you looking for something more technical? Is it for running errands around the city, or do you plan on bringing it with you on your weekend expedition through the mountains?
Once you've figured out the intended use, the next thing you want to consider is the number of layers: 2-layer, 2.5-layer and 3-layer. The three options will always include a laminate and a coating or membrane. The 3-layer construction will often include an additional fabric or textile for added durability.
2-layer Rain Jackets
Urban and travel style rain jackets will often feature 2-layers. They're more reasonably priced and perfect for getting around town – however, they don't generally have armpit ventilation, so they're not ideal for high-intensity activities. 
2.5-layer Rain Jackets
2.5-layer rain jackets are better equipped for high-intensity activities. They will often feature pit zips for added ventilation, and are often more lightweight and packable than the 3-layer jackets. If you are an outdoor enthusiast looking for something in between basic and heavy-duty, 2.5-layer rain jackets are a great place to start.
3-layer Rain Jackets
3-layer rain jackets are highly technical and often more expensive. These jackets are made heavier and more durable to withstand the worst conditions. The most commonly known membrane used on technical jackets is GORE-TEX. However, some brands have come up with their own technologies to battle wind and rain – these include eVent, Hyvent and Dry.Q. If you have a tendency to spend time out in nature, facing off against the harshest elements, a 3-layer rain jacket is the perfect choice.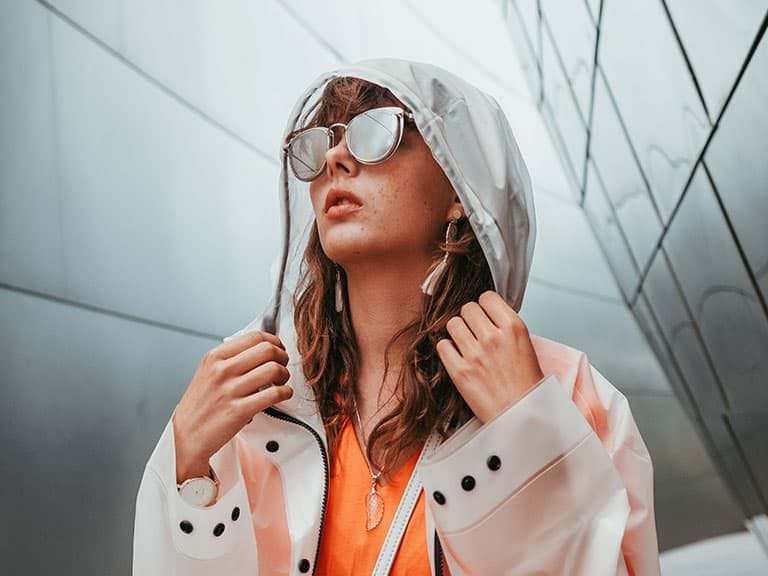 Technical Features
Hood Size
There's nothing worse than constantly having to readjust your rain jacket. Whether it's for climbing, cycling or skiing, you want to find a jacket with a hood that fits a helmet and has toggles to secure it. Less time playing with your hood means more time on the trails.
Pockets
Pockets are a key feature to consider when shopping for a new rain jacket. If you're backpacking, jackets that are equipped with an easy to access chest pocket are handy, allowing you to easily grab your map or GPS on the go. More pockets are great on technical excursions, but if you're looking for a simple rain jacket to wear around town, something with fewer pockets might be a better option.
Taped Seams & Laminated Zippers
Most technical rain jackets will have taped seams and laminated zippers to help keep the rain out. While most rain jackets feature taped seams, not all have laminated zippers. In most cases, a storm flap will be used to protect the zipper from direct exposure to water. Laminated zippers always have a cover at the top. This cover is called a zipper garage or a zipper hut and is meant to keep the zipper protected from exposure.
Wrist Closures & Drawcords
Wrist closures and drawcords can increase breathability or contain warmth on windy days. The ability to taper the waist and wrists keeps the jacket more fitted and avoids getting the fabric caught on anything.
Armpit Vents
Jackets equipped with zippered armpit vents are ideal for light to high-intensity activities thanks to their excellent ventilation. When the rain forces you to keep your jacket on, the armpit vents work to moderate the amount of airflow coming in, so that sweat dries faster. On humid rainy days or during strenuous activity, good air circulation is key to staying comfortable.
Ultralight & Packable
Ultralight models provide you with a light and packable layer to protect against rainy weather. These rain jackets combine lightweight, effective protection with the convenience of pack-ability. They keep you dry and don't add extra weight when it's time to layer or pack them for a weekend trip.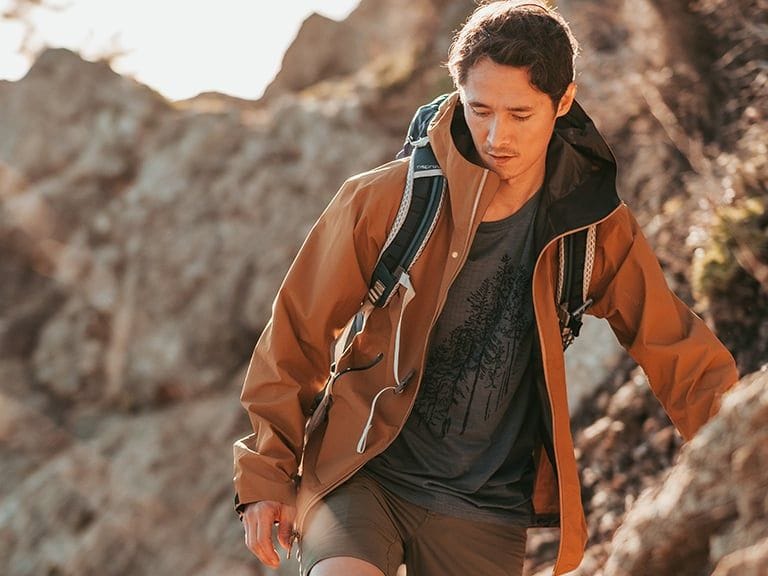 Making Sure Your Rain Jacket Fits Right
Having the right fitting gear is key when it comes to performance. If you're up in the mountains, you want to make sure your rain jacket can comfortably accommodate layers without being too large.
When trying on the rain jacket, put the hood on and zip it up. The zipper should go up easily, and if you drop your head forward, the collar shouldn't feel tight or restricting. Moving around in it and reaching for your shoulder blades should not be difficult. Stretch your arms above your head and check how high the jacket rises on your abdomen. A good technical jacket with an athletic fit should not ride up. 
Another thing to consider is the length of the sleeves. If they're too long, they can get in your way, and if they're too short, you'll have difficulty keeping the cold out. To test the sleeve length, zip up the jacket then stick your arms straight out in front of you. They should be comfortable and able to keep your arms covered up to your wrists. Having proper fitting sleeves will eliminate chafing, avoid restriction and keep body heat from escaping when it's cold out.
The Best Rain Jacket For You
There's more to a rain jacket than it's appearance. Function and technical features play an important role in keeping you comfortable. Having the right combination of specs might cost you more than you're used to paying, but spending a bit more time and money to find the best rain jacket for your needs is worth it. It's an investment you'll be happy you made when you're stuck in the rain.
SHARE