Yoga is a dynamic workout that consists of more than just stretches. It can be an excellent workout for recovery, flexibility, and coordination. Many studies link it to transformational health and fitness levels. If you're a regular yogi, you know that your yoga pants make a huge difference in your practice. And if you're not, well, we've put together this expert guide to help you. 
After extensively reviewing the best yoga pants in Canada, we found that the Girlfriend Collective Compressive High Rise Leggings were the best overall for women, and the Patagonia Terrebonne Joggers were the top choice for men. The combination of compressive materials and aesthetic appeal make the pant a winner. We have plenty of other excellent candidates though, including some for the boys as well. Discover the top yoga pants on the market and choose the best ones for your workout.
The Best Yoga Pants Reviewed
Best Overall Yoga Leggings for Women
With material that wicks away moisture and dries quickly, Patagonia's Packout Crop tights are perfect for intense yoga classes. The soft, stretchy and moisture-wicking fabric with HeiQ® Fresh durable odor controls hugs your body in all the right places, and the wide waistband is flattering. Customers noted that they stay put while doing dynamic yoga poses, which is super important. 
Price:
0.00$
Pros
Sweat-wicking material 

Hidden pocket in waistband  

HeiQ® Fresh durable odor control
Need a pair of do-it-all pants? The prAna Electa won't let you down. These versatile leggings are suitable for workouts, runs, or lounging around the house. With UPF 50+, a secure wide waistband, and a triangle Coolmax® gusset for added comfort, the silky, durable fabric and the looser fit certainly make these pants so comfy, we don't want to take them off.  
Price:
0.00$
Pros
Versatile for multi-purpose use 

Loose, comfortable fit 

Fast-drying fabric
Cons
Looser fit may not be the best for dynamic yoga
For women looking for ultra compression tights for recovery yoga, the Alo Yoga High-Waist Airbrush Legging is a perfect fit. The stretchable material moves with you from Downward Dog to Pigeon pose. The tighter fit is ideal for recovery or long travel days, as it increases circulation. 
With no side seams, you won't have to worry about any pressure during different flows and moisture-wicking antimicrobial technology keeps you feeling fresh for all your Hot Yoga needs.
Price:
0.00$
Pros
Good compressive tight
Quality material that dries quickly
High waist tucks in the tummy area


Have we mentioned Vuori already? Well, their Daily Legging won't disappoint. The drawstring tie and high waist provide an aesthetic appeal. You'll love the cuffed ankles and ⅞ length, as well as the secure-fit waistband. The performance stretch knit material is also perfect for dynamic types of yoga, such as Vinyasa or Hatha.
Price:
0.00$
Pros
4-way stretch material 

Polished style 

Secure fit
Cons
Shiny material, not matte
Best Overall Yoga Pants for Men
Vuori again, this time with pants for him that, despite the name, are well-suited for yoga. A gusset allows a wider range of motion, perfect for deep stretching. And cotton ripstop lasts. 
Price:
0.00$
Pros
Ripstop cotton
Tapered leg
Versatile
Cons
If tapered legs aren't your thing...
The three stripes bring you a versatile pant at home in the studio, on the track, or...at home. Moisture-absorbing Aeroready fabric wicks sweat away quickly, keeping comfort levels up. A sweat guard pocket lets you keep your valuables on you regardless of where you practice.
Price:
0.00$
Pros
Poly Elastanne
Sweat-guard zip pocket
Sweat-wicking

Buying Guide: What to Look for in Yoga Pants?
Having the right yoga apparel is essential. What seems simple – yoga apparel – has pitfalls to be avoided. Clothes can impact performance in both positive and negative ways. The type of yoga pants you choose depends heavily on the kind of yoga you like to practice. 
Ashtanga yoga, for example, requires a pair of leggings that will support the body during intense sweating and movement. Practicers of Yin yoga might prefer a looser fitting pant for more relaxed postures. 
1. Stretch Fabrics
Flexible materials, preferably with odour elimination, are best for all types of yoga. The material should be lightweight and thin so you can move easily through postures. Many of the best yoga pants in Canada are made from spandex and nylon for better stretching. Some eco-friendly materials are also made from bamboo or recycled plastics. 
2. Breathability
If your practice usually works up a sweat, you should look for moisture-wicking & breathable materials. Synthetic fabrics like spandex dry faster and breathe more freely. Try to avoid moisture-absorbing fabrics such as cotton. 
3. Comfort
It's best to avoid pants with straps, clips, bows, and any other 'extras' – they can look amazing but cause discomfort. From Warrior II to Upward Dog, you want pants that will move with you effortlessly. Many women also prefer pants with a high waist since they fit more securely. 
4. Fit
As we stated earlier, the fit of the yoga pants depends a lot on the type of yoga. Fitted long pants are best for dynamic yoga, such as Vinyasa or Ashtanga. More loose-fitting pants can be better for slower practices like Yin or Hatha yoga. 
You never want yoga pants so tight that they're uncomfortable. You also don't want them so loose that you constantly need to readjust them. Remember that for faster flows, form-fitting is best. 
5. Versatility
We give bonus points for yoga pants that can double as running pants, can be worn around the house, and those used for hiking and travelling. Versatility in yoga pants means that you'll get more value out of your purchase.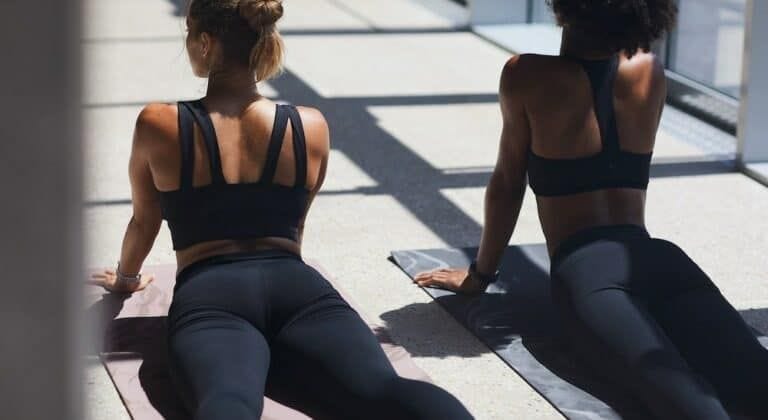 Yoga FAQ
Q: What are the differences between yoga pants and leggings?
A: Yoga pants have more technical features, like moisture-wicking, compression, or fast-drying materials. Leggings, on the other hand, have more aesthetic qualities for daily wear, such as drawstring ties or patterned cutouts. 
Q: What do you wear under yoga pants?
A: For the ladies, no-show underwear is best. You want to avoid unflattering panty lines that can show from regular underwear when wearing yoga pants. For the guys, a good hugging brief or boxer will do - and preferably a sweat-wicking pair!
Yoga really is for everyone. It's simple enough to get started, at home or by taking classes.
No matter the type of yoga you love, Kundalini, Hatha, Vinyasa, or Ashtanga, the kind of yoga pants you wear matters. We hope this guide to the best yoga pants of 2022 helps you make a better buying decision. You can't go wrong choosing pants that fit your lifestyle and yoga routines.
Step up your yoga game
From clothing to yoga mats, blocks, blankets, and water bottles; we've got it all. Come and see.
SHARE