So you've just spontaneously booked your flight to Southeast Asia leaving in three months and you're planning what you're going to bring and how it will all fit in your backpack because you don't feel like rolling luggage between a billion small cities.
Sure enough after crawling around the basement at your parent's house for hours, you've found everything but your trusty old travel backpack, what now? There are so many backpacks on the market these days it's hard to know which one is perfect for you and your trip. To lighten your post departure stress and the load on your back, we've put together a few helpful tips to choose the right pack.
What Are You Going To Do?
First things first, how long are you going for? Do you know what spots you plan to check out and which activities you think you'll be doing? If you plan to do activities such as rock climbing or scuba diving, will you be bringing your own equipment and will it all need to fit in one big bag with the rest of your stuff?
These are questions you need to answer before you start your pack search. If you're bringing extra gear you may need a slightly larger pack and possibly something a little more durable depending on the type of equipment you will be bringing.
The North Face

Base Camp Duffel

Patagonia

Black Hole Duffel

Marmot

Long Hauler Duffel

Dakine

Ranger Duffel
Duffle Bag or Backpack?
For accessibility, some will find duffle bags with back straps such as The North Face Base Camp Duffle or the Patagonia Black Hole Duffel as a good choice because you can open it right up and see everything you brought with you. These duffel bags generally have a D-shaped-zippered top flap which opens up and allows for easier access to the contents inside.
Although these packs allow for easy access to pick what little sundress or boardshorts you plan to wear the following day, these straps may not be all the most comfortable option for long periods of time. Once you land in Bangkok, you may be strapped to that puppy for a long time searching for accommodation and cheap transport, so do your back a favour and opt for a proper backpack with adequate padding.
How Many Liters Do You Need?
When there's everything from 10L up to 70L and sometimes bigger, what is a reasonable size of pack to bring on a two-month journey around Southeast Asia? Ideally, you want something that is big enough to stuff all your clothes and sandals as well as some souvenirs to take home. If you are too keen and choose something that is too large, you may be spending half your vacation frequenting massage booths to work out all the knots and kinks you've accumulated. I'd recommend a 40 or 50L. I pack heavy and I managed Thailand with a 40L and plenty of space for souvenirs (it's all about rolling your clothes to optimize space).
What's Your Favorite Colour?
When picking the colour of your pack, I suggest going for something you know you'll recognize and will stand out. Otherwise, you may have a hard time when it come's time to grab your pack out of the bottom of a bus in the middle of nowhere somewhere between Bangkok and Koh Lanta in the early, dark hours of the morning.
Mystery Ranch

Mystic 70L

Arc'teryx

Bora AR 49L

Osprey

Atmos AG 50

Gregory

Baltoro 65L
There are plenty of brightly coloured packs on the market which mean's you've got more than enough options to choose from.  If you really can't find a brightly coloured pack that suits you, you can always strap a piece of bright ribbon or string onto your pack. This way, you know that when you're groggy during the early hours of the morning at the airport, you'll know your pack when you see it.
What Pack Is Good for Your Body Type?
When choosing the appropriate size for your pack you want to make sure you aren't buying something that is too big for your body type. It's hard to find the perfect fit without trying the pack on so having the Lifetime Membership with free shipping on returns within Canada you can try on as many packs as you like and send them back free of charge.
Still feeling reluctant? You can always try on a pack at a shop near you to test the size. Throw a few items including a few weighty ones like boots or books to get a feel for how the pack will feel loaded. You want to have the hip strap sitting on your hips so that majority of the weight of the pack can be supported here rather than your shoulders. If the hip strap is sitting in the right place and cinched tight enough you shouldn't feel any pulling from the shoulder straps. This unwanted pulling will put a strain on your shoulders which over time, will fatigue your back and become more and more uncomfortable.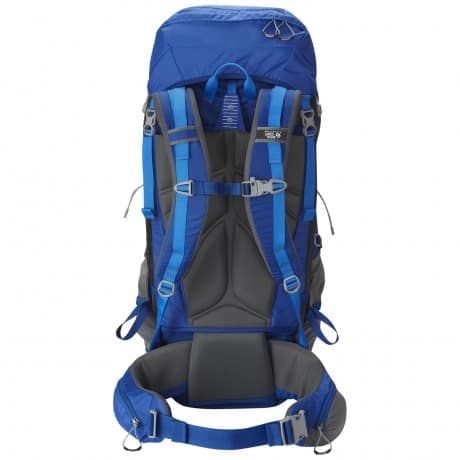 As shown on the pack in the photo, most large packs will be equipped with a chest strap as well as a hip strap, if you're looking at a pack without one, stop! You want to have both straps fully functional.

On most packs, near the top of the shoulder strap (pictured above), there will be a strap to adjust how tight the shoulder straps are; adjust these appropriately. You don't want your shoulder straps to be too loose because then the weight of the pack will be hanging off your back and not only fatigue your back quicker, but feel sloppy and uncomfortable. Make sure your shoulder straps are tight and the pack is hugging your back. A secure-fitting pack will move with your body and not against your body movements.
*Having pockets on the hips belt are always a benefit. These small pockets are a great spot to store small items for quick access like lip balm or some small change for a little snack or drink.
Are There Outer Pockets & Storage Spaces?
Once you've picked your pack and it fits comfortably when loaded, is easily recognizable and an appropriate size for your needs, check out all the outer pockets and storage space. Having too many different pockets can be confusing but if you have a good organization system you'll love it.
Believe me, you're going to want at least one or two separate pockets other than the main pack pocket for your smelly shoes. Whether there is an easy access for a water bottle on the side or some cinch straps on the front of the pack to have a jacket or hoodie easily accessible when the sun goes down.
Also note that depending on where you will be traveling, you don't want to put import items in these easily accessible compartments. This is when a few internal zippered pockets are going to be handy especially if you've just scored the last hand carved elephant jewelry case for your ma.
Here are the keys points you need to be aware of before diving into the new backpack search. Now that you've found you're perfect new travel buddy that is going to have your back for the next two months you can start the search for new bikinis or boardshorts (you can never have too many swimsuits!).
SHARE