The last thing you want is for your stove to break while camping in the middle of the wilderness. Though you can find cheap canister stoves at your local department store, it pays to invest in a sturdy, well-made stove like the PocketRocket Deluxe. This stove helps you heat up breakfast, coffee, and dinner in a snap, without using much fuel. 
It's great for backcountry travelling when, after a long day, all you want is a quick meal. Campers in windy, cold, or elevated conditions will find the PocketRocket Deluxe makes a dependable companion. Thanks to its wind-resistant construction, it works even in less than ideal weather – not to mention its lightweight, compact, and super easy to use. 
The PocketRocket Deluxe  top-of-the-line canister stove requires minimal effort. It stands out from other canister stoves with its wide burner, excellent fuel efficiency, and the ability to boil water in the wind. Think the Lamborghini or Ferrari of camping stoves - while not cheap, it performs exceptionally well. The handy little stove folds up neatly and provides maximum performance without adding much weight. 
The wide burner is reliable even in windy conditions and there's simmer control for more precise cooking. Whether you want to make fancy meals while camping or just want a reliable stove, the PocketRocket Deluxe won't let you down.
Price:
0.00$
Brand Name
|
Product Type
Why You Should Consider the PocketRocket Deluxe Stove
As a follow-up to the PocketRocket 2, the PocketRocket Deluxe comes with updated features like the piezo igniter and a wind-resistant burner. Since it's a canister stove, you'll need to use canister fuel with it, like isobutane. It comes with an 8-ounce canister of MSR's IsoPro fuel that works very well. 
Weight & Packability
Once it's folded up, the MSR PocketRocket Deluxe can fit in your pocket – it's incredibly small! You can stow it away in the sturdy carrying bag included for storage. Coming in at 2.9 oz (83 g), it's lightweight, compact, and provides tons of functionality. 
Fuel Efficiency
Though fuel efficiency might not matter as much on an overnight camping trip, it becomes essential on a longer backcountry trip. Fewer fuel cans mean a lot less weight in your pack, which can make a big difference. An 8 oz fuel canister can boil a whopping 17 litres of water or 2.2 litres per ounce of fuel. That should comfortably get you through four to five days of cooking. 
With this small canister stove, you'll need a can of isobutane fuel such as MSR's IsoPro. The canister stove produces a powerful and large flame that creates a tremendous amount of heat. The lip also helps to protect the inside burner from the wind. We were amazed that it could boil water in the wind, which is rare in small canister stoves. Although it's not as fuel-efficient in the wind, it still gets the job done. 
Simplicity
Ease of Use 
Aside from important factors like fuel efficiency and packability, we also wanted to know how easy it is to use. Whether you're pouring boiling water into a cup of ramen or making a fancy breakfast omelette, the PocketRocket is a breeze to cook with, from A to Z. The basic design features make it easy to set up, with a large control valve wire and simple fold-out support arms.
With the push-to-start piezo igniter, you don't have to worry about fumbling with lighters. Just press the button and the igniter lights the stove for you. Some people have said the piezo igniter hasn't always worked, but it's not a common complaint. As long as the piezo igniter is connected to the little tube that comes from the head of the stove, it shouldn't cause problems. The igniter is also encased inside the burner for durability.  
Cleaning 
Spills are almost inevitable when you're cooking on a camp stove. To clean the PocketRocket Deluxe, make sure you disconnect the fuel canister first. Then, dip a cloth in rubbing alcohol and wipe off any food residue. Since there are little to no moving parts, cleaning it is simple. The sturdy metal parts are also rust-resistant and durable – if properly cared for, it should operate for years without needing maintenance. 
Boil Time
Many backpackers know the painful feeling of waiting 10 or 15 minutes for water to boil when you're starving. Say hello to fast boiling times with the PocketRocket Deluxe zapping water in mere minutes. It can boil a litre of cold water in 3.5 minutes on full blast, even in cold conditions. It's worth noting that the boil time is faster than other leading camping stoves on the market like the JetBoil Minimo. 
As with other stoves at this price point, the PocketRocket Deluxe features a pressure regulator. A regulator comes in handy in cold conditions when the pressure in the canister is lower; a stove without a regulator might perform poorly. Most impressively, the PocketRocket Deluxe can boil water even in windy conditions. 
Simmering
We love that this stove is great for cooking a real meal, not just standard camping food like packaged soups or tuna and pasta. The flame adjustment works just as well as the stove in your kitchen at home. There's good resistance on the control valve, so you can adjust the amount of heat as needed. This handy valve makes the stove great for cooking fancier dinners like chicken and rice or veggie curry. 
When it comes to small canister stoves, not many beat the adjustability of the PocketRocket Deluxe. The broad burner head is bigger than most small canister stoves and distributes heat evenly. That way, you don't have to worry about one side of your food cooking unevenly. 
Value
Simply put, the PocketRocket Deluxe is top-notch quality, with all of the components really well put together. The wide burner helps cover the bottom of the pot and provides more surface area for cooking. The burner also features a lip that blocks the wind and results in better boiling times. The three arms that fold down are nice and wide, with serrated teeth, both enhancing the platform for boiling water and cooking. You'll definitely want that pot stability when you're camping. 
For the level of performance, it's very affordable. You could even consider getting multiple for different setups such as camping, paddling, or kayaking. For convenient storage, it also comes with a sturdy stuff sack, but you can keep it in a camping pot since it's so tiny.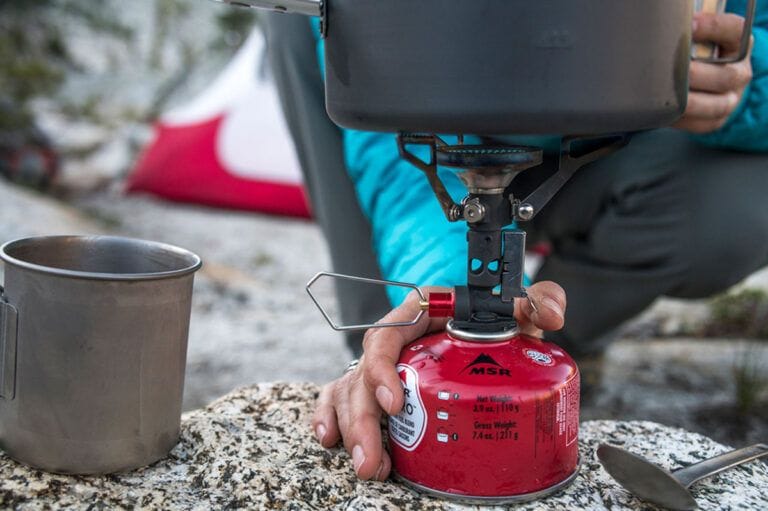 WHAT CUSTOMERS ARE SAYING 
Altitude Sports' customers love the PocketRocket Deluxe for its small design, ease of use, and reliability. They especially like the convenient piezo igniter and the handy regulator. 
"Light, sturdy and compact! My partner and I love this stove. Having the igniter on it saves us time shuffling around for our lighter or matches. It's stable and doesn't require us to hold our pans upright but folds down neat and small. It's perfect for our backpacking, camping and portage trips!" – Emily L. 
"Have been using this cooker for 5 days straight, the regulator is especially noticeable in the cold mornings and as the canister is low, no more watching and fiddling with the valve as the pressure from the canister drops. Also like the new design, very compact, yet stable for even large pots." – Paul L. 
FAQ
Do I need to bring a camping stove for hiking?
Bringing a camping stove is entirely up to you—there's always the option of bringing ready-to-eat food like canned beans and meat. That being said, having a warm dinner at the end of a long day of hiking can be a mood booster. I also personally love starting the day with a hot cup of coffee, which is only possible with a camp stove. Although it adds a bit of expense and weight to your gear, it's a worthwhile investment. 
What is a canister stove?
There are many different camping stoves, ranging from ones that operate with propane, isobutane, solid fuel, white gas, or even wood. Canister stoves are often the smallest, most compact, and easiest to use. Simply attach the canister to the metal stove, turn the valve, and ignite! The one downside is that you need canisters of fuel, which can add pack weight. 
What are Liquid Fuel Stoves?
Unlike canister stoves where the can of fuel sits on the bottom, liquid fuel stoves use a liquid fuel bottle that rests off to the side. They're much bigger and heavier than canister stoves but use different fuel types like kerosene, gasoline, or diesel. This makes them easier to use in foreign countries where you can't find canisters of fuel. 
How about Solid Fuel Stoves & Campfires?
Solid fuel stoves use a compact Esbit fuel tab to make an instant fire. They're the most compact and easiest to set up, but have slower cooking times. Finally, you always have the option of a good old-fashioned campfire. A campfire requires more time and effort to set up, but you won't have to carry equipment or fuel. 
What's the difference between the MSR PocketRocket Deluxe and PocketRocket 2?
The PocketRocket Deluxe performs better than its sibling, the PocketRocket 2. It has better wind resistance and heat intensity. Also, the PocketRocket 2 doesn't come with a piezo igniter.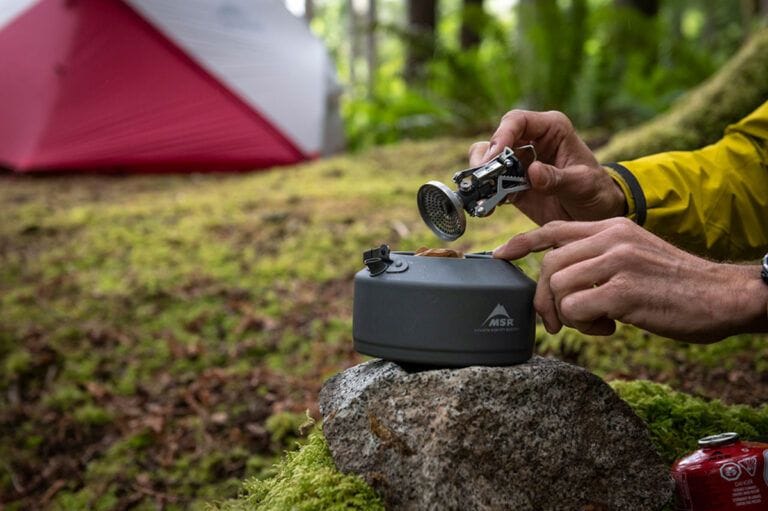 SHARE