If you haven't gotten to ride one yet, you definitely need to try a fat bike this winter. Becoming the next big thing in bike travel, fat bikes are more and more common to see around and certain brands are creating specific designs that are equipped for multi-day expeditions over rough terrain. Say goodbye to the trekking shoes and trekking poles and hello to fat bikes.
Why Fat Bikes?
Thanks to their 4 inch+ tires, fat bikes have a significant amount of float which enables them to travel more easily across a range of terrain including sand, snow and desert landscapes. The bikes are generally designed with rigid frames with neither suspension in the front nor the rear, although some models can be found with some suspension. As you're probably thinking, well that sounds fun but wouldn't that be a rough and uncomfortable ride? The answer is no – the larger tires absorb many of the bumps that would usually cause discomfort so you can be sure to enjoy your ride no matter what type of terrain you're riding on.
Fat bikes are great to ride all year round if you're looking for one bike that does it all. They don't climb as well as a regular all-mountain or enduro bike, but they are just as nimble on the descents so you can enjoy your favourite bike trails even when they're buried under a foot of snow. For the mountain bike warriors that dread the winter months, fat bikes are the answer to year-long two-wheeled fun.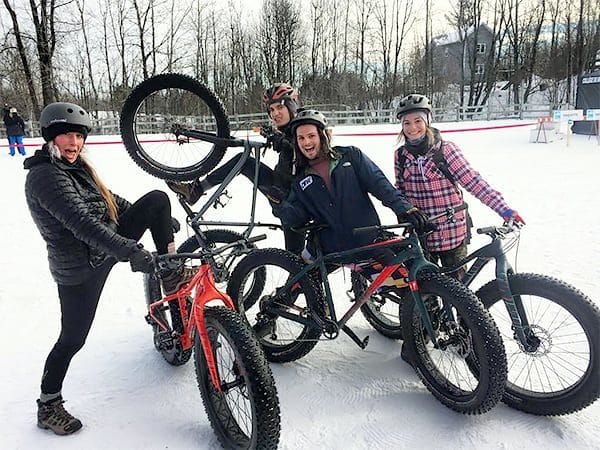 Is Fat Biking the New Skiing & Snowboarding?
While the bikes can be ridden year round, they are becoming the most popular in the winter months as they allow mountain bikers to continue their rides even while the trails are covered in snow. Fat biking is also a great winter activity for the family as they are becoming as popular as snowshoeing and some resorts are beginning to offer fat bike rentals alongside their ski rentals.
What Do You Wear?
Unlike the summer months, you often experience much colder temperatures while riding in the winter, so appropriate layering is crucial. Your usual cycling attire consisting of shorts and a jersey is okay on milder days but when the temperatures really drop, you want to be prepared for the cold.
• Chamois
Starting at the base, whether you're riding in the summer, the spring or the summer, if you're planning to ride a lot or plan for some long epic rides, you (and your bum) are going to want a chamois. This will add a little extra cushion and keep your tush happy so you can get out more often.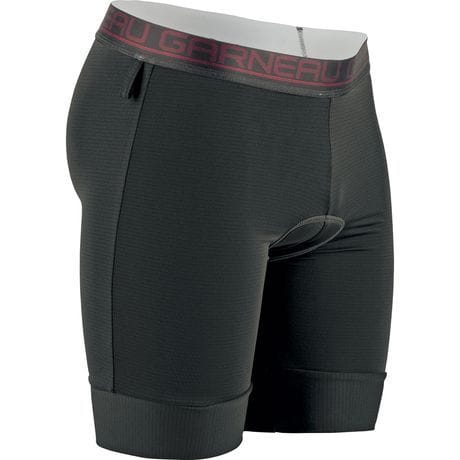 • Socks
When you're choosing your socks for a winter fat bike ride, choose wisely. Go for something that will keep your toes warm so you don't end up with frozen feet and ice-cube toes. I generally wear my ski socks while fat biking although anything that is thick and warm or made of wool will generally be okay.
• Footwear
If you're only planning to try fat biking once or twice, wearing your hiking boots would be suffice. I wear my The North Face Hedgehog Fastpack Mid GORE-TEX boots paired with some ski socks and my feet stay warm and dry while out on the trails. You can choose to wear your regular riding shoes but for myself, I choose my hiking shoes for the added GORE-TEX protection.

Louis Garneau as well as Castelli carry shoe covers which can be worn with your regular riding shoes for extra insulation or added water protection. They also carry winter riding specific shoes that are designed for colder temperatures so you can enjoy the ride no matter what temperature it is outside.
• Leggings or Shorts?
For the bottoms, you can choose to wear tights or leggings underneath a pair of regular riding shorts, base layer bottoms or you can double up and wear a pair of base layer bottoms underneath a water proof shell. It all comes down to preference and the weather outside. On slushier days, a waterproof shell on the bottom is definitely ideal because you may find yourself laying down in the snow once or twice along your ride.
The last few times I have gone out, I have worn my base layer bottoms under the Peak Performance Black Light Core pants. It is important to note that if you are wearing pants that are baggier around the bottom, that you roll them up slightly, cinch them if possible or tuck them in your sock. This is to avoid having your pants get caught and ripped in the chain ring.
• On Top
When choosing your layers on top, it is important to keep in mind that although it may be very cold to start out, once you get riding, you will be heating up and working up a sweat. In some cases, too many layers cause be a nuisance and leave you colder. Start with a base layer top then depending on how cold it is, you can add a mid layer or softshell like the Dynafit Mercury 2 DST Jacket on the right or finish with a lightweight shell like the Norrøna Falketind Windstopper hybrid Jacket on the left.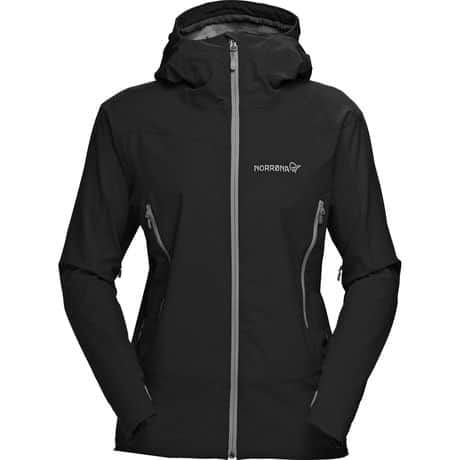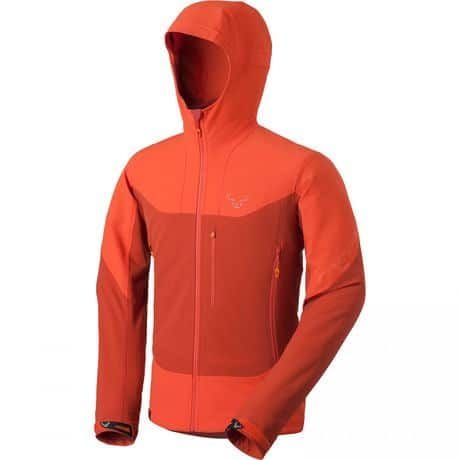 It is always best to choose base layers made of wool so your body temperature stays regulated throughout your ride. Avoid cotton fabrics as once they get wet they stay wet and you'll be left shivering for the duration of your ride.
• Accessories
Wearing a Buff neckwarmer either as a neckwarmer or as a headband to keep your ears warm under your helmet is perfect. If you've got a thin microfiber toque like the Arc'teryx Phase AR Beanie, that is also a great piece to be worn under a helmet.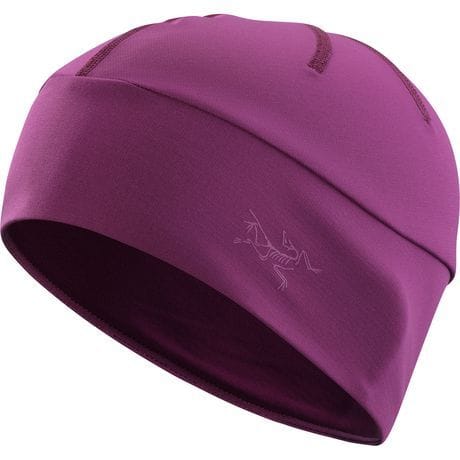 • Gloves vs Mittens
When it comes to your hands, you're definitely going to want to wear gloves rather than mittens. The reason behind this is although mittens are generally warmer, your fingers are restricted which makes braking more difficult. Any pair of warm gloves whether they be your ski gloves or an insulated running glove would be ideal.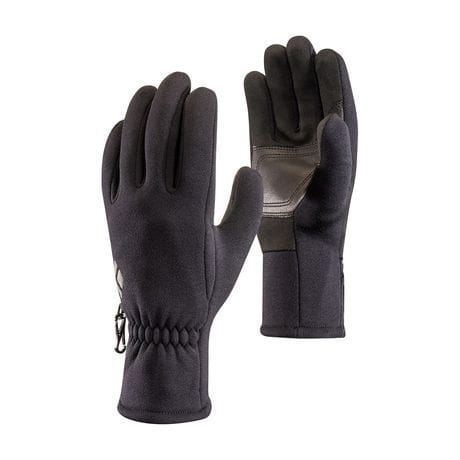 For the best of both worlds, Louis Garneau's Super Prestige 2 Glove has a removable lobster mitten which can be pulled over for extra warmth when needed but allows for your fingers to be separated for braking safely.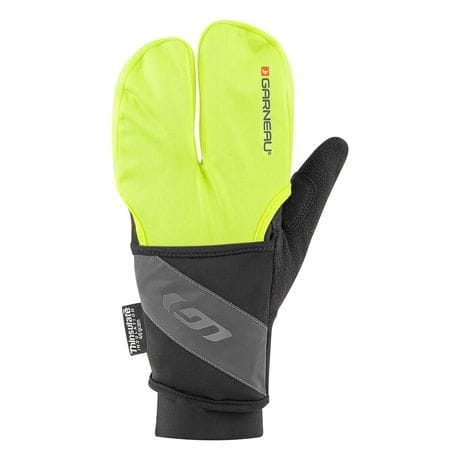 Helmets
The most important piece of gear aside from the bike itself when you're heading out for a bike ride is of course, the helmet. Whether you wear your road cycling helmet or your mountain bike helmet, either will do as long as it is a safe fit and buckles up securely.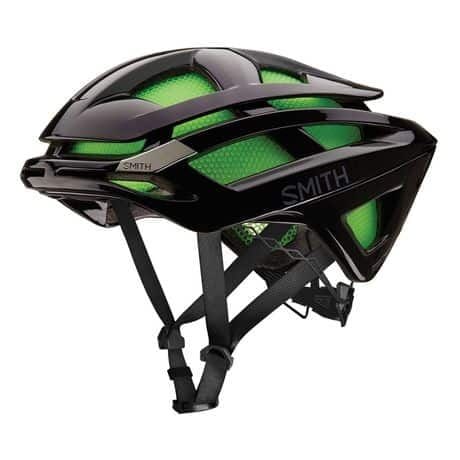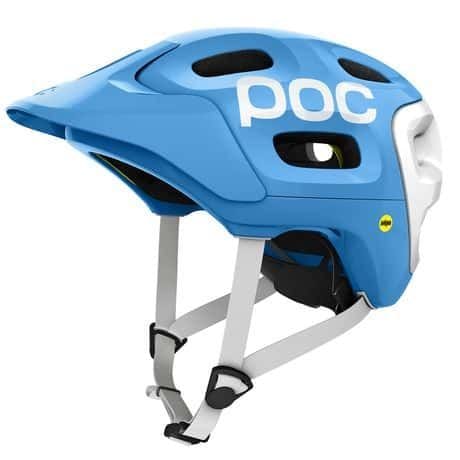 Happy Riding!
Once you're dressed, all that's left to do is find yourself a fat bike to ride. Many bike shops will have fat bikes available for cheap day rentals so you can venture out for some two-wheeled fun. For those who are located near the Montreal area with a car, stay tuned to the Specialized Canada Facebook page for upcoming demos at a trail network near you.
This past weekend there was a demo at Parc National du Mont Orford and there will be many more throughout the area until the spring rolls around. The Specialized demos are a great chance to try out multiple bikes free of charge, just bring a piece of identity and a helmet and you're set for a day of fun on two-wheels. Maybe you'll fall in love and end up rolling away with a new bike.
SHARE