Thule makes some of the best strollers to take on any adventure, for serious athlete families or avid exploring ones. With all the models and styles of strollers out there, making a decision can be overwhelming. 
To save you time, we've researched the best models by Thule and have revealed all the information you need to know below. For our top choice, we looked for a model that could be versatile enough for everyday use and jogging, had top-notch safety features, and was easy to maneuver—for these reasons, we chose the exceptional Urban Glide 2 Stroller. 
About Thule Strollers 
Thule is a Swedish brand that's been developing products for active parents with kiddos for over 25 years. Their range of three and four-wheel strollers have won many design awards and are safe, easy to use, and comfortable for both kids and parents. 
There are strollers more suitable for urban use, such as the Thule Sleek, and those that can roam over difficult terrain, such as the Thule Urban Glide 2. Thule also has multisport strollers, perfect for parents who want to take their kids along for jogging, cycling, or even skiing.
Although Thule strollers can be an investment, their longevity, rigid safety standards, and wide range of customizable accessories make them well worth it. They're made to be flexible, accommodating your child from infancy into their toddler years. Plus, growing families can get a long lifecycle out of their pram thanks to the superior quality of Thule products. 
Best Thule Strollers Reviewed
Best Overall Thule Stroller
Parents who want a one-size-fits-all stroller will appreciate the Urban Glide 2. The hybrid design is suitable for all terrain and is lightweight, weighing just 11.4 kilograms (25 lbs). You can use it both as an everyday stroller or a jogger, saving you money. A swivel front wheel also locks in place for added stability while jogging at high speeds. 
Kids ride comfortably with the large 16″ wheels and rear suspension system, plus a reclining vented seat for naps and a large canopy. The enclosed storage compartment gives you an easy way to stash gear and baby supplies while exercising.
Price:
0.00$
Pros
Maneuverable

High-quality

Easy to use
Cons
Harder to transport and stow away
Best for Smaller Budgets
Though the Spring Aluminum is slated as the best budget option, it still has plenty of safety features. While there are no bells and whistles, it's lightweight at 9.5 kilograms (21 lbs.) and still gets the job done. The five-point safety harness, reclining seat, and canopy with UPF 50+ UV protection keeps your baby comfortable and safe. 
Parents raising kids through Canadian winters will appreciate the swivelling and locking front wheel for tackling snowy sidewalks. Plus, this pram folds down small to fit in the car. The adjustable sliding handlebar is perfect for families with one tall parent and one more petite. Though the foam-filled 8.5″ tires are smaller than other models, they still provide stability
Price:
0.00$
Pros
Most Affordable

Great Stability

UPF 50+ canopy
Cons
Tires are smaller than other models
Best For Joggers & Serious Runners
Parents can strap on their smartwatches and hit the trails with the high-performance Glide 2 Stroller. The aerodynamic design includes large 18″ rear wheels and plenty of room for your kick stride. 
It's lighter than the jogging-friendly Urban Glide 2, weighing 10.8 kilograms or 23 pounds. Kids will be protected from the weather, comfortable and safe with a ventilated canopy, fully adjustable padded five-point harness, and padded reclining seat. This three-wheel stroller is perfect for parents who want to jog on different terrain with their kids.
Price:
0.00$
Pros
Easy to fold

Lightweight

Padded 5-point harness and seat
Cons
Large size that's harder to carry in a car
Best for City Use
Parents with growing children can use the Sleek Stroller on adventures through the city. Its compact size and front swivel wheels make it perfect for maneuvering through crowded sidewalks and small doorways. 
Different accessories give this stroller great longevity: infants can be placed in the compatible Thule Sleek Bassinet or the car seat adapter up until toddler age. Safety features include an auto-lock, wrist strap, ventilated canopy, and no-puncture foam-filled 11" rear tires that are reflective and removable.
Price:
0.00$
Pros
Compact size 

Auto-lock 

Ventilated canopy
Best Multi-Sport
Made for year-round use with reliable weather protection, the Chariot Sport 2 Multisport Trailer is perfect for parents who like to cycle, jog, ski, or stroll. It comes in both single and double models, with the double coming in at 15.9 kilograms (35 lbs). The multisport is versatile enough for everyday commuting or all-day adventures through national parks. 
Parents can even convert it into a sled when cross-country skiing with the VersaWing system that exchanges the wheels for skis. Other outdoor-friendly features include a Climate Control Cockpit with removable windows and an adjustable sunshade. Plus, there's an extra-large cargo space for gear, rear lights for safety, and even a hand brake for hilly terrain.
Price:
0.00$
Pros
Highly versatile

Extra-large storage 

Weather protection 

Folds down compactly
Cons
Pricey, but the features make it worth it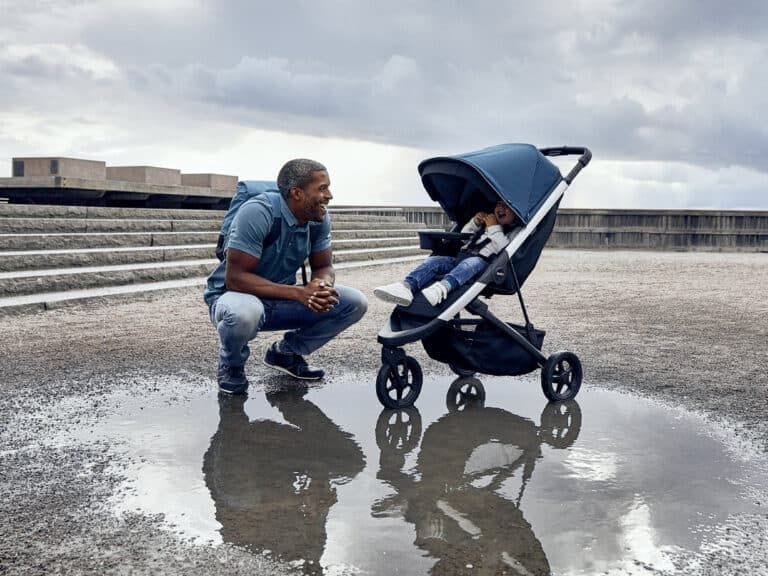 Buying guide: What to Look for in Thule Strollers
What will you use it for?
Before buying a stroller, ask yourself important questions such as: Where will you be using it? Where will you store it? How many kids will be using it? What ages are they? And how much gear and supplies do you need to carry? 
Whether you're planning to use your stroller for walks in the park, mall, or neighbourhood, knowing your uses will help you pick a stroller with the right features. 
Types of Strollers
Full-sized stroller
Full-sized strollers are larger, more stable and typically more durable than other types of prams. These are the standard option for most parents when carrying kids from baby-age to toddler years.
While they have convenient features like ample storage and snap-on car seats or bassinets, they can be heavy and hard to store. 
Jogging stroller
Thule specializes in developing jogging strollers, which usually have better suspension systems and bigger, sturdier wheels for tackling different terrain and bumpy roads. The front-wheel can also swivel for more flexibility or be locked into place for better stability when recreationally running. 
Jogging strollers also have safety features such as a five-point harness, wrist strap and hand brake. A twist hand brake is included with the Thule Urban Glide 2, Glide 2, and the Chariot Glide models as an accessory. One downside of jogging strollers is that they may be wide, bulky, and heavy. 
Lightweight "umbrella" strollers
Unlike full-sized and jogging strollers, umbrella strollers are great for travelling and being on the go. They typically weigh under 7 kilograms or 15 pounds and are easy to fold down and carry. However, they're not the safest for babies under six months and might not have all the features you'd find in larger, more expensive strollers. 
Multisport
Like jogging strollers, multisport prams have three wheels to increase stability. The front wheel also locks in place to keep a steady path on uneven surfaces, and they have oversized, air-filled tires and suspension systems to glide over rough terrain.
Active parents will appreciate the lightweight frame and aerodynamic build that maximizes stability when exercising with kids in tow. They also can have features like a twist hand brake to control speeds and be adaptable for cycling, jogging, or even skiing. 
Double Strollers
Double strollers are perfect for families with twins or a baby and a toddler who doesn't want to give up the good life. They can come in either a tandem structure where one child sits in front of the other or a side-by-side seating setup. While your kids may be comfortable, you may not enjoy the bulkier and heavier build of these strollers, with some weighing up to 18 kilograms (40 lbs). 
Budget
Since there are many different types of strollers, each model has its price point. A simple umbrella stroller can cost as little as $30, while a feature-rich multisport or double stroller can cost thousands of dollars. 
Considering your budget and intended use for the stroller is important—if you'll be using the stroller for a long time with multiple kids, a big investment might be worth it. 
Weight
Just as price points and models vary, so does weight. If you're only going to use the stroller for city strolls, you can go for a lighter one like the Spring Aluminum, which weighs only 9.5 kilograms (21 lbs). However, if you want a double stroller with lots of bells and whistles like the Chariot Sport, it will be much heavier at 15.9 kilograms (35 lbs).
Wheels
Flimsy wheels can get stuck or become unstable on bumpy sidewalks and rugged terrain. They're also more prone to snapping off, posing a safety issue. Bigger wheels, around 16 to 18 inches, glide over uneven surfaces, making your baby more comfortable. They also have higher clearance from the ground, making the ride feel smoother. 
Safety Features
Parents should ensure the stroller they're considering meets basic safety requirements, which include the following: 
A five-point safety harness that's secure and easy to buckle. Some cheaper strollers may have a three-point harness which aren't as safe;

A shade or canopy if you'll be using it outside, plus SPF protection and ventilation

Easy to use, responsive brakes;

No sharp edges or parts sticking out to protect tiny fingers;

A flat recline seat or bassinet attachment, especially for newborns.
Weather Protection
If you're going to be going outside with your baby year-round, look for strollers with adjustable canopies to keep them protected from the elements. Most Thule models have a sunshade with vents and SPF protection, and others like the Chariot Sport 2 have ventilated, removable windows. 
Storage
A large undercarriage helps store all of your baby's gear and makes your life easier when you're out and about. If you have more than one child, a stroller with a secure and enclosed storage space is a must. 
Other Features
Some other features to look out for are easy-to-wash fabric to clean up nose run-offs and snack crumbs, a stroller that can grow with your baby from infant to toddler via accessories, and other nice-to-haves like cup holders and snack trays.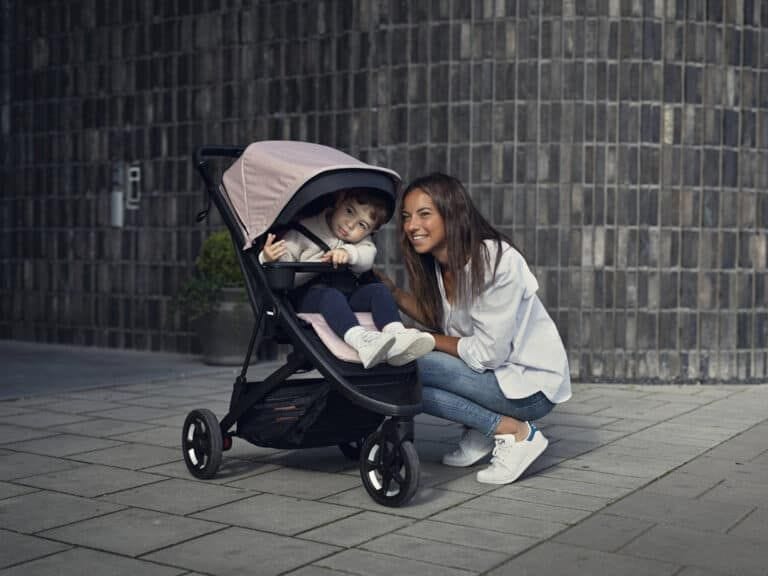 Frequently Asked Questions
Why are Thule strollers so expensive?
Thule strollers are high-quality products that can be used for a long time as both children and families grow. They're created by world-class engineers, have won many design awards, and follow international safety standards. They also have many unique features that make life easier for active parents.
Is a jogging stroller worth it?
If you're a parent with jogging as a regular part of your exercise routine, a jogging stroller is definitely worth it. They allow you to continue to take care of yourself and bring your child along for the ride.
What age is a Thule stroller for?
Thule strollers can be used from birth up until four years old. Accessories like the Thule Urban Glide Car Seat Adapter, which works with the Thule Urban Glide 2 or Thule Glide 2 or the Thule Chariot Infant Sling, make the strollers functional from infancy.
Can you run with the Thule spring?
While the Thule Spring isn't meant for running, it can be used for light strolls on cracked sidewalks or short grass. The Thule Urban Glide 2 or Glide 2 are intended for recreational running.
Conclusion
When looking for a stroller, you want to make sure it's versatile, lightweight, and maneuverable. We think the Thule Urban Glide 2 is the best choice for active parents who want to take their kids along on every adventure. 
Now that you've found the best stroller for you and your family, the only thing left to do is go out and explore!
SHARE