Picking the right bike trainer isn't about choosing the most expensive bike. It's about choosing the bike trainer that meets your fitness goals, body size, comfort, tech gadgets and provides a variety of workouts. 
The total price of a bike trainer and its accessories may sound expensive, but remember there's no need to buy a gym membership or outdoor bike. We've road-tested four different bike trainers and have included a brief description and pros and cons. Due to COVID-19 lockdown and the temporary closure of many gyms in many states and provinces in North America, many people have opted for working out from home – and a bike trainer is a great way to break a sweat without a gym membership. So let's review the best bike trainers and take your fitness to another level.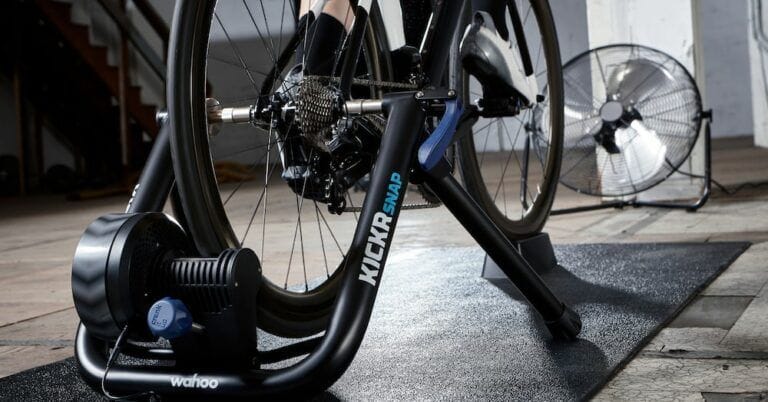 TYPES OF BIKE TRAINERS 
Smart vs dumb trainer 
In this day and age, a majority of cardio equipment has smart technology and Gen Z expects nothing else. When people use smart trainers, it means they can connect with a mobile app and smartwatch and this is remotely controlled or monitored via Bluetooth, LTE, Wifi or other means of connectivity.  
The goal of using smart technology means you're constantly updated with data and performance analysis like average speed, kilometres/miles, calories burnt and built-in power metres. It's like having a coach or a training partner who constantly encourages you. This allows cyclists to target specific training goals and it gives riders the options of improving their sprinting, endurance or climbing. A smart trainer's resistance is controlled by Zwift, Tacx, Wahoo or one of the other training apps. When incline or decline changes during the course, the resistance changes too. Smart trainers must be plugged in or powered by the watts you put out.
A dumb trainer is ideal for when riders have a low budget. The main difference is that the resistance doesn't change when riding up or down a hill. They do not detect your power or cadence. To get the ball rolling, start with a non-smart trainer and upgrade your setup later like a Garmin Edge 1030 Plus Cyclometer GPS. This beauty provides performance and insights on your cardio fitness, off-course recalculation, nutrition, hydration, heat and altitude acclimation. The advantage is that its Coach me technology suggests rides and workouts based on your current training load.
The 3 Types of Bike Trainers
Very quick to install

Affordable

Quiet
Shop
Affordable

Easy to learn

Easy setup and storage
Shop
Easy to learn

Silent

Replicates a real road feeling 
Shop
Very quick to install

Affordable

Quiet
Shop
Affordable

Easy to learn

Easy setup and storage
Shop
Easy to learn

Silent

Replicates a real road feeling 
Shop
1. Rollers
Bike rollers are a popular choice amongst skilled cyclists who are looking for the ultimate indoor workout. Bike rollers offer no upright support but rather rely on centrifugal force to keep the rider upright. Riding smoothly on rollers can be challenging for the inexperienced, however can quickly be mastered with a little practice. Using bike rollers requires a smooth pedalling motion or 'spin' action, and is often used by riders to improve any perfect pedal strokes.
The Tacx Galaxia T1100 Roller Trainer features a patented swing system which means the rollers can swing forwards and backwards, so you don't derail. The Tacx rollers have conical rollers which ensure that your bike always remains in the middle of the roller when you are riding, making it easier and safer. The Galaxia T1100 Roller is retractable to 80cm (31 inches), weighs 8.2kg (18lbs) and is suitable for bikes with a wheel diameter of 66-74 cms (26-29 inches).
Price:
0.00$
Pros
Very quick to install

Affordable

Quiet 

Feels like riding a real bike

Light for storage and transport
Cons
Not very stable

Learning curve

Quite boring

Tough for beginners
2. Wheel-on trainer
A wheel-on trainer like the name suggests is when you keep your back wheel on when it's connected to a trainer. A wheel-on trainer is a good entry-level choice and it replicates a good road feeling.
The Tacx Flow Smart Training Base provides riders with a fully interactive indoor cycling experience. Your bike will never go anywhere as two easy clicks makes sure your bike is locked in the trainer frame. The steel sleeve prevents wear of the trainer, while the elastogel absorbs vibrations and reduces noise. The stable frame can withstand very physical training sessions.
Price:
0.00$
Pros
Affordable

Easy to learn

Easy setup and storage 

Connects to Zwift, Tacx and Trainerroad apps

Stable frame
Cons
Longer to set up

Can be noisy

Causes a little bit more tyre wear 

Causes sweat corrosion
3. Direct-Drive Trainer
Direct-drive trainers are smart trainers that transmit the resistance from your trainer to the drive train. The trainer can adjust to the virtual course descents, climbs and road conditions with more precision. As the training adepts, it's perfect for off-season full-time training.
Price:
0.00$
Pros
Easy to learn

Silent

Replicates a real road feeling 

Measures exact position of both legs

Powerful climbs and sprints
Cons
Longer to set up (take off the bike wheel)

Don't always include cassette

Price
Pro-tip! 
If you want the quietest and realistic road feeling, opt for a fully magnetic bike trainer like the
Tacx Neo 2T Smart Trainer
.
This beauty has pushed the magnetic technology to the point where it can recreate the vibrating sensation of riding over cobblestones and gravel. The new motor provides higher resistance levels for climbs or sprints. This Smart trainer is the only trainer that doesn't require a calibration process and measures your power accurately within 1%.
MUST-HAVE BIKING TRAINER ACCESSORIES
1. Ventilator
Brand Name
|
Product Type
Forget about a training towel, ventilators provide cooling to riders when the going gets tough. 
The Wahoo KICKR HEADWIND Bluetooth Fan provides a targeted airflow pattern which means it mirrors the shape and position of a rider's body while riding. The first-ever smart fan is sensor-controlled and the fan speed increases based on your speed or heart rate. The KICKR HEADWIND has wind speeds of 48kmph (30mph) and also four manual fan speeds.
Price:
0.00$
2. Grade Simulator
Brand Name
|
Product Type
Grade simulators are designed to take your indoor training to a level you never knew existed.
The Wahoo KICKR Climb Indoor Grade Simulator physically adjusts your bike position to replicate real roads and mountain inclines and declines in online training programs. The KICKR Climb has a maximum incline of 20% and a maximum decline of 10%. 
Price:
0.00$
3. Speed and Power Senser
Brand Name
|
Product Type
As mentioned earlier, speed and power sensors are great tools to transform your dumb trainer into a smart one. It's ideal if you buy a dumb trainer due to a lack of funds and then upgrade to a smart trainer later on. The Garmin Edge 1030 Plus Cyclometer GPS features dynamic performance monitoring, daily suggested workouts based on your current training load, Climbpro feature, nutrition and hydration alerts and 24 hours of battery life.
Price:
0.00$
"It's very accurate, it has a quantity of post-workout data and everything is adjustable as needed. It makes me want to explore even more." - Sophie S
4. Smart Watch
Brand Name
|
Product Type
A smart watch is a mobile device with a touchscreen display. The Garmin Vivoactive 4 Watch - Unisex has a battery that lasts eight days and keeps track of your energy levels, respiration, Pulse Ox (estimates the amount of oxygen in your blood), menstrual cycle, stress, heart rate, hydration. The Garmin Coach provides free training plans for short and long runs, plus 20 preloaded GPS and indoor sports apps like yoga and swimming.  
Price:
0.00$
5. Fitness Desk
Brand Name
|
Product Type
A fitness desk allows you to train and work on a laptop at the same time. The Wahoo Fitness Desk is great for multitasking and can be used as an indoor cycling desk. The sturdy frame and slip-resistant surface will keep everything in place. It's also fully adjustable if you need to sit upright or stand.
Price:
0.00$
Pro-tip!
Try out the
Zwift cycling app
to elevate your bike training experience. 
Zwift blends video games with the intensity of serious training, helping you reach your training goals faster. You can join virtual worlds with the Zwift community. Or choose from training plans, group rides, races and more.
FAQ
Q: Do bike trainers work with any bike?
A: Bike trainers can fit a wide range of bikes, but you'll need to double-check the trainer and bike specs to be 100% sure.
Q: Is a bike trainer worth it?
A: Yes, you're maximizing use of the bike you already own and a bike trainer is perfect for using all year round whether it's raining, hailing, or snowing outside. If your goal is to improve your cardio fitness, forget about paying for a gym membership as a bike trainer will help you achieve your fitness goals.
Q: Do trainers hurt your bike?
A: There is the chance of an indoor trainer doing damage on an expensive carbon bike, but it's no different than having an accident on the road or letting your bike fall over at a cafe. However, incidents of bikes broken on trainers are rare. Times have changed and bike trainers are a lot stronger and sturdier than decades ago. It's the DIY trainers that will do damage to your bike.
Q: Can you put a mountain bike on a trainer?
A: Yes, you can put your mountain bike on a trainer, but you'll need to find the proper trainer to fit your bike specifications. Some of the best trainers are flexible and will fit many mountain bikes.
Q: What do you need for Zwift?
A: To use Zwift, you simply need a bike, a smart or classic trainer and a smart device.
As the temperature has recently dropped and winter is only about six weeks away, you're going to need a bike trainer to maintain or increase your cardiovascular fitness. If you're still unsure of which trainer to choose, you can't go wrong with the Tacx Flow Smart Training Base. It's very affordable, its wheel-on design is easy to set up, it has a stable frame and the skyliner serves as front wheel support for a natural cycling position and handle. With the right trainer, you'll be ready before a snowstorm or continuous rain hits your region and you end up stuck inside.
SHARE