What makes a good winter jacket? In our cold Canadian climate, warmth is the number one criteria. While warmth can be subjective to a degree (some handle the cold better than others), -30°C is still -30°C and you don't want to face the cold unprepared. A well insulated jacket should get the job done, but are all insulation types created equal, and on that same note, are all jackets created equal?
The price would have you believe they are not, and to a certain extent price is a good indicator of quality. While branding has a lot to do with the worth of an item of clothing, the expression "you get what you pay for" is often accurate when it comes to a top brand like Canada Goose. The industry leaders are known for their premium luxury parkas and winter coats, but luxury often comes at a price. We want to take the time to answer the often asked question "why is Canada Goose so expensive" by taking a closer look at the craftsmanship and use of high-quality materials that go into the making of their iconic parkas.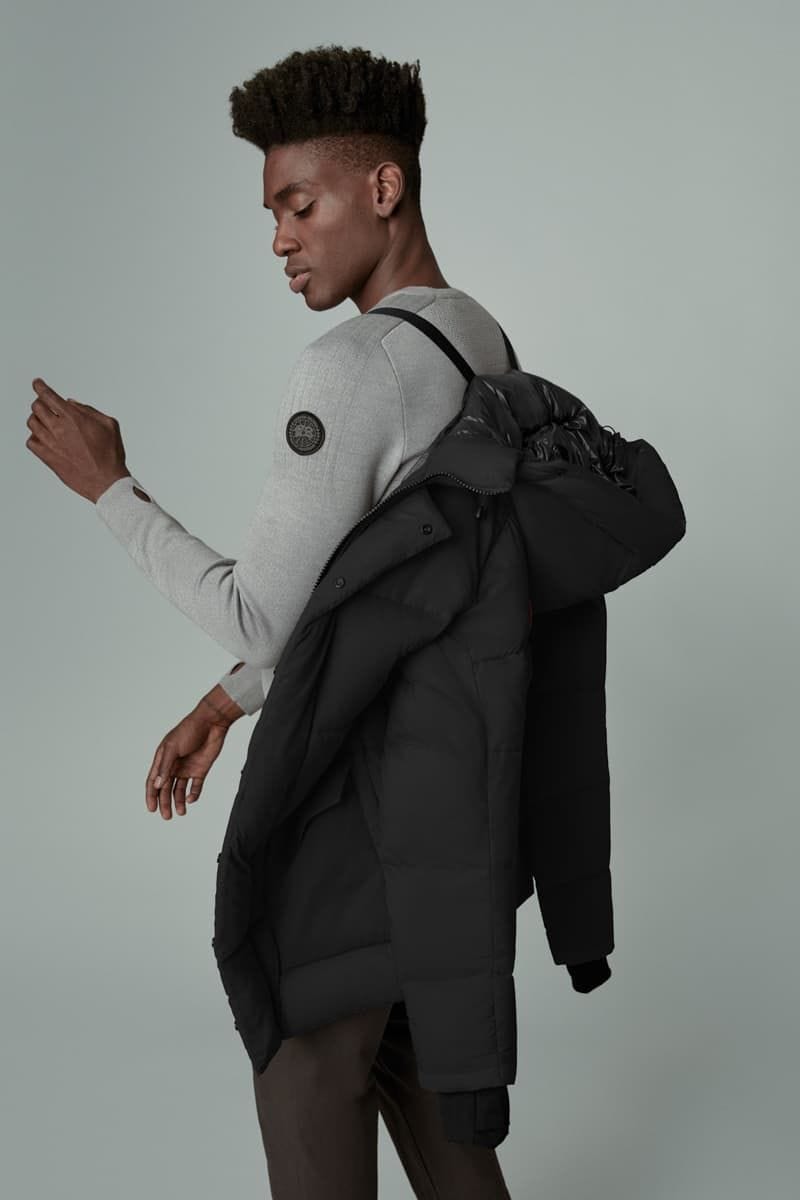 About the Company
From its humble beginnings in a small Toronto warehouse over half a century ago, Canada Goose has exploded onto the international market. The brand first made its name when it began making parkas for scientist's setting up their labs in Antarctica in the 1980's. Designing apparel for the coldest place on earth had its challenges, but Canada Goose was up to the task, and they've continued to build their reputation as makers of the highest quality down insulated jackets on the market. Today they continue to pay tribute to mountaineers, explorers and scientists by creating premium luxury parkas and apparel that can take on the coldest climates in the world, be it in nature or in the city.
What Makes Canada Goose so expensive?
The Down
We know that down is one of the best insulators thanks to its warmth-to-weight ratio, but where and how we get it has been the issue. In recent years, questions of ethics have arisen when it comes to the sourcing of down. Brands like Canada Goose that rely on natural down have made every effort possible to ensure their down is sourced ethically, ensuring that there is no mistreatment or unnecessary harm done to the animals used for their feathers. Rather than going for cheaper methods of production, they've moved towards a more ethical approach that complies with Responsible Down Standard (RDS) guidelines. 
The Fur
The signature detail of many Canada Goose parkas, aside from the well-known logo, is the wild coyote fur trim around the hood sourced from western Canada and the United States. The natural fur is made for cold weather, and besides it's stylistic function, serves to keep the elements at bay. Like the sourcing of down, Canada Goose fur suppliers are made to follow strict guidelines that ensure there is no mistreatment of the animals, and that the fur is taken from licensed trappers working in  North America. They have even started moving towards a more sustainable method of production that uses reclaimed fur to line the hoods of its parkas.
Lifetime Durability
60 years is a long time, and when you've spent all that time innovating and perfecting designs for every environment, chances are you've got something built to last. Durability doesn't only build trust in a brand, but in arctic climates, or Canadian winters, it's a must. After the long painstaking process of constructing a Canada Goose parka, a process that sometimes requires up to 60 individuals to work on a piece throughout the manufacturing stage, the quality assurance team inspects every product by hand to ensure the brand's high standards are met. It's a small price to pay for a jacket meant to last you for years to come.
Made in Canada
Look no further than the name to find where the products are made. It's more than just a point of pride with Canada Goose, it's a necessity that ensures standards are maintained and the best materials are used. While some choose to send their labour overseas, Canada Goose is dedicated to creating jobs at home, and employing the best in the industry to stitch and craft every garment.
So Are Canada Goose Really Worth the Price?
This simple answer is yes. When buying something like a winter jacket it's better to think of your purchase as more of an investment. Yes you're buying into the brand, but with Canada Goose you're getting the whole package. The premium down, and coyote fur are ethically sourced to ensure no harm is being done to the animals used to make their winter jackets. Spend a bit more for a Canada Goose and you'll benefit in the long-term from expert craftsmanship and hand-made products that are designed and constructed from start to finish in Canada, where subzero temperatures are just another part of our daily winter routine.
Still not sold? With so many brands to choose from these days it can be difficult to find something that matches your style and preference. Luckily, this is also a blessing in disguise. For every unique look, there is a jacket that ticks off all the boxes. Here are some brands that tick off similar boxes as Canada Goose in terms of quality, each with their own unique style to appease even the pickiest shoppers.
Save The Duck

Like Canada Goose, Save The Duck is focused on ethical sourcing, and sustainable materials and means of production. They've focused a lot of their energy on making Vegan winter coats that provide the same benefits as natural down, without the need for animal products.
Vallier
The Montreal brand has made a name for itself in the urban apparel game. Their premium apparel uses sustainable and Responsible Down Certified materials. Combined with the latest winter protection, Vallier designs all weather apparel for better urban living.
Kanuk

Canadian outerwear maker Kanuk has been crafting durable winter apparel for 50 years. Everything is designed and constructed from their workshop in Montreal, and after recent rebranding, Kanuk continues to make premium winter jackets for the coldest days.
The North Face

The North Face is a global brand that needs very little introduction. From heritage apparel to the latest weatherproof technology, they continue to set the standard in the outerwear industry. They've got gear for the urbanites, the extreme adventurers and everyone in between.
It's a question people have often asked before: "Why is Canada Goose so expensive?" and the simple answer is, you're paying for quality that you won't find elsewhere. Hand-crafted jackets and apparel made in Canada using premium materials, and sustainable and ethically sourced materials come at a cost, but it's a small price to pay for durable, elegant winter jackets that will last you for seasons to come.
SHARE