Your full kit of cycling gear is almost ready—you've found the perfect cycling shoes, attached the right pedals, found a comfortable helmet, and an attractive jersey. Now, all you need is the best cycling shorts for your ride. Recommending bike shorts is no easy task since everyone's body is unique. While materials and construction do matter, it's crucial to find the right fit for your physique. 
To help speed up your search, we've found the best bib shorts, mountain biking shorts, road shorts, and casual commuter shorts on the market. We've also included a buying guide to help you know what to look for in cycling shorts. Of all the shorts on the market, the best overall is Garneau's Neo Power Motion Bib. Equipped with the best leg grippers, compressive materials, and comfortable padded liner, it's a top-of-the-line bike short. Continue reading to see all the best cycling shorts of 2021, or scroll down to the handy buying guide.
Best Cycling Shorts Reviewed
Best Overall
The best overall choice is the 10.5″ Neo Power Motion Bib from Garneau. The Lycra fibre and Endurexx fabric provide compression for high-performance and quick-drying. The materials give a good range of motion and the power mesh keeps you cool. You'll also find anti-chafing seams, leg bands to prevent the shorts from riding up, and white straps that won't show under a jersey. 
For women, the  9.5″ Neo Power Bib has gel inserts on the chamois pad for cooling and 3D reflective decals around the leg for low light settings. There are also detachable straps on the front and back that make it easier to use the bathroom.
Price:
0.00$
Pros
Compression fit

Anti-chafing

Gel padding
Best Budget Cycling Shorts
If you're looking for entry-level biking shorts, Garneau's Sprint Tri Shorts (women's; men's) won't disappoint. They have all the features you'd find on more premium shorts like stretchy fabric, thigh silicone grippers, and a padded chamois. 
The chamois has moderate padding and drains water (read: dries off) quickly. The elastic leg grippers make sure the shorts don't ride up, and the 7″ length for women and 8″ length for men make them a nice long-length road short.
Price:
0.00$
Pros
Entry-level

Affordable

Moderate padding
Cons
Padding density not suitable for longer rides
Best Cycling Shorts for Beginners
Canadian brand Sugoi has made a stand-out road short with the RS Pro Shorts. These long-length shorts feature moisture-wicking fabric and a high tech 3D chamois with cradle construction. The chamois pads make them great for longer rides, and the aero fabric on the outer thighs helps with ventilation. 
For women, the Invisa chamois is more flattering and less bulky. There are also four-way stretch panels that move with you. All that said, the chamois might be too dense for more casual cyclists.
Price:
0.00$
Pros
Ventilated

3D chamois

4-way stretch
Cons
Padding may be too dense for commuters
Best Cycling Bib
Sportful is a trusted brand for premium cycling and cross-country gear, and their Neo bib shorts are no exception. A soft foam chamois with silicone inserts provides breathability. The fabric has a nice compression feel, and the stretchy cuff is both fashionable and practical.
Customers love the clean black look and sleek, minimalist design. The shorts offer excellent support as well as pockets and reflective details.
Price:
0.00$
Pros
True compression legs

Soft chamois

Sleek look
Best 2 in 1
With excellent quality materials and construction, the 2 in 1 Dirt Craft Bike Shorts by Patagonia are a customer favourite. These eco-responsible shorts have a removable padded liner and a sporty-looking outer layer made with stretchy nylon and spandex. There's also a cushioned low-profile 3D chamois and mesh side panel for breathability. 
The Dirt Craft Bike Shorts (men's; women's) have strategically placed pockets and a long 12″ inseam. They do run about one size too small, so order accordingly.
Price:
0.00$
Best Cycling Shorts for Long Distances
If you're in the market for a high-end road cycling short, check out Castelli's Competizione bib shorts. These men's cycling shorts feature a Kiss Air 2 chamois with anatomical padding and a soft top layer. The shorts are made with unlimited Lycra fabric for stretch and durability no matter how demanding your rides are. Double-layer side panels add function and comfort on long rides.
For women, the Free Aero Race 4 bib shorts feature mesh straps for added coolness and a super comfortable Progetto X2 Air Seamless chamois. The Endurance's lightweight, ergonomic fabric is perfect for long rides. As an Italian brand, the shorts run very small, so it's best to order one size up.
Price:
0.00$
Pros
Lycra fabric

Super durable

Many pockets
Best for Commuting
If you want a super short, lightweight workout short, we recommend the Garneau Lightweight Short. The soft, quick-drying Rhino fabric with DWR treatment is perfect for warmer days. The short waistband of the shorts allows cyclists to have a full range of motion for short, intense rides around town.
Price:
0.00$
Best for Mountain Biking
POC's reliable Essential Enduro Shorts were made for mountain bikers and off-road cyclists. The durable, stretchy nylon material wicks away moisture and is reinforced in the rear to extend the product's lifetime. They're specially constructed for mountain bike peddling by covering the knee cap for knee-pad compatibility. The velcro waist easy-adjustment system is a nice touch and there are handy side pockets for your phone and snacks. 
Price:
0.00$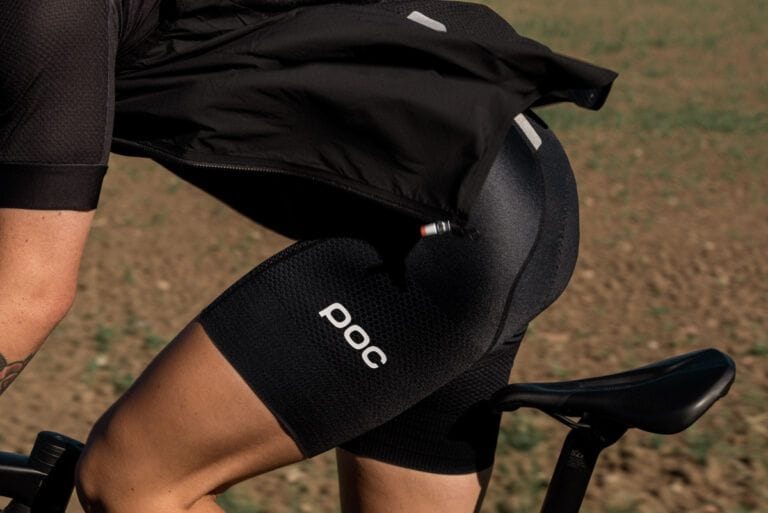 Buying Guide: What to Look for in Cycling Shorts
When shopping for cycling shorts, you want to look at material, construction, and comfort. The most important factor will be how they fit your anatomy since everyone has different butts, crotches, seats, and riding positions. 
It's hard to recommend one size fits all, but we'll give some pointers. In general, the higher the price, the higher the quality of the shorts. The more panels the better as well, as 6 to 8-panel shorts will conform to your body better. Continue reading for the specifics of what to look for in cycling shorts. 
Types of Cycling Shorts
Road biking short (bib)
Bibs have built-in shoulder straps to make sure the shorts stay snug. The suspenders keep the chamois or padded liner in place to prevent irritation. Bibs can be helpful for men to make sure everything stays in place, but they also make it less convenient to urinate. Women also would have to take off their jersey and bib to go to the bathroom. However, these days bibs have click-off detachable straps for easier pit stops. 
Commuter short
Commuter shorts are casual shorts that are looser than road biking shorts. They have woven stretch fabric, lots of pockets, and are better for cycling around town. They rely on the waistband to keep shorts in place and are best for casual cyclists that don't want to wear spandex. Unpadded shorts give a better range of motion, but padded ones help prevent chafing between legs. 
Mountain biking short 
Known as the "Baggy" short, mountain biking shorts are rugged and loose-fitting. Some have a padded liner that reduces friction on the crotch area. Padded MTB shorts will usually be '2 in 1' with a padded liner layer and a looser outer layer. They're great not only for MTB cyclists but also for urban cyclists who want a more casual look. 
Size & Length
The length of the inseam is a personal preference. Some people like 7″ or longer "Belgian style" shorts that rest just above the knee. These better for more professional riders that participate in races, long-distance cycling, or off-road cycling. 
Shorter 5″ shorts are better for bikers that don't want an awkward tan line. If you opt for shorter shorts, just make sure they're not so short that the nose of the saddle rubs your bare skin. Short shorts are better for commuters as they have a more casual look. Whichever length you get, the shorts should fit snug with the pad close to the skin. 
Liners
Liners are popular with cyclists who want to wear their favourite shorts cycling. Liners transform any pair of shorts into cycling apparel, giving more versatility. Mesh liners usually have sewn-in chamois or padded liners. The "chamois" needs to be large enough to cover your crotch and is most comfortable when it's moderately padded. 
Briefs
Briefs are padded cycling underwear. They can be used for any high-impact sport like cycling, rowing, horseback riding, or even running. They keep everything in place, and the mesh fabric helps with cooling and ventilation. 
2-1 Shorts
2 in 1 shorts have a loose outer shell made of nylon and an inner stretchy padded liner. They're great if you want a casual look and mostly do commuter or urban biking. They're longer and looser than traditional road cycling shorts, which makes them more versatile. 
Fabrics
Most cycling shorts are made of a stretchy material called spandex. Others will purposefully be stretch-resistant to help you with your pedal stroke or to maximize energy. Look for a short made with at least 15% spandex and other key materials like nylon and polyester. These materials hold up against abrasion as the shorts rub against the biking seat. 
Nylon shorts are more rugged while polyester is softer and more colourful. Nylon, polyester, and spandex, and other quick-drying materials are useful for sweaty rides. 
Pockets
You'll find more pockets in today's cycling shorts to hold phones and devices. Pockets are also great for holding snacks, tissues, and other essential items.
FAQ
Can you bike in running shorts?
No, running shorts will chafe your skin when it rubs against the seat. One good solution is to wear briefs underneath running shorts to stay comfortable while cycling. 
Should I wear underwear with cycling shorts?
When you're wearing cycling shorts, it's better to go commando. The chamois liner provides a smooth surface and prevents friction, which is undone by underwear (especially cotton). 

While choosing biking shorts is a very personal choice, we narrowed down the best cycling shorts to these eight picks. Of all the shorts, we deem the Garneau Neo Power Motion Bib as the best overall for its reliable construction, compression fit that helps with circulation, and ideal density chamois. While the other shorts on this list are also made with great construction and materials, we see the Neo Power Bib as the unicorn, 'one size fits all' bike short.
SHARE