The Gorpcore trend owes its name to a hiker's primary source of energy: Good Ol' Raisins and Peanuts. Trail mix, in other words. The past few years have seen a massive influx of technical clothing into the wardrobes of streetwear enthusiasts, but more recently, it's been outdoor brands that have broken into the high-fashion market. Among others, we've seen renowned designers partner with Arc'teryx, The North Face, Salomon, Snow Peak and other industry leaders. Like many other trends, this one has been embraced by big-name celebrities, to the point where the style has found a niche in our culture. And that's how Gorpcore was born.
But what explains the massive arrival of outdoor brands on the city's sidewalks? Technology is taking over every aspect of our lives, and the apparel industry is no exception. People have become accustomed to a certain standard for their clothing—it must meet the requirements of our daily lives and activities.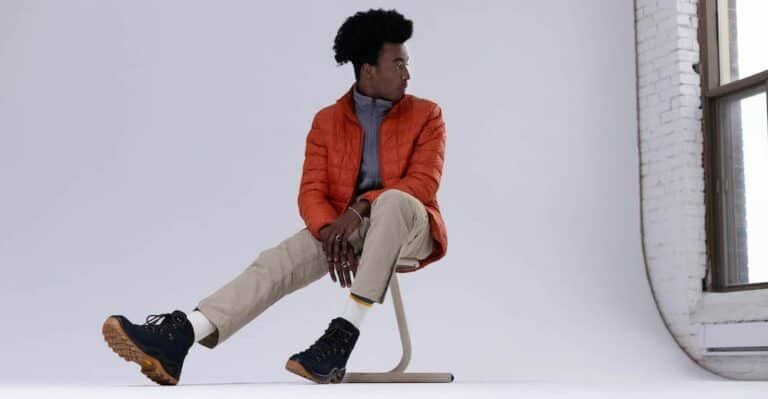 What is the Gorpcore trend?
What is Gorpcore? It's the fusion of a hiker and a fashion lover's style. Think Patagonia's fleece sweaters, or The North Face's expedition puffy that dominates the looks of streetwear enthusiasts. 
Brands like Mountain Hardwear, Rab, Mammut, Salomon, Hoka (to name a few) will help you make the statement you want. It's not just about getting your hands on these great outdoor brands though – it's about matching and choosing the right clothes by following a formula with defined colours, volume, and fits, with just enough logos. Here's how.
HOW DO WE DEFINE THE GORP STYLE?
What makes your look Gorpcore? If you thought you could pull it off just by throwing on a Summit Series quilted jacket or a highly technical shell, think again. The success of the look lies in the careful combination of accessories and the thoughtful layering of elements that suggest you're making hiking your raison-d'etre.
1. The Colours
The first thing you'll notice about Gorpcore is that the clothing tends to be colourful. Traditionally, equipment for alpine activities needs to be bright for obvious safety reasons. Orange, red, yellow, pink, and purple are therefore widely used by brands because of their contrasting tone with the colours of nature. However, neutral tones also have their place in the Gorpcore wardrobe. Beige, brown, olive green and retro patterns are particularly popular. Your outfit should look like you borrowed an old beige fleece from your grandfather and combined it with an orange puffy that's rugged enough to help you summit Everest.
2. Layering
Layering is the essence of the Gorpcore aesthetic. Like the multi-layered systems that are widely used by big outdoor brands, your clothes need to be layered in the right way. So you wouldn't wear a quilted coat over a shell, but it's not uncommon to see an open coat over a fleece jumper. Keep in mind that you are doing this for style, of course, but you also want to enjoy the benefits of your technical clothing. 
3. Volume
If there's one thing you have to respect when wearing the style, it's the volume of your clothes. The Gorpcore look is anything but minimalist—coats are bulky so they can be worn over layers. Trousers are wide and straight, with large, convenient pockets. The essential fleece jumper should not be fitted—remember, you borrowed it from your grandfather. Choose functional clothing for camping, hiking or climbing, comfortable and loose-fitting to ensure freedom of movement, with handy pockets to stash all your essentials.
4. The fit
It may sound contradictory, but it's very simple: the clothes that make up the Gorpcore look are loose but adjustable. Think of hiking trousers that adjust at the ankles and waist, and a hood with adjustable drawstrings, etc. There's nothing like a backpack tied around the waist and chest, or a climbing harness to complete the look.
5. Logos
Here is where the Gorpcore trend distances itself from Techwear. Logos are essential and we want to see them! They are a sign of quality and attest to your credibility as an urban hiker. Skip the urban collections of outdoor brands that often tone down their logos, and go for reflective logos on the chest or shoulder.
The perfect Gorpcore WARDROBE
It should consist of the following elements:
Headgear is the ultimate accessory for achieving the Gorpcore look. You can't beat a vibrant coloured beanie or fleece cap (or even a bucket hat!). Set the tone for your look with a toque featuring a logo, or a drawstring backpacker hat.
It's the essential element of your outfit. Get your hands on a warmly insulated coat designed to handle extreme temperatures. While it doesn't have to be stuffed with down (a synthetic insulation coat will do), it's the volume and colour of the coat that will give it that Gorpcore look.
In addition to style, the Gorpcore aesthetic lies in the functionality of the clothing. Something extremely versatile like a waterproof jacket is perfect for keeping you dry all year long.
There is no piece that defines the Gorpcore look better than a fleece sweater. While Patagonia's Synchilla Snap-T and Retro-X jackets are emblematic of the trend, they're not the only ones. Fleece midlayers of all kinds work well in a Gorpcore ensemble. And they're so comfortable, you won't regret making room for them in your closet (or under your coat).
Fitted pants are essentially the opposite end of the spectrum from the pants that embody the Gorpcore trend. Cargo pants with wide, straight legs are the preferred choice, often made of a lightweight fabric and featuring multiple pockets.
The base layer is designed to be worn under your clothes in cold or temperate weather. Whether you buy merino wool or synthetic, it should be made of lightweight, moisture-wicking, anti-microbial fabrics. Regardless of style, avoid cotton at all costs.
7. Socks that Stand Out
Yes, socks are an integral part of Gorpcore. On the trails and at campsites where the trend got its origins, socks tend to stick out of boots to avoid bugs or dirt. So thick, colourful socks, worn to be visible almost all the time, are a key style element.
Hiking boots have the advantage of being comfortable whether you're on the trail or not. They are also often weather-resistant and built rugged. Bulky soles with large studs are characteristic of the trend.
Prepare as if you were going on an expedition. In that respect, the utility backpack is an essential Gorpcore accessory. Whether you use it to carry your laptop or climbing ropes, fake it until you make it by choosing a hiking backpack (not an urban one) to successfully complete your look.
Women's Perfect Gorpcore Outfit​:
Men's Perfect Gorpcore Outfit​:
The Gorpcore Ultimate FAQ
Q: What does Gorpcore mean?
A: The Gorpcore trend gets its name from the acronym G.O.R.P which refers to the phrase Good Ol' Raisins and Peanuts, a backpacker's snack consisting of nuts and dried fruit.
Q: Is The North Face a Gorpcore brand?
A: Yes, like many other outdoor and camping brands, The North Face can be considered a brand whose clothing belongs to the Gorpcore trend.
Q: How should you dress Gorpcore?
A: By layering utilitarian outdoor clothing with vibrant colours, favouring loose over tight fits, and visible brand logos.
Q: What's the difference between Gorpcore and Techwear?
A: The essence of Techwear and Gorpcore styles lies in wearing technical clothing on a daily basis. Unlike Techwear, the Gorpcore trend emphasizes the colours and styles of clothing specifically designed for hiking rather than the understated, urban nature of techwear.
You might be a seasoned hiker who can't be bothered to change out of their comfy clothes once Monday rolls around, or maybe you're just a dedicated follower of fashion trends. Whatever category you fall under, the vibrant colours, easy-to-layer cuts and technical materials of Gorpcore have it all. Embrace it.
SHARE