Finding the best women's hiking pants takes a little work, but once you find the perfect pair, they can last you for years! In our book, a good pair of hiking pants has stretchy fabric that moves with you, durable material to withstand the elements, and a style that's both comfortable and attractive. 
If you're looking for the best women's hiking pants, look no further. We've rounded up the top 12 hiking pants in this guide. You'll find our best picks for different types of weather, price points, and features such as breathability, water resistance, and lightweight materials.
For their amazing material, style, and durability, we've chosen the icebreaker Hike Pants as our best overall hiking pants for women. Read on to discover our other favourite pants for this season!
Best Hiking Pants for Women Reviewed
BEST OVERALL HIKING PANTS FOR WOMEN​
The sleek, top-performing icebreaker Hike Pants is the shining star in this lineup. If you're looking for top-shelf trekking pants, these are the ones. They're outfitted with an array of helpful features like a gusseted crotch to prevent chafing, articulated knees for unrestricted motion, and a 100% natural fibre construction with odour- and abrasion-resistance built right in.
We love the look of the Hike Pants. The streamlined design and slightly tapered ankles are attractive even in off-trail environments like your local café or tavern. Plus, with so many pockets (front hand pockets, rear zip pockets, and thigh zip pockets), you'll never have any trouble keeping the things you need close and secure.
Price:
0.00$
Pros
Sleek style 

100% sustainable fabrics

Comfortable
Runner Up
There are two classes of hikers: those who love zip-off pants and those who despise them! For those in the first group, you'll absolutely love the Ferrosi Convertible Pants by Outdoor Research. They came as a close runner-up and still stand out as dreamy convertible hiking pants. 
Some noteworthy features include the breathable, water-resistant material with UPF 50+ to protect from harmful rays. The stretchy material provides maximum mobility and comfort, and the loose fit around the waist is great for times where you feel bloated. They're the perfect summer hiking pants (or shorts)! 
For those who still hate zip-offs, check out the traditional hiking pants version of the Ferrosis.
Price:
0.00$
Pros
Zip-off pants 

UPF 50+ 

Stretchy fabric
Cons
Not as stylish as some other pants
Best Value Hiking Pants
For hikers on a budget looking for a 2-in-1 pant, check out the Columbia Saturday Trail II Convertible Pant. These inexpensive hiking pants are crafted with the Omni-Shield Summiteer Lite fabric, which is stretchy and protects against elements.
There's also a wide, flattering waistband with dual snap closures to compliment your shape. The drawstring at the bottom helps to keep them from dragging on the floor if you're wearing sandals, too. 
Price:
0.00$
Pros
Inexpensive 

Beautiful look 

Sun protection
Best Lightweight
Tackle miles of trail while staying cool with the North Face Aphrodite 2.0 Pants. The cute shirring style on legs can tuck into your shoes or be folded up for different looks and lengths.
Keep them full length to protect against bugs, or fold them up for a capri-style pant. Some other nice features include durable triple stitching, extra stretchy material at the waist and hips for added comfort, and Flashdry technology for those spontaneous summer rain showers. 
Price:
0.00$
Pros
Shirring style 

Versatile use 

Quick drying
Best Hiking Tights
Tired of carrying a bag while you hike? You won't need to with the amount of pockets on the Fjallraven Abisko Trekking Tights. There's a map pocket, security pocket near the waist, and an upper thigh pocket.
These gems are the best of both worlds: stretchy like yoga leggings but durable like trekking pants. There's also reinforced stitching in the knees and rear, and four-way stretch fabric to make them more durable. The interior drawcord on the waist improves the fit but maintains a sleek, streamlined look. The one drawback is they may stretch out as you wear them.
Also check out the Abisko Trekking Pro Tights for some extra features.
Price:
0.00$
Pros
Highly durable 

Many pockets 

Very stretchy
Best Breathable
For breezy, comfortable pants perfect for the trail or rock climbing, you can't beat the Patagonia Hampi Rock Pants. The hemp/recycled polyester/spandex blend breathes and stretches, and the loose, relaxed fit is ideal for more easy-going hikes.
The elastic cuffs and waistband help them fit perfectly to your shape. If you do decide to take them out rock climbing, the pants are optimized to allow for harness-wearing comfort as well.
Price:
0.00$
Pros
Lightweight 

Breathable 

Relaxed fit
Cons
Not good for very hot weather
Best Waterproof Hiking Pants
If you're looking to add some great rainwear to your kit, you can't go wrong with the Rab Downpour Eco Waterproof Full Zip Pants. The Pertex shield 2.5 material has a three-layer membrane that keeps you nice and dry, blocks the wind, and offers great breathability.
The elastic waistband and drawstring help ensure a more precise fit. Despite their simplicity, these are a nice waterproof option for hiking pants. Plus, you'll feel good knowing these hiking pants are built from 100% recycled materials.
Price:
0.00$
Pros
Wind resistant 

Waterproof 

Soft fabric
Best for Hot Weather Hiking
Feel great and look even better with the Vuori Ripstop Pants. These attractive pants let you move freely with their relaxed, tapered fit and elastic adjustable waistband. 
Streamlined and without bulk, these pants let you glide through backcountry terrain without snagging. They're perfect for handling rugged trails and keeping you cool in hotter weather. The five pocket design allows for easy access when not wearing a backpack.
Price:
0.00$
Pros
Very comfortable

Stretchy material 

Contoured fit
Best For Cold Weather Hiking
Get ready for any hardcore hike with the Fjallraven Vidda Pro Trousers. The seemingly impenetrable G-1000 fabric is wind, water, and abrasion-resistant. One verified buyer said they're great in the bush as they keep out any twigs and small sticks.
Like the Fjallraven trekking tights, there's a double layer over the most critical spots in the knees, rear, and ankle. There's also an opening for knee pads for technical terrain, and since they're loose fitting, you can put a layer under them for colder days.
Price:
0.00$
Pros
Abrasion-resistant 

Reliable construction 

Highly rated
Other Favourites
Handle whatever life throws at you with the Mountain Hardwear Dynama/2 Ankle Pants. Whether you're on the trail, at the rock gym, or at the office, these lightweight hiking pants are as versatile as they come. The feminine fit features a flat and wide low-profile stretch waistband and tapers from hip to ankle for a streamlined look. Rated UPF 50 and brushed with a PFC-free DWR finish.
Price:
0.00$
Whether you're looking for pants that were built for climbing or just want something great for a variety of activities, check out the Black Diamond Notion Pant. They're made with stretchy organic twill cotton, so they feel soft and comfortable. Reinforced knees and a gusseted seat also adds comfort for long days spent hiking or climbing.
Price:
0.00$
Maybe we saved the best for last. The cute, cropped North Face Aphrodite 2.0 Pant is a stylish pant that's perfect for work, travel, or trekking. The comfortable Herringbone fabric is also great for chillier weather, making this a nice all-purpose pant.
Price:
0.00$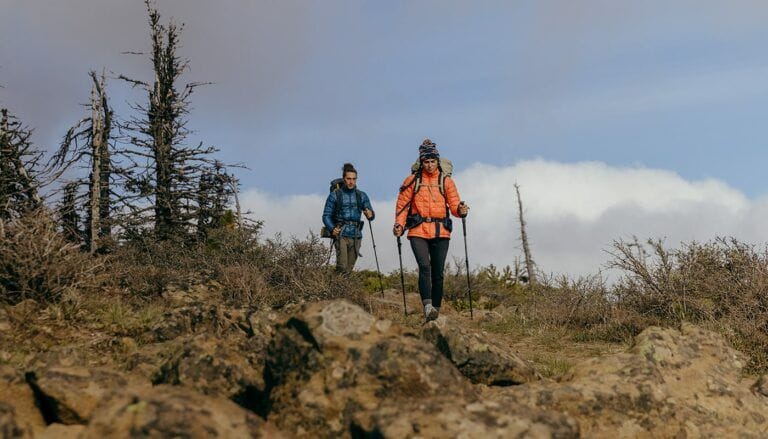 BUYING GUIDE
What to Look for in Women's Hiking Pants
1. Types of Hiking Pants
As we stated earlier, there are two types of hikers: those who love convertible hiking pants and those who don't. But really, having both in your closet is a smart move. Standard hiking pants don't have zippers at the thighs, making for a nice streamlined look. They can also be better for chillier weather when there's no way you'd be wearing hiking shorts. 
Convertible hiking pants, also known as zip-off pants, can double as pants or shorts. They're ideal for hikes that start colder, then warm up as the day goes on. As soon as you start to get too hot, you just zip off the longer pants section and continue hiking. 
2. Sizing & Fit
When it comes to hiking pants for women, sizing and fit are completely subjective! Some people might prefer a pair of hiking pants with a more athletic fit — tighter around the waist and thighs, then tapering out to a straight leg or bootcut. Or, you may prefer trekking pants with a relaxed fit that are loose throughout the waist, thighs, and calves. 
The most important thing is that, whatever your size or fit preference, you retain a good range of motion. There's nothing more annoying than not being able to crouch down or bend over because your pants are too tight!
3. Comfort and Mobility
For many hikers, finding women's hiking pants that offer good freedom of movement is a must. To ensure this, look for a pair of hiking pants with stretchy material that has some give. You'll also want to keep an eye out for pants with a gusseted crotch, or a diamond-shaped piece of fabric on the crotch that prevents chafing and irritation. 
4. Breathability
Many hikers know the classic dilemma of finding a pair of hiking pants with good weather protection and high breathability. It's tricky to find a balance between the two, but it's also essential for staying comfortable while hiking.
Many summer hiking pants are made of lightweight material that makes them breathable. Look for a mix of materials like nylon, polyester, and elastane. 
5. Weather Protection
When we're hiking, we come face to face with elements like rain, wind, and sticks and twigs. You need a good pair of pants that will hold up against abrasion and moisture.
That's why it's important to look for pants that have a DWR (Durable Water Repellant) finish that repels water. You'll also want to find quick drying material to keep you comfortable after sweating or hiking through drizzle. 
6. Durability
If a pair of hiking pants comes from a trusted brand like The North Face, Patagonia, Columbia, or Rab, you can count on its durability. Some other good indicators for durability include reinforcements on critical areas like the knees and rear, and double or triple stitching. Hiking pants are meant to last for years, so you'll want to invest in a good, long-lasting pair. 
7. Style & Versatility
As active women, we want a blend of fashion and practicality. Many of the women's hiking pants made these days are cute enough to wear travelling or out for a casual day in town.
Pants that can double as outdoor apparel and casual wear also save room in your closet. So, look for pants with a style you like: straight-leg bottoms, shearing, or cute patterns (plus the functionality to take them through the trail). 
8. Other Features
If you like to hike without holding a pack, pockets on your women's hiking pants are a must! Some more expensive hiking pants have zippered thigh pockets for holding a map or your phone. Almost every pair has side pockets, and some even have a few extra zipper pockets. Think about what you usually carry on your hikes, then choose your pants with the right amount of storage.
Integrated Waist Cinch or Belt
For a more tailored look, get a pair of hiking pants with a waist cinch or built-in belt. Whether you're day hiking or on a longer backpacking trip, you'll feel confident and comfortable with a belt that tightens. Some pants also have belt loops that you can attach gear to or add your own belt. 
For more versatility, some pants have rollable cuffs. These help you adjust the length of your pants to fit different shoes and styles. 
FAQs
Q: Can you wear yoga pants hiking?
A: While yoga pants are a great option for hiking, they don't have as many hiking-specific features. You'll be 100 times more comfortable hiking in trekking pants than yoga pants, as they have more features like breathability, quick drying materials, and water resistance.
Q: Are hiking pants worth it?
A: Hiking pants are well worth the investment—if you love to hike! Whether you choose convertible or standard pants, you'll feel cooler and more comfortable with hiking-specific pants. Since they can last for years, you won't regret the investment.
CONCLUSION
Women's hiking pants are one of the best purchases we can make as female hikers! Not only do they keep us more comfortable, dryer, and cooler, they can also make us feel great.
If you're feeling overwhelmed with all the options out there, you can't go wrong with our top pick, the icebreaker Hike Pants. They're a favourite among hikers for their comfort, durability, and breathability that'll get you through any trail.
The best women's hiking pants are a piece of kit that will never leave your bag on trips and make you excited for your next big trek!
SHARE