I run mountain bike events, guide, and instruct, in short, I typically ruin everything within a matter of weeks.
I'm very rich with experiences, not so much when it comes to currency.  Why is that important? Well, if I'm going to spend a lot of money on something, especially clothing, it has to have multiple uses and damn well better last a lifetime.  Clothing for me has to to be low maintenance, practical, and rugged.  A bonus if it looks good.
Fjällräven is a brand that you often see being worn on the grouse grind, in the Canmore coffee shops, but there's a reason why.  It looks freakin' sweet, and, people like me have put these clothes through their paces, so when you bump your knee on that hike in High Park or snag a pant leg on your pedal, don't worry, we've done worse.
The pros are:
Adjustable Cuffs
Thigh & calf vents
Durable material
The cons are:
Would benefit from a more fitted fit
The price, I'd love to own more Fjällräven apparel, but that's just not my reality.
Belt loops are quite small for the average belt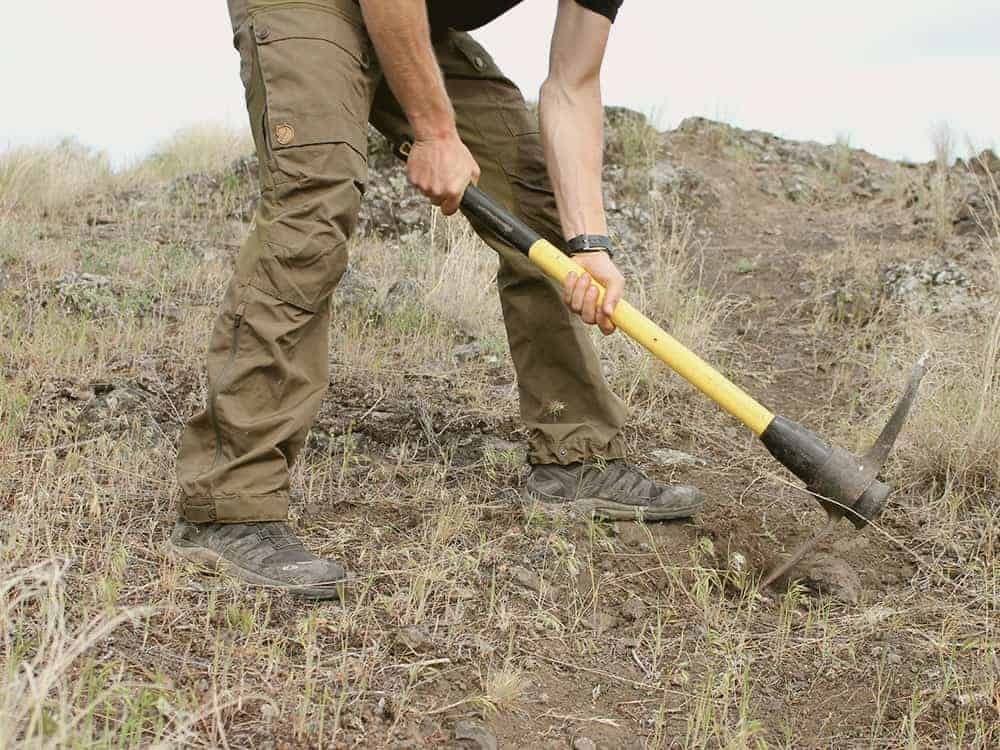 First Impressions
The Fjällräven Keb Trouser is a pant I've lusted after for some time. The Keb, is made of a softshell material that is lightweight in spots that need to breathe, in those high wear and areas that I'm typically just disrespectful to with most other pants, they upped the ante and used G-1000®, which is a very well moving, robust material to stop tears, catches and holes! My tailor hates things that are built well.
On that note, I was wearing the pants when I went to take a pair of Knee Pads into his shop (they had a broken strap), he told me he loves Fjällräven, because they do things that make sense, like moving seams away from your inner thighs, chafing on hikes, trail-building missions and riding = GONE!
So, what more do you want to know about these pants?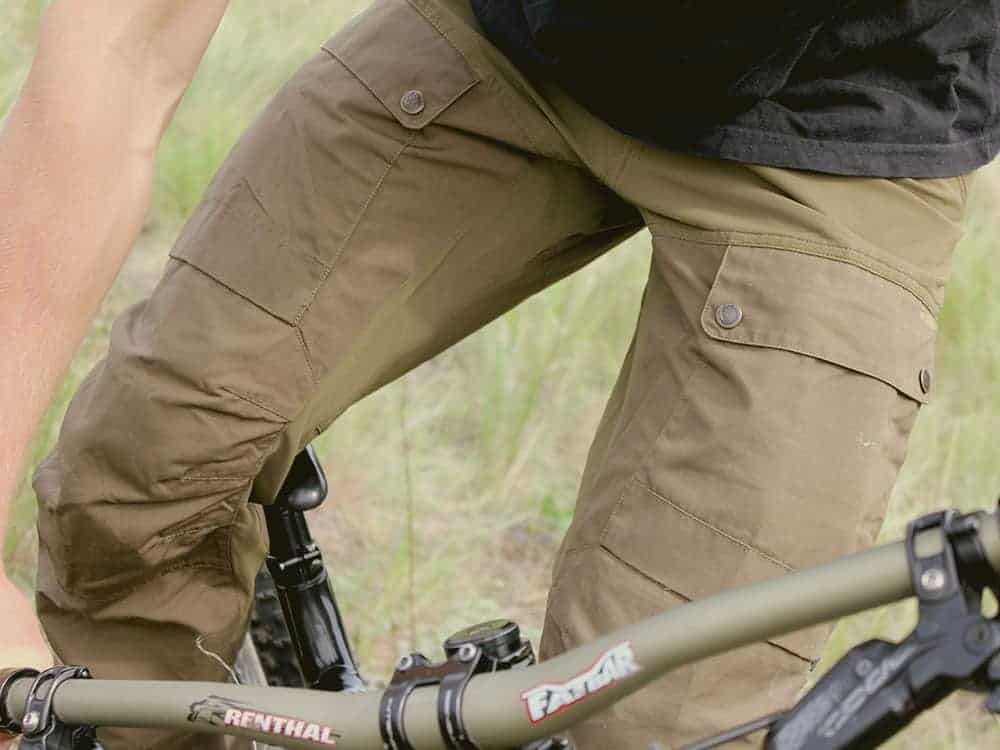 Fit & Look
When I ordered these pants, I was cautioned that they may fit a little snugger than most.  I ordered a 32″ and I'm a true 31″, yet I often go to a 32″ as I'm blessed with a true Canadian #HockeyButt, I'm also a cyclist.
The fit was a true 32″, and I would say that the room around the thighs and butt are ample, so don't worry about the trim fit.  To be honest, I would like to see the pants be a bit snugger.  I think a pant like this would benefit from being a touch tighter, but it's a small preference.
I'm 5′-9″, 160lbs, and the length was perfect (I also have a 31″ inseam).This pant is a workers pant, that you can also wear into the coffee shop.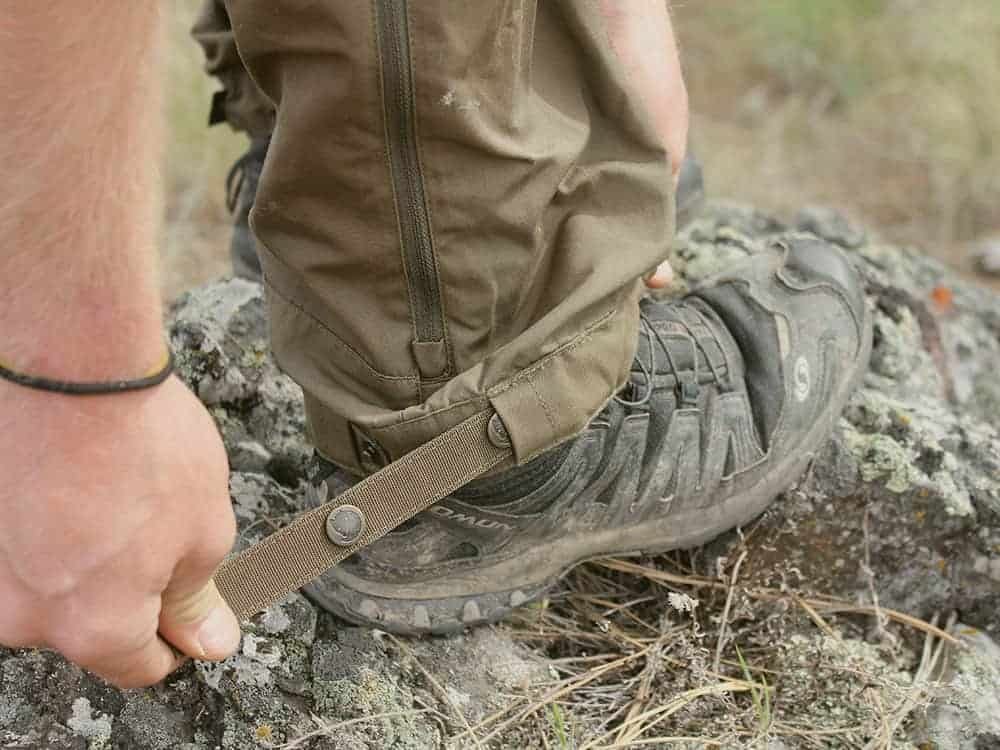 Features
My favourite feature on these pants is the adjustable cuff. Seriously, it's a simple thing, but when you have a cuff that has three different adjustments (and yes the button clasp is strong!), it allows you to wear these pants in many different circumstances.
In the photos, I'm wearing a mid-cuff hiking boot while trail building, so I'm using the second clasp, keeping the pant tight around the boot so that no debris falls in my boot. In the other photos, I'm riding a bike, here I just put the pant in it's tightest mode and voila, no worry about it being sucked into the chain.  The widest mode, I typically use if I'm going somewhere more casual, or just walking around in flip-flops!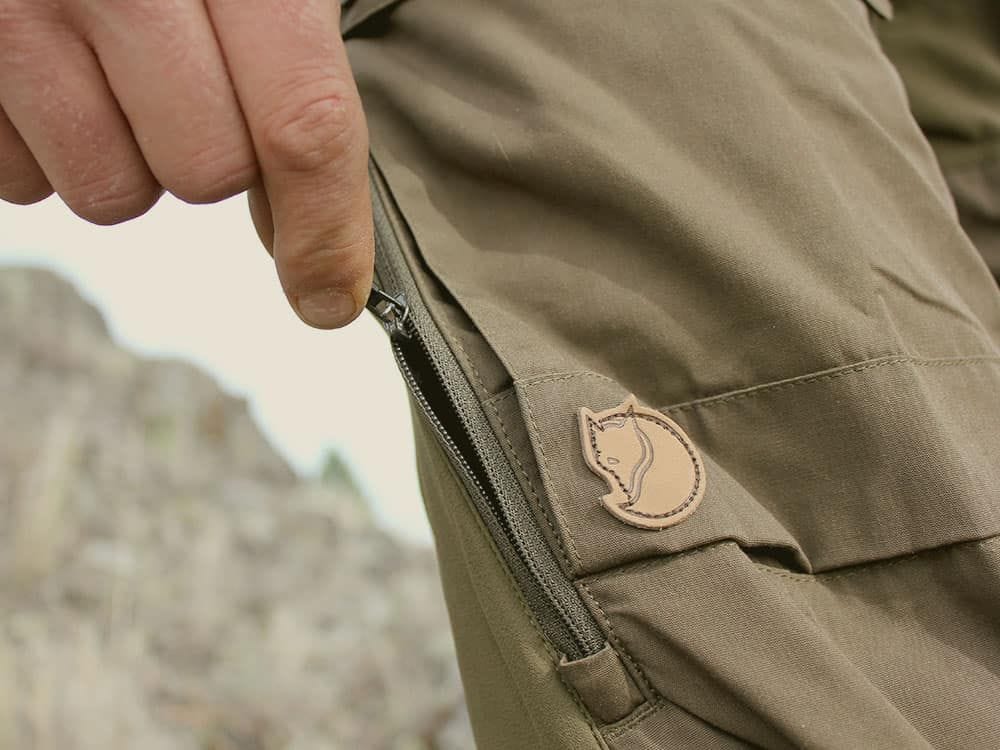 Another key feature for me here is the vents on the thighs and calf.  Seriously. It's so simple and so effective. I live in Kamloops, BC, and the second hottest temperature ever recorded in Canada, is just in the next town over, so it get's hot in this Desert climate. Durable material, I can't say this enough. It's tough, will last forever and breathes in the right spots!
The other item that could see improvement is the belt loops, the belt loops are quite small, I wear a normal belt, it's leather and just, just fit in-between the loops.
It's a bit deceiving as a long pant, I was caught a few times thinking it would be warmer than it was, but it only took a few more strides or paddle strokes to warm up!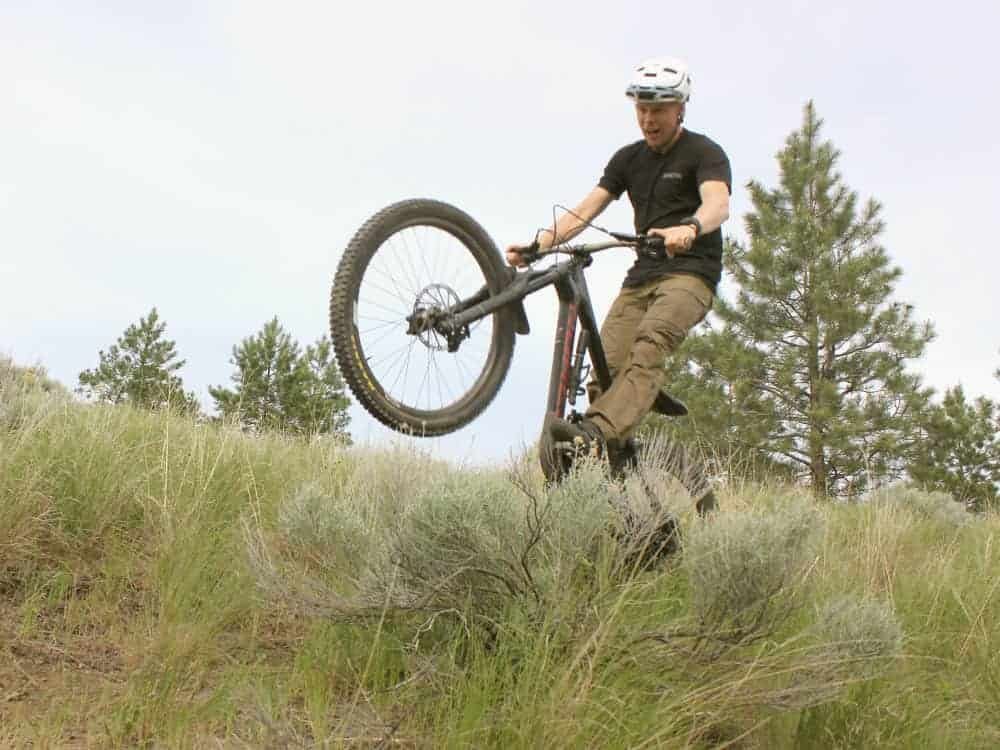 Usage
I've spent a few days trail-building in these pants, hiking around exploring trails and believe it or not, actually riding.  I've probably logged about 5-6 days of riding in these pants, and it was actually a friend that encouraged me to wear them riding.  While they're definitely not summer riding pants, but on those cool spring days, or when I'm done trail building, they're a great pant to smash some downhill laps in!
Overall Opinion
Overall, these pants get an 8.5 out of 10 from me, mainly the only reason that they're not a ten is due to the high price, as I'd like to own more! But that's my problem!
SHARE