The last few years have seen an increasing number of innovations in eco-friendly fashion and sustainability. In 2023, the ecological challenges that are now part of the daily lives of millions of people are forcing us to change our ways, and quality and sustainability are being prioritised over quantity. Fast fashion is now a thing of the past for brands that care about the planet at all.
At Altitude Sports, we highlight a range of brands that are committed to a sustainable, ethical and responsible approach, so that you can choose well-designed clothes that you know where they come from. Here we explain the eco-friendly standards you'll find on our site and why, on the eve of a revolution in the way our clothes are made, it is imperative to change the rules of the game.
Later, we tell you how we, as a retailer, are working to improve our practices every year and become a leader in sustainable trade.
What can you find in our sustainable collection?
Bluesign
Bluesign is a set of textile-industry regulations that take into account the entire manufacturing process of a textile, from the search for raw materials to the final product. More specifically, the bluesign standard ensures that no chemicals harmful to workers and consumers are used. It sets strict requirements for the consumption of water and energy resources, and even regulates the release of harmful emissions.
A company must commit to the bluesign system in order to gain certification. A bluesign-certified product must contain at least 90% certified fibres and 30% certified other materials. These products will always be labelled, authenticating certification.
Organic
Organic textiles include cotton, hemp, wool, and any other fibres that have been grown according to the strict standards of organic farming (without using synthetic pesticides, toxic fertilisers or GMOs, for example). Organic farming limits the impact of agriculture on the environment thanks to natural methods (compost, plant cover, crop rotation) that improve soil quality, use less water, and reduce CO2 emissions into the atmosphere.
For a garment to be considered "organic", it must be accredited by an independent certification body which will take into account the entire manufacturing process, from the initial cultivation to the weaving of the fibre to the final garment.
Recycled
A recycled garment has been made in whole or in part from fibres that already exist. Examples include textile waste from a factory, clothing that has been repurposed, or salvaged waste materials like fishing nets and plastic bottles. The most common recycled fibres used in the clothing industry include nylon, polyester, cotton, and wool.
There are several certification bodies with varying standards. The independent certification body Ecocert, which has a strong presence in Canada, allows the RCS (Recycled Claim Standard) label on any product containing more than 5% recycled content.
Responsible Down Standard
The Responsible Down Standard (RDS for short) is an ethical standard that certifies that down feathers – used as insulation in coats, sleeping bags and other accessories – come from animals that have not been subject to abuse, such as live plucking or force feeding. Directly linked to the notion of traceability, the RDS standard oversees the entire sourcing process of companies, and ensures that the origin of down can be validated. Today, more than 60 companies have signed up to the Standard in an effort to adopt better practices.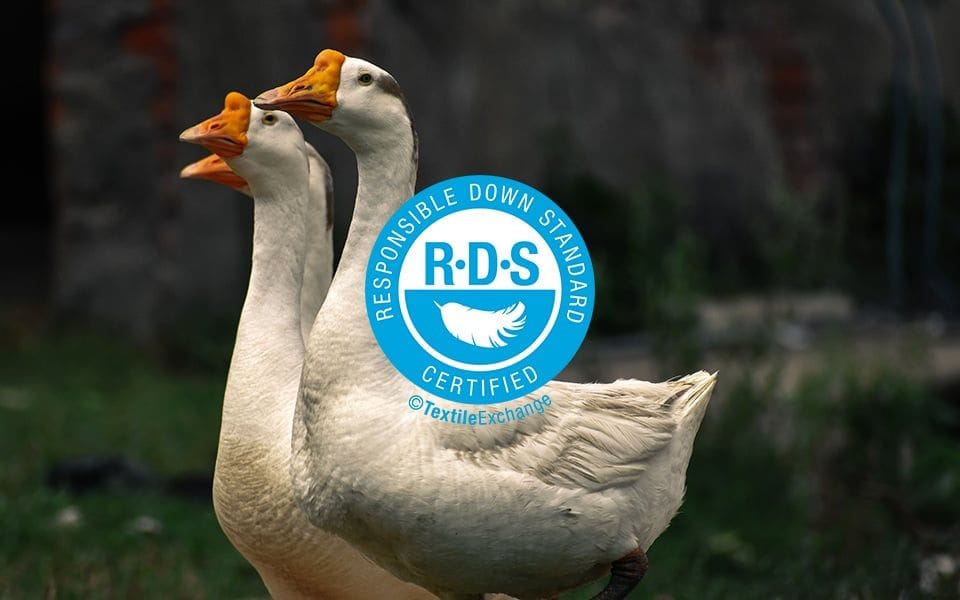 RESPONSIBLE WOOL
Responsible wool comes from farms that are certified for their accountable practices, in terms of the environment, social, and animal welfare. Several standards exist around the world to ensure that the basic needs of sheep are met, that workers are respected, and that farming practices are sustainable.
ZQ certification is based on five pillars of animal welfare: freedom from discomfort, freedom from malnutrition, freedom from injury or disease, freedom from unnecessary distress, and free-range sheep farming. The Responsible Wool Standard (RWS) works in a similar way. Both oversee the sourcing process (similar to the RDS standard for down), and ensure that wool can be traced back to an accredited farm.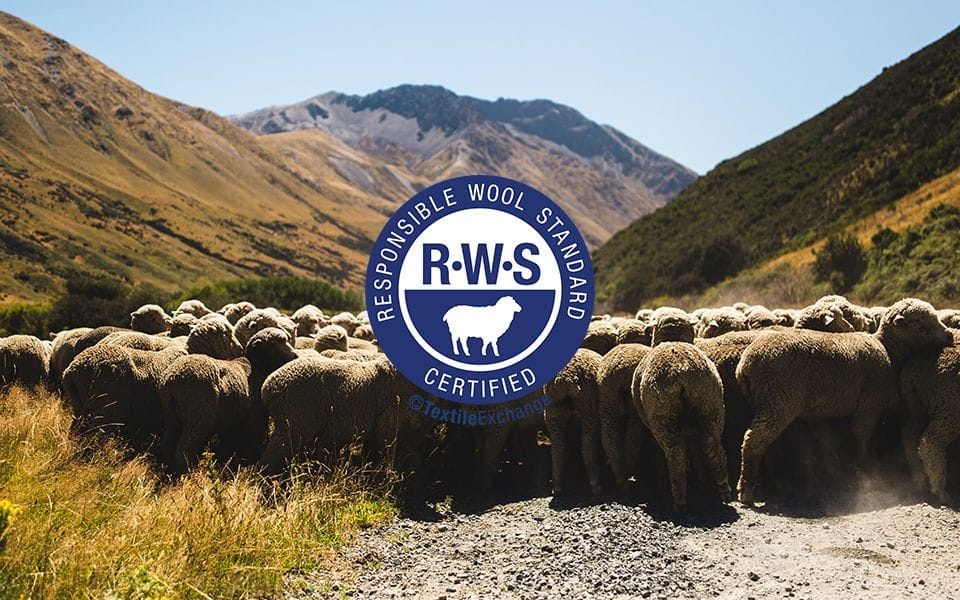 VEGAN
A certified vegan product does not contain any compounds of animal origin. The term is often used to describe artificial leather used in the manufacturing of shoes or handbags. The industry is beginning to explore plant-based leathers made from pineapple leaves or apple peels.
As there are no international vegan standards, a product must be certified vegan by an official body and approved by the vegan community. A product with vegan certification is therefore made up of 100% synthetic or vegetable materials.
The terms "vegan" and "animal cruelty free" should not be confused, as the latter may contain animal products.
FAIR TRADE
Fair Trade certification works in partnership with many companies, non-profit organisations, and producers around the world that support making ethical and environmentally-friendly choices. A Fair Trade-certified garment assures the consumer that it was produced following high environmental standards by employees paid a living wage who enjoy good working conditions. The certification works directly with and invests in communities, and is an agent of change for an ethical and sustainable future. All Fair Trade-certified products carry the organisation's logo.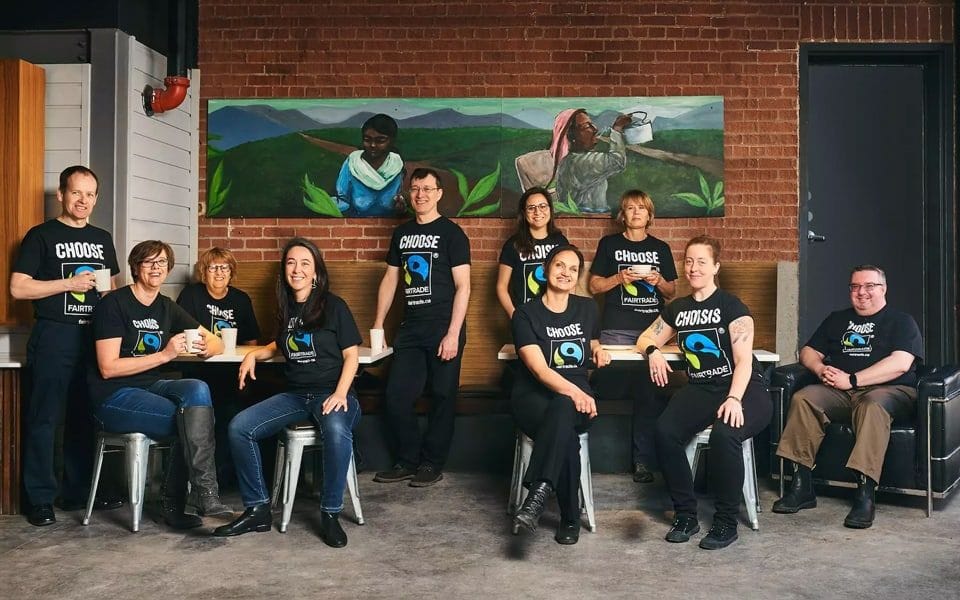 New in 2023: Electric delivery service
Offering eco-friendly brands is a step in the right direction. But what about our practices as a retailer? In early 2023, we are launching an initiative in collaboration with Courant Plus, Montreal's first green transportation company!
This initiative will allow us to deliver – without fossil fuel – more than 110,000 parcels per year, thus avoiding the emission of approximately 45 tons of GHG in 2023.
We hope to inspire other e-commerce companies to make a significant impact towards a more sustainable economy. An appreciation for nature is part of Altitude Sports' DNA, and it goes without saying that we must protect it. For us, that means aspiring to become a leader in sustainable e-commerce in Canada. - Alexandre Guimond, co-CEO of Altitude Sports
For the moment, the service will be offered on the island of Montreal, using Ford-E Transit electric vans or electric bikes. The delivery times will remain the same and will not affect the service – other than doing a little more for the planet. In addition, as it will be considered a standard type of delivery, it will be offered free of charge for all purchases of $74. In short: no greenhouse gases will be emitted between the time your package leaves our warehouse and the time it reaches you.
Our team has been working on this service for almost a year, in collaboration with Courant Plus. Stay tuned: more announcements will follow! This is only the first step. 
REDUCTION OF RESOURCES IN PACKAGING
Packing all these orders requires resources and raw materials, and this is an area where we wanted to focus our efforts in terms of responsibility.
Since November 2022, our warehouse team has been using recycled and recyclable tape in packaging, avoiding the use of over 5000 rolls of plastic tape annually. In order to reduce our use of kraft paper to stuff boxes, we have invested in a machine to shred the cardboard from the boxes sent by our suppliers, and we use this cardboard to stuff the boxes and protect your products, so that they arrive in excellent condition (starting April 2023).
Finally, as of May 2023, we will be using shipping envelopes made from 100% recycled and 100% recyclable plastic to ship 800,000 packages annually. This will increase the recyclability of this type of packaging from 25% to 100%.
SHARE